The Wild Reason Meghan And Harry Were Told To Lock Down Their Home In California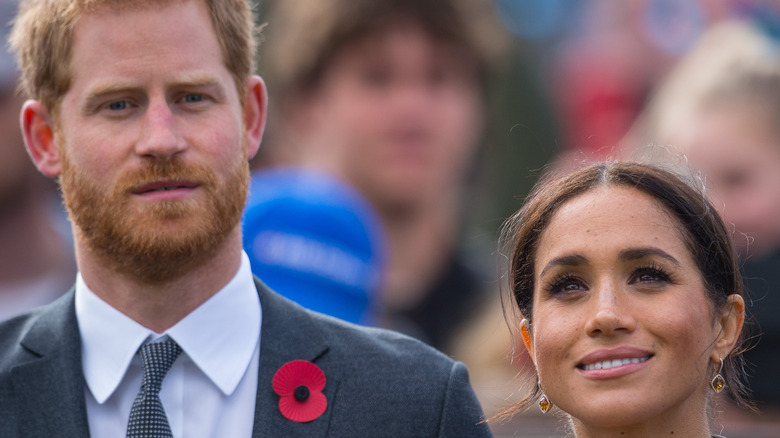 Pool/Getty Images
After stepping down from their royal duties, Prince Harry and Meghan Markle, Duchess of Sussex, relocated to California. The couple — and their two children, son Archie and daughter, Lilibet — live in a sprawling £11m mansion in Montecito that boasts a spa, tennis court, private playground, wine cellar and pool, per Hello!
"They have a big support network there . . . It's where their new team of Hollywood agents and PRs and business managers are based. Meghan has lots of friends there and, of course, her mum Doria," a source told Vanity Fair.
But their time in the Golden State hasn't been without drama. The Sun revealed a series of scary incidents at the Sussex's home, with the alarm being set off six times within the past 14 months, while their young children were also present. The first intrusion happened on their fourth wedding anniversary on May 19, 2022, with the second took place just two weeks later. Santa Barbara police responded to both incidents, which were recorded as "trespassing," "property crimes," and "suspicious circumstances." As a result, the Duke and Duchess have hired a former U.S. secret service agent to keep their home — and family — safe. But even the most experienced team probably wasn't prepared for the property's latest intruder.
A mountain lion was spotted close to Harry and Meghan's property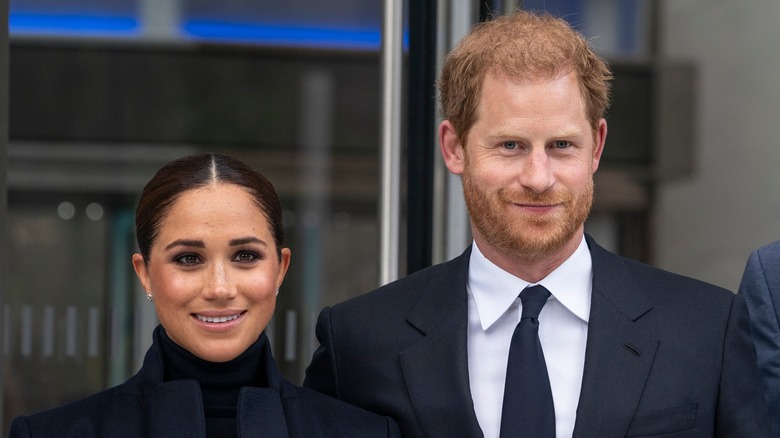 lev radin/Shutterstock
Prince Harry and Meghan Markle were forced to lock down their Montecito mansion after a mountain lion was spotted wandering near their property. According to the Daily Mail, the animal was caught on a neighbor's outdoor security cameras a mere five miles from the Duke and Duchess of Sussex's home, putting the couple's chickens — as well as their dogs — in danger. 
"We want all locals to secure their homes and secure their chicken coops and whatever other animals they may have," Executive Director of the Montecito Association Sharon Byrne explained. "Chickens can be a fast, easy source of food for hunting animals so they have to be safe and secure."
A neighbor added that California's current drought, along with recent fires and mudslides, has contributed to the presence of bigger animals near residential homes. "People in the area feel safe during the day but they're taking precautions during the night," the person said (via Daily Mail).
Although the incident is undoubtedly scary, Prince Harry seems happy to be in California, telling Hoda Kotb on Today that "home for me, now, for the time being, is in the States. And it really feels that way, as well. We've been welcomed with open arms and have got such a great community up in Santa Barbara."