Research Reveals Whether Macy's Will Be Able To Beat Pre-COVID Foot Traffic Numbers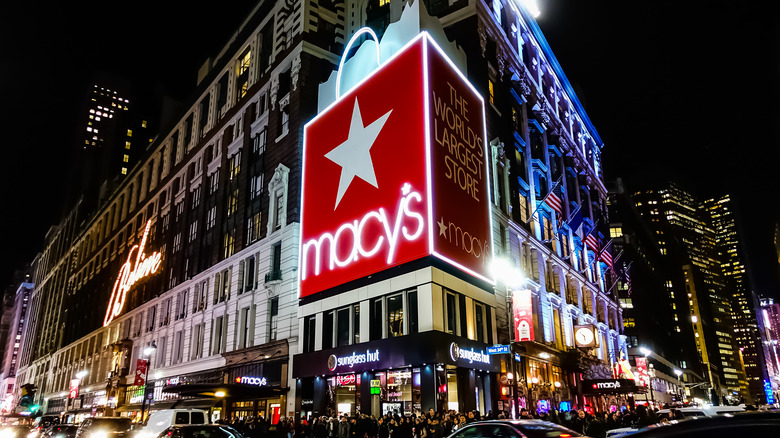 NYC Russ/Shutterstock
Whether you're in need of a brand new outfit, a stylish pair of shoes, or a new signature perfume, Macy's has got you covered. As soon as you walk through the doors of the department store, you are greeted by the familiar bright red star that decorates Macy's logo. It's a "symbol of success," according to founder Rowland Hussey Macy (Via Macy's).
Per the company's website, Macy's first store, then called R.H. Macy & Co., opened in 1858 in New York City. Macy began partnering with other brands and creators and in 1877 created the department store we know and love today. Over the years, Macy's has expanded to become one of the most prominent retailers in the United States with 570 branded stores open nationwide (Via Statista).
Macy's even has their own parade: The iconic Macy's Thanksgiving Day Parade features star-studded performances and fantastic floats. It began in 1924 in New York City, per History. But even a giant floating Snoopy blimp might not be enough to encourage shoppers to visit Macy's; in recent years, the store has seen a dip in sales and foot traffic as they attempt to recover from the COVID-19 pandemic that started in 2020.
Determined to get to the bottom of it, The List created a graph using Data Herald that tracked foot traffic patterns at Macy's over the past two and a half years. The data shows that Macy's might be in serious trouble.
Macy's took a hit in in-store visitors during the pandemic
The graph, shown above, illustrates monthly foot traffic data since January 2019 and defines a shopping visit as a "stay at the location lasting longer than four minutes." Pre-COVID, Macy's expected to see around 50,000 monthly visitors on average; foot traffic nearly doubled around the holidays. Beginning in March of 2020, visitor counts dropped to almost zero as shoppers were told to stay home and quarantine. People returned to Macy's the following summer as safety measures were implemented, but the data shows that monthly visitor averages fell by practically 20,000, and have not returned to previous averages. According to the graph, Macy's is still underperforming compared to years prior: Foot traffic has fallen by almost 50% since 2019, and it barely reaches pre-pandemic levels even during the holiday seasons.
The New York Times reports that Macy's has seemingly made a successful financial recovery post-pandemic, but long-term effects linger as foot traffic has not risen to previously expected levels. This could be due to inflation causing shopping trends to change, and not in Macy's favor. Prices are rising, and shoppers are stressing about affording things like gas and groceries, leaving very little room for luxuries like new clothes and shoes, per CNBC. While visitors may not be banging down Macy's door, chief executive Jeff Gennette told The New York Times they are tracking inflation trends and hope to see an influx of customers soon. 
As restrictions continue to relax and people become more social, they'll need a new outfit for a night on the town!