The Best Ways To Style Simple Belts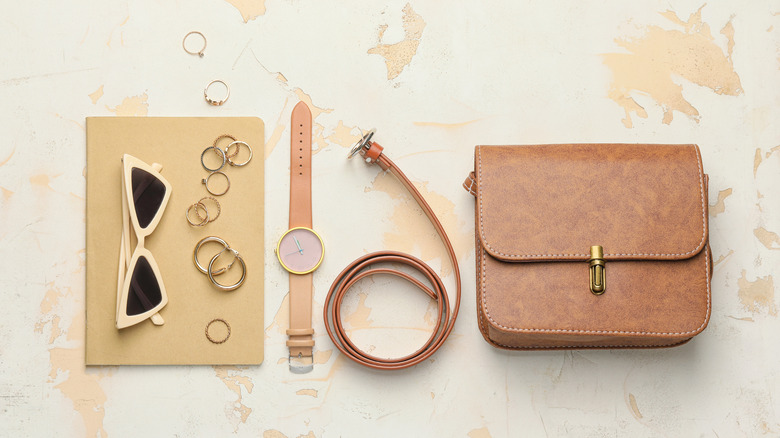 Pixel-Shot/Shutterstock
With the potential for both style and functionality, a belt is one of the best accessory options for any outfit. Whether you decide to dress it up or dress it down, it is truly a versatile piece of clothing just waiting to be added to your next look. It's also no secret that statement belts have been making a comeback this summer (per Vogue), but that doesn't mean you should discard your simple belts just yet. As mentioned by Masterclass, there are still many fashionable ways to style the belt, no matter how plain it may be.
With so many possibilities, though, it can be difficult to decide how exactly to style that simple belt in your closet. Like styling your knee-high boots, figuring out ways to incorporate a belt into your next look can be a challenge. So, we recommend falling back on the classics or taking inspo from fashionable celebs to help you decide the best way to style your simple belt.
Accentuate the cinched look with a simple belt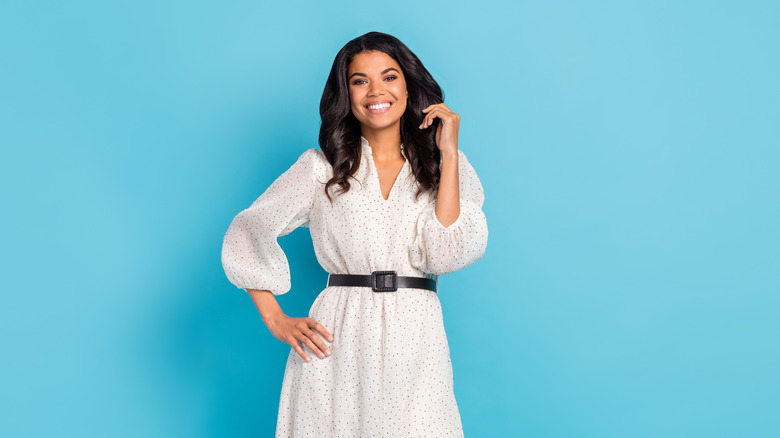 Roman Samborskyi/Shutterstock
One of the most popular ways to stylize a simple belt is by wearing it over other standout pieces. For example, belting a flowy, patterned dress can add dimension to a look while still keeping it breezy enough for hot summer days. As seen on stars such as Gigi Hadid (per Popsugar), pairing a simple belt with a patterned dress and a matching pair of much-needed sunglasses will ensure you stay stylish and comfortable all summer long.
Another item perfect for belting is the patterned blazer. Notoriously bulky, adding a belt to your blazer can accentuate your figure or simply add shape to your outfit. As mentioned on PopSugar, you can use a variety of simple belts to spice up a blazer look, such as something neutrally colored or thin and slightly patterned. Then, pair your blazer with some coordinating slacks or pants, or maybe even try out a trendy matching summer set, and round out the look with a pair of shoes that highlights the color of your belt.
Add shine to your outfit with a standout belt buckle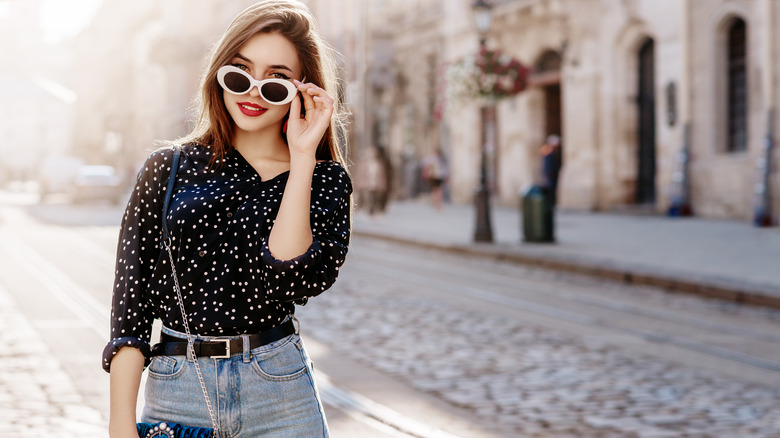 Victoria Chudinova/Shutterstock
A simple outfit can be elevated by the shine of a unique buckle. In this way, a great method for styling a simple belt is by adding it to a classic outfit of a t-shirt and jeans. Although many celebs are seen stylizing their everyday looks with Gucci belts (per The Zoe Report), we suggest taking to an online thrift store, like Depop or Poshmark, to really customize this look with a thrifted belt of your own.
Some iconic celebs to look to for inspiration for styling buckled belts on everyday outfits are Kendall Jenner and Lily Aldrige, per SheFinds. Jenner has been spotted several times using a simple, buckled belt to elevate her looks, and often goes with the classic mom jeans and a simple top. Similarly, Alridge adds to her skinny jeans and sweater by pairing them with a matching belt and purse. With these looks in mind, styling your simple belt has never been easier.