Who Fathered Donna Logan's Son On The Bold And The Beautiful?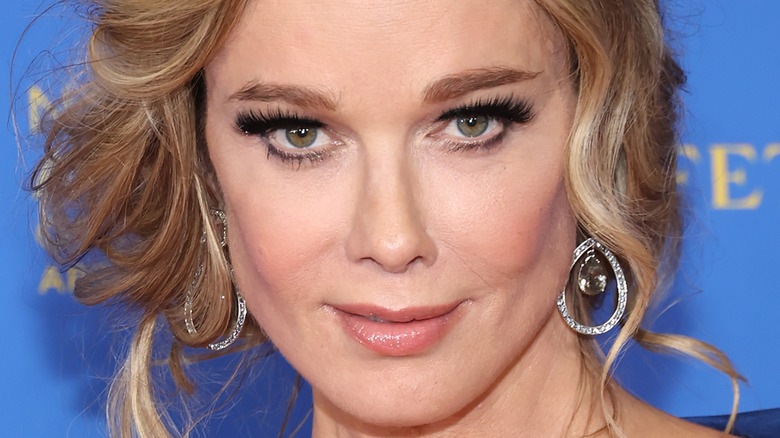 Amy Sussman/Getty Images
In 2008, actor Texas Battle began portraying the role of Marcus Walton on "The Bold and the Beautiful." The young man surprised Donna Logan (Jennifer Gareis) at Storm Logan's funeral by dressing up as a cater waiter and presenting her with a birth certificate that stated she was his mother (via Soap Central). A shocked Donna admitted that she had given him up for adoption as a teenager, and the two began to form a relationship.
Donna was married to Forrester Creations founder Eric Forrester (John McCook) at the time, and he hired Marcus to work at the company. While there, Marcus met Eric's granddaughter Steffy Forrester (Jacqueline MacInnes Wood), and the two hit it off. Despite Donna's many warnings against getting involved with her, Marcus soon began dating Steffy. Later, Steffy discovered that Donna was Marcus' biological mother, which infuriated her due to her family's longstanding disapproval of the woman.
Although Marcus and Steffy's relationship didn't work out, the young man still had quite a lot to be thankful for. Donna's husband, Eric, went on to adopt Marcus, who never felt like he truly belonged with his adoptive family, and even gave him the Forrester name. Marcus Forrester's life in Genoa City seemed to be going smoothly with his newfound family, until his biological father showed up in town, unaware that he even had a child.
Justin Barber arrives in Genoa City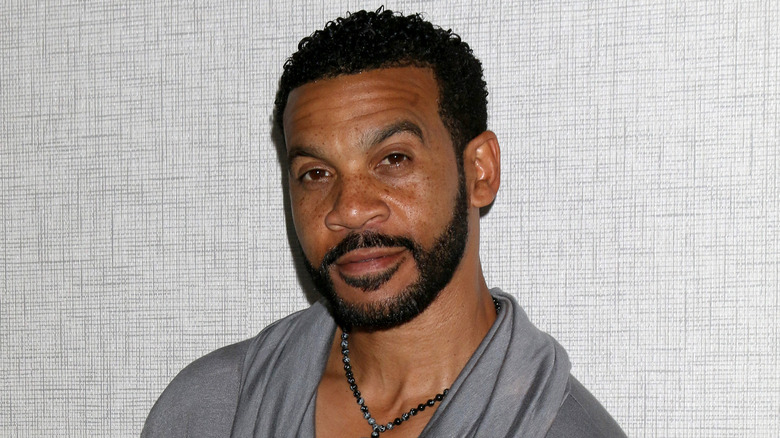 Kathy Hutchins/Shutterstock
In 2009, Donna Logan became friendly with Bill Spencer Jr. (Don Diamont), who was dating her sister Katie Logan (Heather Tom). Around that time, Justin Barber (Aaron D. Spears) was introduced to the scene as the executive vice president of mergers and acquisitions at Bill's company, Spencer Publications, and was trying to help his boss takeover Forrester Creations (via Soap Central). 
Justin and Donna inevitably bumped into each other, both shocked to see the other. It was revealed that the two had been high school sweethearts, and Justin had been heartbroken when Donna had suddenly dumped him and moved to Europe.
Donna confided in Katie that Justin was the father of her son Marcus Forrester but that neither man knew of the other, according to Soaps in Depth. However, it didn't take long for Justin to see Donna with Marcus and put two and two together. Furious that she had withheld Marcus' existence from him, he demanded that he be allowed to get to know his son. 
Marcus was happy to build a relationship with his biological father and even considered taking his last name, Barber, before deciding to remain a Forrester.
Justin and Donna try to recreate their family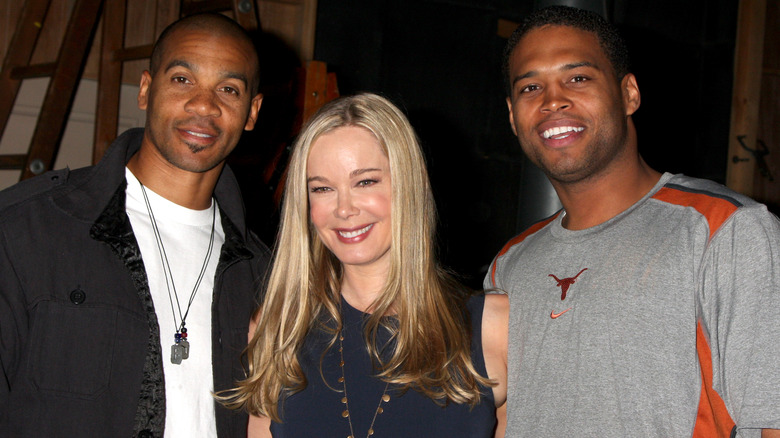 Kathy Hutchins/Shutterstock
After Justin Barber came to Genoa City and bonded with his son Marcus Forrester, he set his sights on his first love, Donna Logan. He created a talk show called "The Catwalk" and asked Donna to be the host, hoping to get closer to her, despite the fact that she was still married to Eric Forrester (via Soaps). 
When her marriage to Eric did end, Justin took that as his opportunity to swoop in. As the pair spent more time together and reminisced about the past, feelings between them grew. Eventually, Donna proposed to Justin, and he happily accepted. The two were married in 2011 at Bill Spencer's beach house, and Marcus had the opportunity to meet his biological cousin Olivia Barber (Tonya Lee Williams), per Soap Central.
Though things seemed to be going well for the reunited family, it only took a few months for Donna to realize she had made a mistake. Both she and Justin agreed that they had jumped into marriage too quickly, hoping to give their son the perfect family they never had a chance to be, but were ultimately better off as friends. 
Donna and Justin amicably divorced, and Marcus was able to maintain a good relationship with both of his biological parents, his newly adoptive father, Eric Forrester, and the adoptive brother he'd grown up with who had recently come to town, Carter Walton (Lawrence Saint-Victor). Though Marcus eventually moved overseas, Donna and Justin both remain in Genoa City, hands full with their own respective dramas.