How Much Does It Cost To Hire A Wedding Videographer?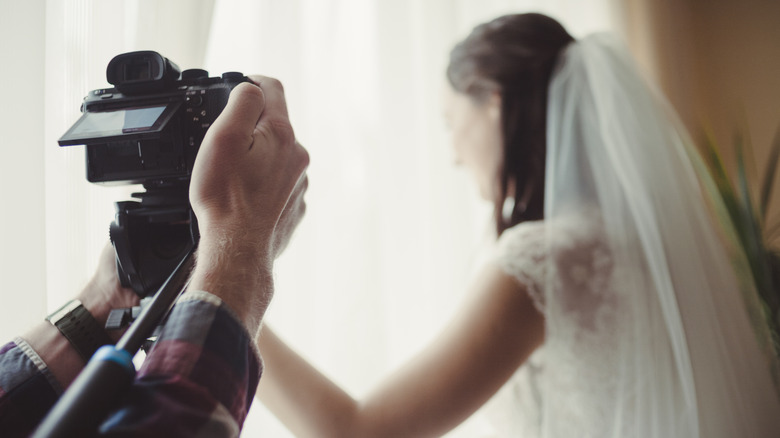 Maksym93/Shutterstock
For many people, your wedding day is one of the most memorable moments of your life. It can also be one of the absolute busiest. With so much going on that day, it can be hard to keep up with everything that happened. A picture can capture those single brilliant moments, but what if you want to relive your first dance or that hilarious speech your brother-in-law gave? That's why hiring an experienced videographer could be the best choice for your wedding (via Wedding Know How).
In an interview with Brides, wedding videographer Daryl Thomen states his case for having a wedding videographer at your wedding. "Nuances of speech and movement, captured on film, are the best ways to relive, or even see from a more present perspective, the details that made a special day extraordinary," the videographer says. According to Thomen, most wedding videographers will also provide footage of the wedding day preparation to the cake-cutting ceremony. The newlyweds can expect hours of live coverage during the wedding as well as custom video editing afterward that will make it the video of your dreams.
The average cost of a wedding videographer is $1,900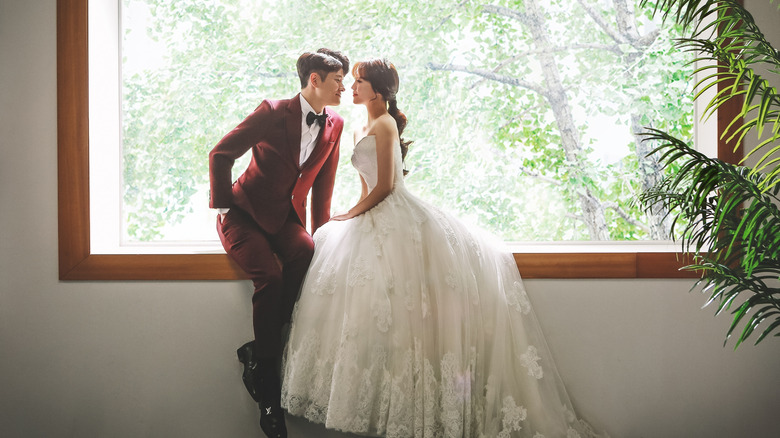 YEINISM/Shutterstock
The wedding experts over at The Knot conducted an internal study of 15,000 couples and found that the average cost of a wedding videographer is $1,900. That makes the cost of having someone professionally record and edit a beautiful, thoughtful video of your wedding actually quite a deal cheaper than having a wedding photographer onsite. The Knot conducted yet another study that found the average cost of hiring a wedding photographer, one of the most popular wedding vendors, to be $2,500.
Still, $2,000 is not chump change, especially when you factor in the other costs of planning a wedding. If a wedding videographer is on your list of wedding must-haves but you're unsure of whether or not you have the budget to afford one, Wedding Wire suggests couples sit down and plan their wedding budget together. Once you have a list of the things you'd really like to have at your wedding, you can decide which areas you might spend less in order to afford more important luxuries.
Do you need a wedding videographer?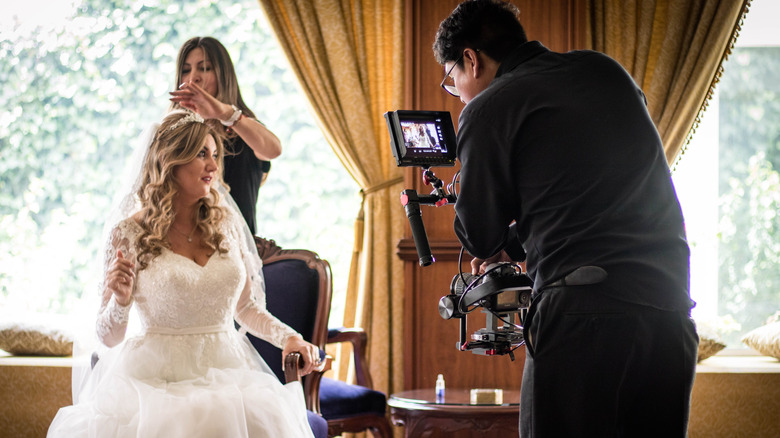 Ppito00/Shutterstock
If you want to capture your wedding in the most beautiful way possible, a wedding videographer is a must-have for your wedding list. You may think having someone record your big day on their iPhone will suffice, but you might be taking a risk with that one. If high quality is your top concern when it comes to replaying your big day, then your best bet is to go with a professional wedding videographer. In fact, Wedding Forward includes videography as a must on its ultimate wedding checklist.
Remember: no wedding day is going to go as picture-perfect as you might have planned. From wedding dress issues to clashes about who gets to be on the guest list, you never know what the day of your wedding might throw at you (via MamaMia). You just have to be ready to roll with the punches and know that, at the end of it all, you'll be marrying the person you want to spend the rest of your life with.