Inside Anne Heche's Final Instagram Post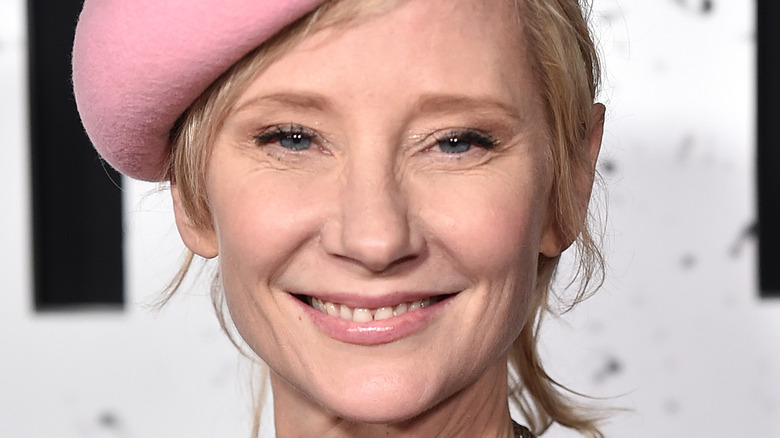 Alberto E. Rodriguez/Getty Images
It's been several days since Anne Heche, a veteran actor who has appeared in acclaimed films such as "Six Days Seven Nights," "Return to Paradise," and "Psycho," has been in the hospital fighting for her life after a fiery car crash (via TMZ).
On Aug. 5, 2022, Heche drove into the Los Angeles neighborhood Mar Vista and crashed her Mini Cooper into a house, setting it ablaze, NBC News reported. While no one at the home was harmed, Heche was hospitalized with a significant brain injury, and People reports that the actor is in a coma with little chance of survival. Heche remains on life support in critical condition.
Variety reports that LAPD investigators are still trying to piece together Heche's current state at the time of the crash, running toxicology reports as drugs are reportedly suspected in her system. Meanwhile, fans are looking at Heche's final social media posts, trying to gauge her state of mind before her accident.
Anne Heche's last Instagram post shows her happy and working
Anne Heche's accident has seemingly gotten more heartbreaking as the days have passed. CNN shared a statement by Heche's family, saying that the "Donnie Brasco" actor is "not expected to survive" following her high-speed car crash into a home, which caused a significant anoxic brain injury, when the brain doesn't get enough oxygen.
It leaves fans wondering how Heche was doing before that tragic day, with many using social media to decipher just how Heche was feeling — and what she was doing — leading up to the crash. Just weeks before, Heche, co-host of the "Better Together" podcast, posted a photo with Andrew Lawrence, Joey Lawrence, and Samantha Cope Lawrence on Instagram. "Good times on set with Lawrence Bros!" the caption reads, topped off with a heart and praise emoji.
The Daily Mail reports that, while Heche — who has two sons — has been declared brain dead from her injuries, she remains on a ventilator in hopes that any viable organs can be donated. In the meantime, celebrities, like her ex-partner Ellen Degeneres, Rosanna Arquette, and Alec Baldwin, are sending well wishes in the wake of the gut-wrenching news (via the New York Post).