Anne Heche Had An Unexpected Interaction In The Moments Leading Up To Her Accident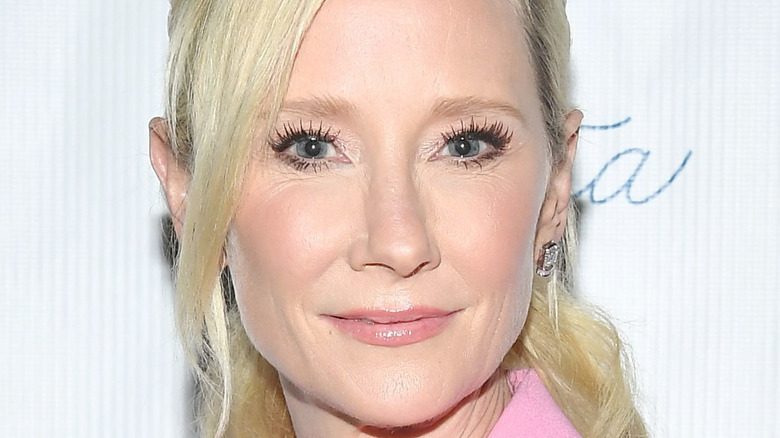 Amy Sussman/Getty Images
It seemed that weeks, days, and even hours before Anne Heche was involved in a heartbreaking accident that is expected to end her life, the actor was in good spirits.
Per People, Heche is currently in critical condition after crashing her Mini Cooper into a home in the Los Angeles neighborhood of Mar Vista and sustaining a severe brain injury. Initially, it was reported that Heche's condition was stable, but, unfortunately, her health took a turn for the worse as it was announced that the "Volcano" actor was instead in critical condition.
Her family released a heartbreaking statement. "Unfortunately, due to her accident, Anne Heche suffered a severe anoxic brain injury and remains in a coma, in critical condition," the statement read, via CNN. "She is not expected to survive. It has long been her choice to donate her organs and she is being kept on life support to determine if any are viable."
In wake of the heart-wrenching news, one person who saw Heche just minutes before her accident is sharing what he witnessed right before the crash that day.
Anne Heche was pleasant with a hair salon owner before her accident
Social media users assume that, according to Anne Heche's final Instagram post, the actor and mother of two was seemingly in a happy place before her accident.
But, right before the fiery crash that has left Heche in a coma, one person is detailing his encounter with Heche the day of the horrifying accident. Los Angeles hair salon owner Richard Glass of Glass Hair Design spoke with ET Online about his brief but memorable experience with Heche, which took place right before the crash.
Though Glass said the interaction lasted a mere 10 minutes, he explained that Heche wasn't slurring her words or seemingly intoxicated, despite reports that she was under the influence of narcotics during the time of her crash (via TMZ). "It was an amazing, kind interaction," he told the media outlet.
In fact, before the news broke about Heche's accident, Glass posted an Instagram selfie of the two inside his store, where she purchased a red wig. "So I met @anneheche today and she purchased a #redwig so random.. I love," his image caption read, followed by some hashtags.
Heche is currently in a coma on a ventilator at the Grossman Burn Center in Los Angeles (via NBC News), where she is reportedly surrounded by her loved ones.