Ellen DeGeneres And Other Celebrities React To The Death Of Anne Heche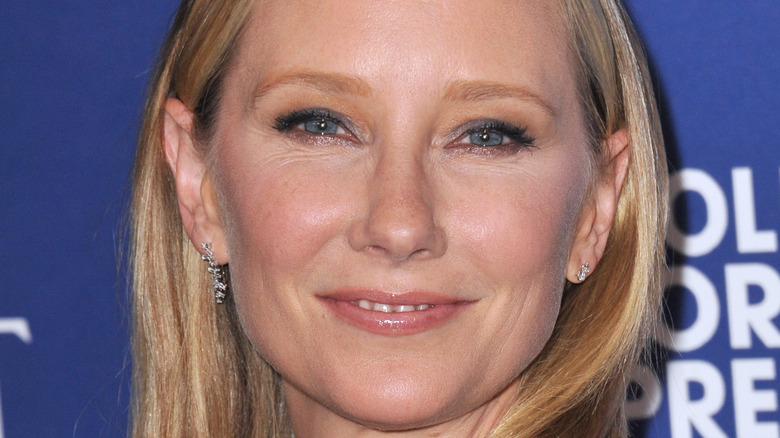 Jaguar PS/Shutterstock
Anne Heche crashed her Mini Cooper into a Los Angeles home on August 5 resulting in both the car and house catching fire and sending her to the hospital in critical condition, per People. Original reports seemed potentially optimistic about her being able to pull through after the accident, but tragically, the actress never regained consciousness. Heche was declared brain dead on August 11, and kept on life support to see if she was a candidate for organ donation; she was removed from life support a week after her accident on August 12, according to the Los Angeles Times.
Her son, Homer Laffoon, released a statement: "My brother Atlas and I lost our Mom. After six days of almost unbelievable emotional swings, I am left with a deep, wordless sadness. Hopefully my mom is free from pain and beginning to explore what I like to imagine as her eternal freedom." Police reports have confirmed that Heche had narcotics in her system at the time of the accident, via Entertainment Weekly. The unexpected death of the 53-year-old actress has her friends and co-stars expressing their sorrow and honoring her memory.
Anne Heche's co-stars lauded her talents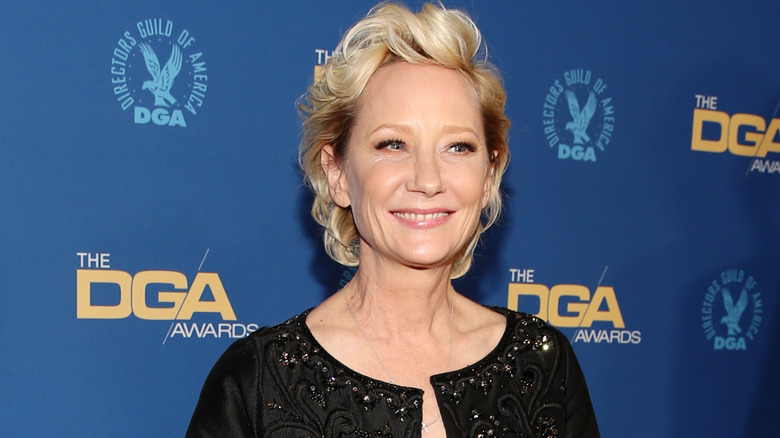 Jesse Grant/Getty Images
Anne Heche's most high-profile relationships was with Ellen DeGeneres; they dated for over three years, per Us Weekly. After Heche died, DeGeneres tweeted "This is a sad day. I'm sending Anne's children, family and friends all of my love."
Heche's co-stars also took to social media. Isaiah Whitlock Jr., who worked with Heche on the 2011 film "Cedar Rapids," tweeted "My heart breaks. One of the kindest and most talented actors I've ever worked with. God bless you. You will be greatly missed". Ed Helms was also in "Cedar Rapids," and he wrote "Anne Heche news today is so heartbreaking. A truly epic, vibrant spirit and a profound talent. Sending tremendous love and support to her family." Gregg Henry posted about her acting chops as well — the two were both on HBO's "Hung" — "Anne Heche was a fierce wonderful actor. Funny and smart. Sad news."
Heche may have been known for her Hollywood roles, but she acted on Broadway too. She left an impression on James Gunn who tweeted "Honest to God, I think maybe the best acting performance I've ever seen in my life was Anne Heche in 'PROOF' on Broadway." Heche received a 2004 Tony nomination for her role in "Twentieth Century" (via Broadway). In an Instagram video, Alec Baldwin described working with her in "Twentieth Century" as "one of my most fun adventures together." He also worked with her in the upcoming film "Supercell," per The Hollywood Reporter
Anne Heche's story and spirit touched people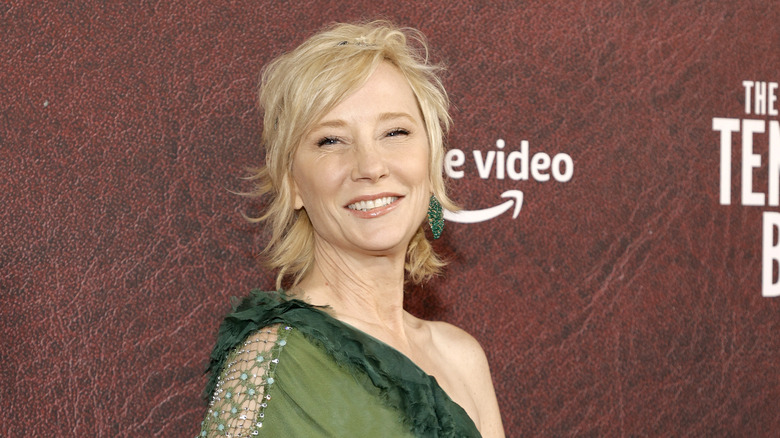 Amy Sussman/Getty Images
Anne Heche hit the dance floor for Season 29 of "Dancing with the Stars." Upon hearing that Heche was hospitalized, her "DWTS" partner Keo Motsepe told Entertainment Weekly he was praying for her recovery, and upon news of her death, he posted on Instagram some photos of the two of them behind the scenes on the show with the simple and sweet caption, "I love you [Anne Heche]." "DWTS" judge Carrie Ann Inaba wrote a touching post on Instagram about how much Heche had meant to her: "Anne was one of the stars on ['Dancing with the Stars'] that truly touched my heart. Her personal story was one that reached into my heart and squeezed it. I could feel the pain she felt, and I could also feel her resilient and courageous soul. And it was touching."
Taryn Manning from "Orange is The New Black" on Netflix also celebrated Heche's strength and spirit, writing, "[I] saw all the magic in you. [...] I know you were a renegade in Hollyhood [sic] and that's pretty rad to maintain in this business." And Rosanna Arquette succinctly tweeted something that many are feeling: "Rest In Peace now Anne".