Fans Rally Around James Tupper After Posting Ode To Ex Anne Heche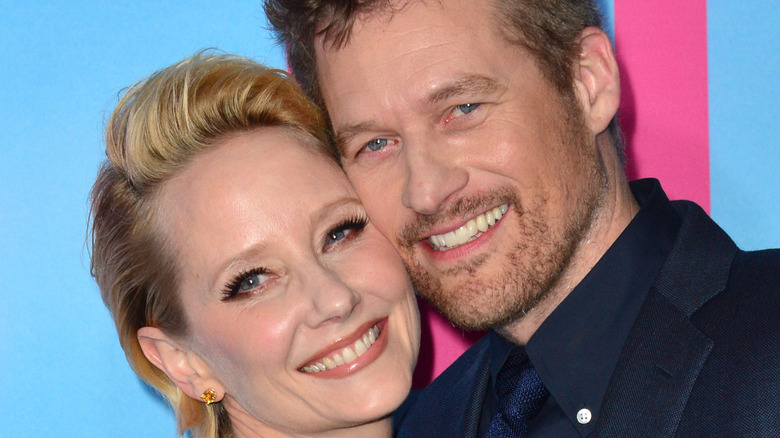 Featureflash Photo Agency/Shutterstock
On Friday, Aug. 12, 53-year-old actress Anne Heche died following a fiery crash that left her in a coma (via BBC News). In response to the news, her family released a statement sharing the loss "of a bright light, a kind and most joyful soul." Heche is survived by her two sons, Homer and Atlas, who she shares with ex-husband Coley Laffoon and ex-partner James Tupper (via Today). Both have shared their thoughts on the immeasurable loss, with Laffoon sharing on an Instagram video that "she was brave and fearless, loved really hard and was never afraid to let us know what she thinks and what she believed in."
Heche and Tupper met while working on the series "Men in Trees." They spent 10 years raising their son Atlas before parting ways in 2018 (via Entertainment Weekly). When the news of Heche crashing her car into a house was initially reported, Tupper shared an image of his ex with their son on Instagram. "Thoughts and prayers for this lovely woman, actress and mother tonight," he wrote. "We love you."
Kyle Richards and Jason Antoon shared their support
Shortly after it was announced that Anne Heche had died, James Tupper shared another image of the actress on Instagram. "Love you forever," he wrote, followed by a broken heart. Friends and fans rallied around the actor in support, like actress Kyle Richards who expressed her sadness. "I'm so sorry. Thinking of you and both her boys," she wrote, as did India Eisley, who said: "I'm so sorry for your loss James... sending so much love and prayers to you and yours." Jason Antoon of "NCIS Hawai'i" also shared his love for Tupper. "Seana and I are sending so much love to you and the boys," he added.
In addition to celebrities lending their support, fans of Heche gave their heartfelt wishes to Tupper and his family. "Thinking of you a lot today. Love you, brother," one wrote. "I'm so sorry to hear this. I love Anne. Loved you both in Men in Trees. Sending much love to you all," wrote another, as did many other "Men in Trees" fans. "Men in Trees has always and will always be one of my favorite TV shows. I was so sad when it ended. I'm so unbelievably sad to hear the news today," one fan added. "My condolences to all who loved her."
Anne Heche's eldest son Homer also shared a tribute to his mom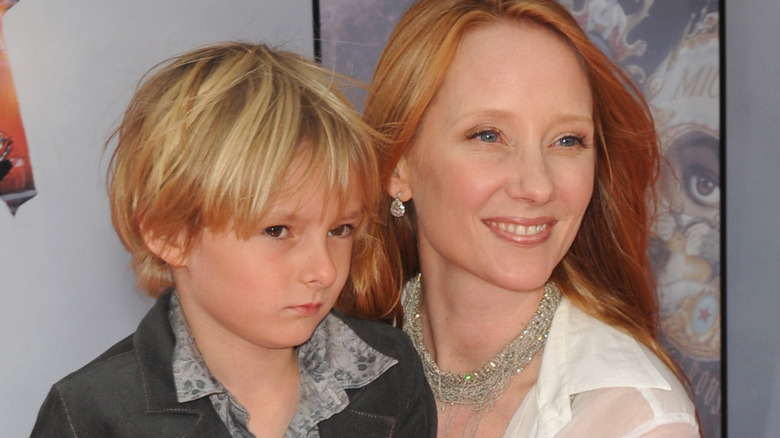 Featureflash Photo Agency/Shutterstock
Alongside James Tupper, Anne Heche's eldest son paid tribute to his mother in a statement (via People). "My brother Atlas and I lost our mom. After six days of almost unbelievable emotional swings, I am left with a deep, wordless sadness," the 20-year-old wrote. "Hopefully my mom is free from pain and beginning to explore what I like to imagine as her eternal freedom." Homer also acknowledged the support friends and fans have provided following the news. "Over those six days, thousands of friends, family, and fans have made their hearts known to me," he continued. "I am grateful for their love, as I am for the support of my Dad, Coley, and my stepmom Alexi who continue to be my rock during this time."
Heche shares her eldest son with Coley Laffoon, whom she married from 2002 to 2009 (via Today). The actress regularly wrote about being a mom as a celebrity blogger for People. "My bond with them drives my life, my decisions and my choices," she wrote in one post in 2012.