The Truth About Miley Cyrus' Sexuality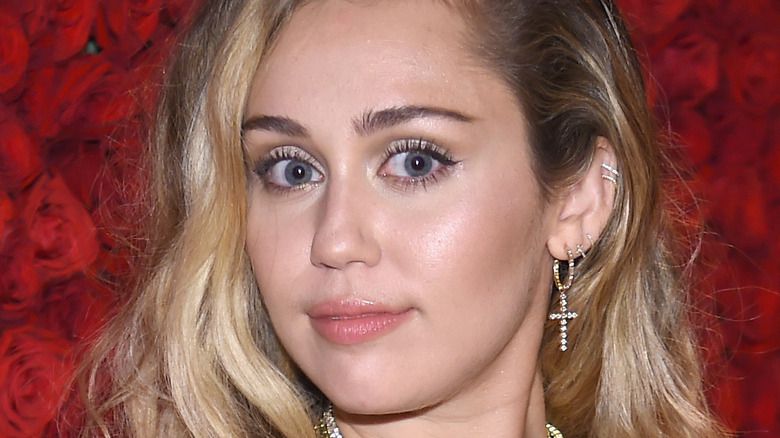 Dimitrios Kambouris/mg18/Getty Images
Plenty of child stars go completely off the rails after their initial brush with fame, making Miley Cyrus' transition from Disney icon to an outspoken pop star look pretty tame in comparison. Cyrus' style evolution created a huge amount of controversy, essentially because she went from wearing a cute blonde wig on "Hannah Montana" to not wearing much of anything at all (as is her right). Per Billboard, Cyrus was heavily criticized when she posed for a Vanity Fair cover in 2008, concealing her modesty with a bed sheet.
Looking back, it's a demure shot, which is why the Disney alum retracted her initial apology for doing it, during a 2018 interview with Jimmy Kimmel (via YouTube). Reacting to tabloid coverage from the time, Cyrus reasoned, "I think it was really wrong of someone to put on top of someone that this is my shame and that I should be ashamed of myself. It's not a nice thing to tell someone they should be ashamed of themselves." Nowadays, she doesn't do what she's told anymore and is much happier as a result. 
Cyrus doesn't regret her time with Disney, however, telling Rolling Stone that she saw a lot of herself in Hannah Montana, and is thrilled the character helped younger viewers learn to be more comfortable with themselves. When it comes to the "Midnight Sky" hit-maker being true to herself, she's just as loud and proud as her most famous character. 
Miley Cyrus is open to dating whoever she likes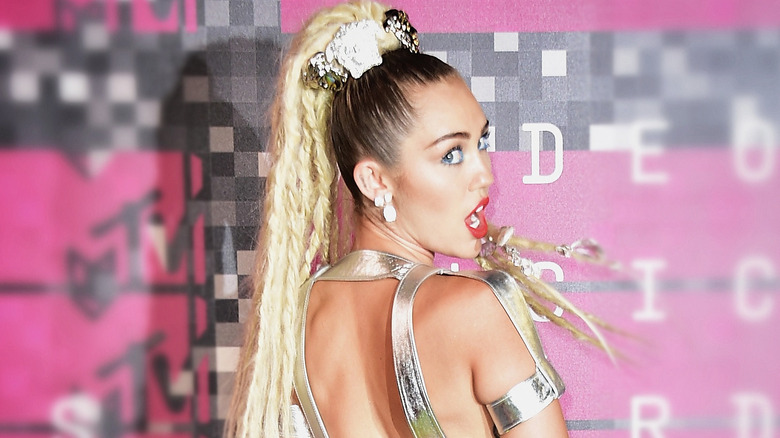 Frazer Harrison/Getty Images
Miley Cyrus made it clear, during an appearance on "Jimmy Kimmel Live," that she's had her fill of being bossed around. Her attitude to dating is just as laidback, with Cyrus telling Elle UK in 2015, "I change my style every two weeks, let alone who I'm with." The singer-songwriter confirmed, "I'm very open about it — I'm pansexual," clarifying she's dating but that's it. 
Considering how much heartbreak Cyrus has dealt with in the public eye, it makes sense she's biding her time before settling down again. Elsewhere, she founded the non-profit The Happy Hippie Foundation in a bid to help LGBTQ+ youth who are struggling with homelessness, per Elle UK. Cyrus explained, "I feel like the luckiest woman doing what I do . . ." The star continued, "I should not be worth the amount I am while people live on the street . . . But I have so much influence as a pop star, it's important I use it." 
As far as the singer is concerned, being a multi-millionaire with a platform is meaningless if she can't use her voice to help those in need. Moreover, Cyrus spreads the word closer to home too, sharing with Elle UK, "My parents have learned a lot about LGBT issues from me. They're 50 and from the South so I don't expect them to understand it all, but I ask them just to accept it for me." 
This is how Miley Cyrus defines her sexuality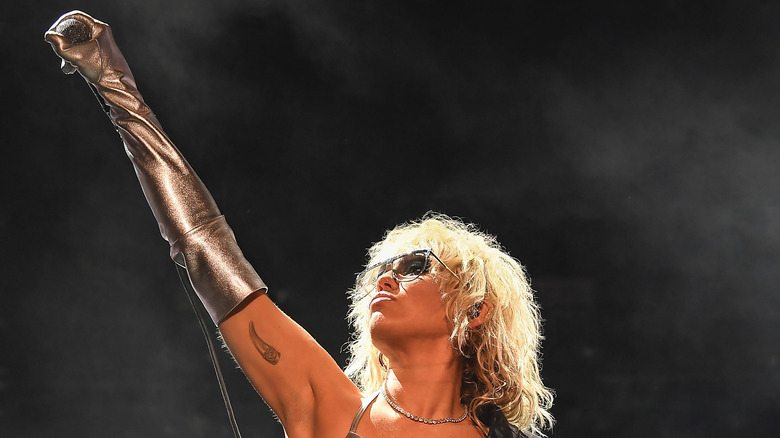 Steve Jennings/Getty Images
During a 2016 chat with Variety, Miley Cyrus revealed that her "eyes started opening in the fifth or sixth grade" about her sexuality, but she wasn't sure how to explain what was going on in her head. The pop star elaborated, "My whole life, I didn't understand my own gender and my own sexuality. I always hated the word 'bisexual,' because that's even putting me in a box. I don't ever think about someone being a boy or someone being a girl." Her first relationship ever was with another girl, which felt normal.
The pansexual label fit Cyrus once she figured out how she truly felt, with the pop star acknowledging that understanding her gender identity helped put everything else into perspective. "I was like, 'Oh — that's why I don't feel straight and I don't feel gay. It's because I'm not,'" she acknowledged during her interview with Variety. As Cyrus — who has dated men and women, as well as being married to Liam Hemsworth — told Paper magazine simply (via MTV News), "I don't relate to being boy or girl, and I don't have to have my partner relate to boy or girl."
Further clarifying her position, she noted, "I am literally open to every single thing that is consenting and doesn't involve an animal and everyone is of age." In fact, all Cyrus really wants from a prospective partner is someone who adores her as much as she adores them.