General Hospital Star Maurice Benard's Anniversary Message To His Wife Will Warm Hearts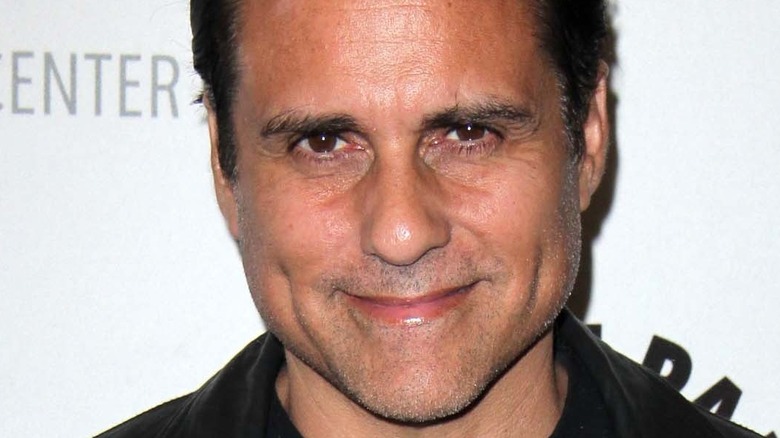 s_bukley/Shutterstock
Actor Maurice Benard has played the role of mob boss Sonny Corinthos on "General Hospital" since 1993. According to People, in 2000 Benard first spoke publicly about his bipolar disorder, which almost caused him to quit "GH" only a few weeks into getting the part. "GH" producers wrote into the show that Sonny is also bipolar. Audiences have watched Sonny's struggles over the decades including going off his meds earlier this year (via Soap Opera Spy).
Benard's wife, Paula, has supported him throughout their marriage. In 2020, she was a guest on his YouTube show "State of Mind" in which they discussed the difficulties the couple has dealt with. He asked, "How is it living with a husband who is bipolar?" Paula responded with, "It's no different than living with anyone with any other problem that they have...I don't think twice about it." Regarding Benard's mental health she said, "I did know that I wouldn't walk away from you." When asked if their 35 years together "lived up to [her] expectations" she replied, "We have had a phenomenal relationship...I didn't have expectations [coming into the relationship]...it's far exceeded."
With the love and support of his wife, Benard has continued to be open about his bipolar disorder and has used his platform as a star to spread the word about the importance of mental health. Now, the soap opera star has expressed his love for Paula on social media.
Maurice Benard clearly loves his wife
In the caption of a recent Instagram post, "General Hospital" star Maurice Benard wrote, "There are no words to describe my relationship with Paula except to say!!! I always tell Paula when the day comes I wanna pass away first cause I never wanna live without her." A fan responded with the heartfelt comment, "You two were meant to be together and to take care of one another always and forever."
Among the posted replies were quite a few anniversary congratulations as well as people being touched by his words. Many fans could relate to his sentiment. One wrote, "I say that to my husband all the time!" Another positive response stated, "She is beautiful and so are you. Stay happy forever. We have been married for 53 years, and it only gets better."
In his post, Benard included a picture of him and Paula embracing early in their relationship. The hundreds of responses were full of heart emojis and comments about how beautiful the couple looks. One commenter said, "Beautiful words Maurice for your beautiful and amazing wife ! you both make a wonderful couple!" A fan managed to encapsulate everyone's thoughts by writing, "Beautiful, inspiring, and strong."
This isn't the first time the soap opera star has shown his love for his wife on social media. On their 35th wedding anniversary in 2020, Benard posted on Instagram a hilarious yet heartfelt video as he sang Minnie Riperton's song "Lovin' You" to his wife in the car.