Why General Hospital Spoilers Have Fans On The Edge Of Their Seat Over Trina's Fate
On "General Hospital," as the fans know, Trina Robinson (Mikayla Ali) has been framed for a crime she didn't commit by Esme Prince (Avery Pohl), per Soaps in Depth. Although Spencer Cassadine (Nicholas Chavez) provided an alibi for Trina at the time the video was sent out, the A.D.A. Jennifer Arden (Jennifer Field) is convinced of Trina's guilt and determined to send the poor girl up the river (via Daytime Confidential).
Trina has quite a few people in her corner trying to clear her name, and she's up against the clock because the jury is in the midst of deliberating her fate. Spencer tried and failed, and even mob boss Sonny Corinthos (Maurice Benard) sent his new lieutenant Dex Heller (Evan Hofer) to bribe the jury foreman into finding Trina innocent, per Soap Hub. Trina's mother Dr. Portia Robinson (Brook Kerr) and Curtis Ashford (Donnell Turner) are also trying to help by working on a plan to wake key witness Oz Haggerty (Max Faugno) from a medically induced coma so he can exonerate Trina before the jury comes back with a verdict, according to Soap Scoop. Previous "General Hospital" spoilers have had fans afraid of what might happen to Trina.
Now the soap's latest teaser has fans literally on the edge of their seats.
General Hospital fans are waiting with baited breath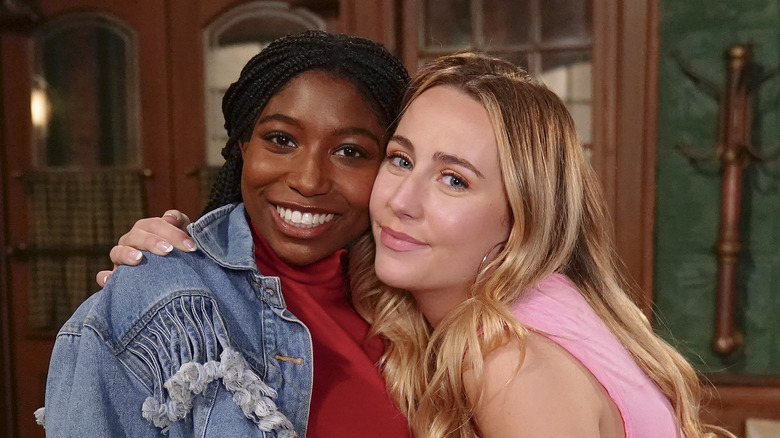 ABC/Troy Harvey
The latest promo from "General Hospital" was posted on Twitter, and the fans are caught up in the excitement. The headline was a quote from the clip — "In the matter of Trina Robinson... the jury has reached a verdict." The caption beneath read, "Portia risks everything to save her daughter. Plus, Trina's fate is revealed and Jordan comes looking for Esme." The fans are clearly invested in the citizens of Port Charles as one wrote, "NOT GUILTY is the only acceptable verdict for Trina!"
Another statement said, "OH can't wait for 'GH' time," while a reply said, "When it's good it's very good." An astute viewer analyzed the teaser video saying, "If Spencer's face is any indication I'm afraid for this..." 
Actress Brook Kerr expressed her worry that Trina's trial might be portrayed as biased. Several of the fans addressed that as well on the Twitter post. One response stated, "I feel this is racial if she was railroaded this week." Still others are feeling that the storyline should end soon. An irate fan posted, "That storyline has been dragging on for FAR TOO LONG!!"
The excitement and tension has built to a boiling point, and while Spencer has already sacrificed his freedom in an attempt to exonerate Trina, the outcome will have ramifications for the characters for years to come (via Soap Opera Spy).