All Of The Code Name Operations British Officials Will Carry Out Following The Queen's Death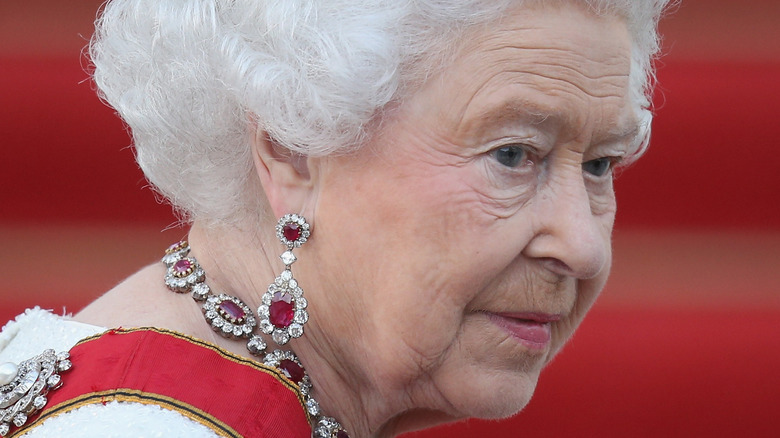 Sean Gallup/Getty Images
Earlier this year, Queen Elizabeth II, the longest-reigning monarch in British history, celebrated 70 years on the throne. The queen's Platinum Jubilee brought the entire country together — even while royal defectors Prince Harry and Meghan Markle made an appearance at the Jubilee so they could honor his beloved grandmother. Ahead of the event, royal commentator Martin Townsend reassured Express that Her Majesty would be as involved in the celebratory weekend as possible.
"I am absolutely convinced she will be there and she will take part in as much as she can, because it's in the nature of the queen to basically get stuck in," he confidently argued. As it turned out, Queen Elizabeth had to sit out several of the most high-profile events due to her ongoing mobility issues, with a spokesperson confirming to Town & Country that she was missing the thanksgiving service at St. Paul's Cathedral, for instance, "with great reluctance."
Per CNN, the esteemed ruler did manage to make a surprise appearance, on the balcony at Buckingham Palace, towards the end of her Jubilee, much to the delight of fans all over the world. But, clearly, the queen can no longer be as present as she once was, leading many to speculate that her remaining days on the throne may be numbered. And, when the time comes, there's a strict protocol in place including a number of notable, codenamed operations.
There are incredibly strict protocols in place for Her Majesty's passing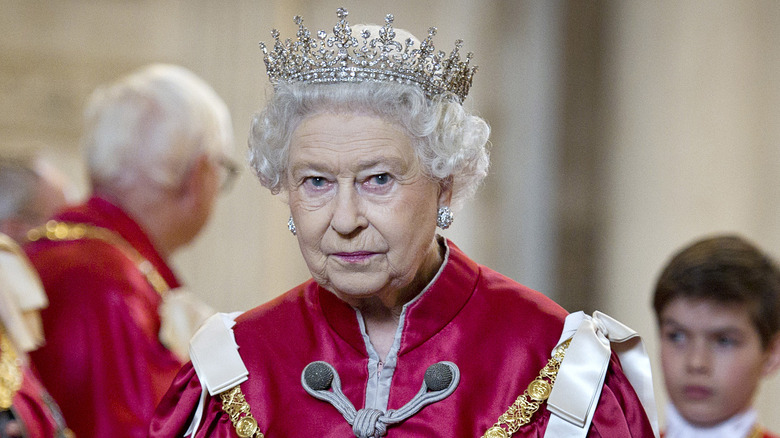 Wpa Pool/Getty Images
As The Guardian reported, there are a number of procedures in place for when Queen Elizabeth II dies, many of which have been set for decades, with the finer details honed during regular meetings held each year she remains in power. The codename for the days following her death is Operation London Bridge. Her Majesty's personal physician, Professor Huw Thomas, will be the first to learn she's passed, followed by her private secretary, Sir Edward Young. Per Politico, the phrase "London Bridge is down" will be utilized to alert those in power of the queen's passing.
The queen's coffin will be transported to Buckingham Palace on D-Day+2, i.e. two days after her death. If Her Majesty passes in Sandringham, she'll be taken by royal train to London, where the British Prime Minister and his cabinet will be waiting. Operation Unicorn is enacted if the queen dies at Balmoral and her coffin can be transported by train, while Operation Overstudy will be triggered otherwise as it requires the use of an airplane.
Operation Lion, meanwhile, denotes the procession of the coffin from Buckingham Palace to the Palace of Westminster, where the queen will lie in state for three days after her death, in yet another codenamed operation known as Feather. Mourners will be given the opportunity to pay their respects to the long-reigning monarch during this short period, with unprecedented crowds expected to descend upon London as a result.
Operation Spring Tide details how Prince Charles will become king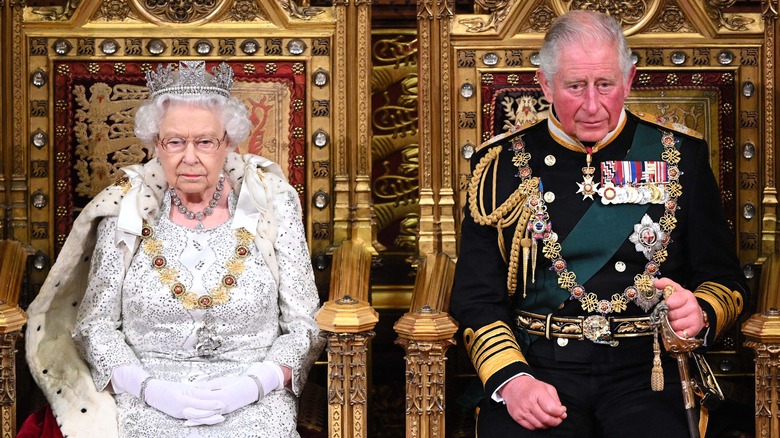 Wpa Pool/Getty Images
Operation Spring Tide covers Prince Charles's ascension to the throne, including a trip around the U.K. to ratify the change in Scotland, Wales, and Northern Ireland. Politico reports an audience will be held with the newly crowned king on the same day his mother passes, after which King Charles will then speak directly to citizens. On D-Day+1, the Ascension Council will meet at St. James's Palace to ratify him as the new monarch.
On D-Day+3, "Charles will receive the motion of condolence at Westminster Hall", with his tour of the country kicking off later that afternoon. As Page Six reported back in March, preparations are well underway to make the transition of power as smooth as possible. As Joe Little, managing editor of Majesty magazine, explained, "Unlike [the queen's father] King George VI, who died quicker than expected and with not a lot of preparation, this is well mapped out and orchestrated."
Although Charles has been preparing to be king his whole life, ascending the throne will be bittersweet for him because it will also mean losing his beloved mother. As royal expert Penny Junor noted during an appearance on "Podcast Royal" (via The Mirror), "It's going to be a very vicious week, moment and I think that I am sure that he is pretty terrified of the whole prospect. He is a very emotional man and a sensitive man, he did take the death of his father very badly."