Over 30% Of People Agree On Their Favorite Summer Activity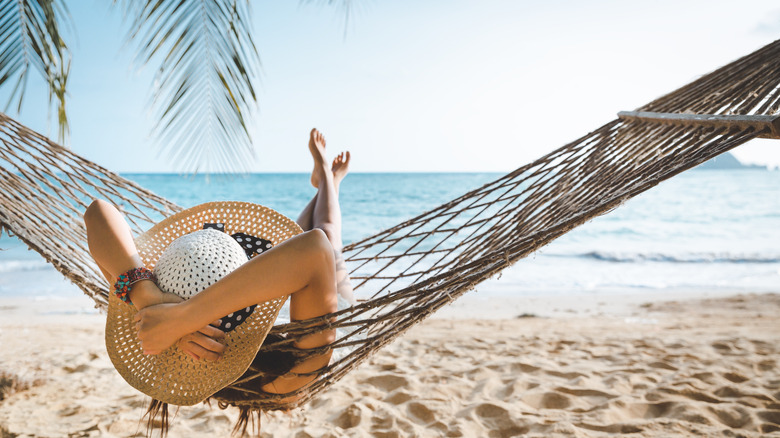 Peera_stockfoto/Shutterstock
Summer might be our favorite season: the days are longer, the nights are warmer, and the possibilities are endless. The warm weather marks the beginning of a three-month party: from summer festivals to nighttime block parties and trips to the county fair, this sunny season has it all. Soak up some much-needed vitamin D to achieve the perfect summer tan without burning your skin or cool off with a summer cocktail in your hand. No matter what your vibes are this season, there's a perfect summer activity for you.
Sorry Lana Del Rey, no "Summertime Sadness" here; it may be hot outside, but our calendars are booked full of beach trips and pool days to keep us cool. With all the activities this season has to offer, which one really screams summertime? The List conducted a survey asking 558 people, "Which is your favorite summer activity?" To no one's surprise, one activity stood out as the true symbol of fun in the sun.
Dive into this summer's most popular pastime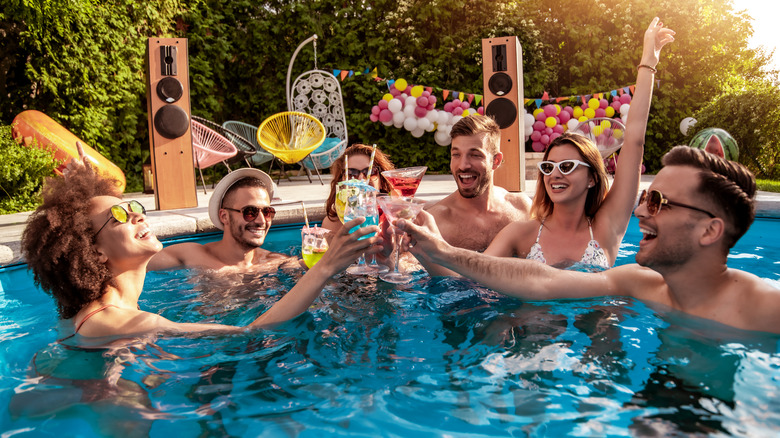 Ivanko80/Shutterstock
According to The List's survey results, people's favorite way to celebrate summer is taking a dip in the water. With 30.82% of the vote, swimming is the ultimate summertime activity. There are so many options when it comes to swimming: dive into a stylish plunge pool, float along the river in an inner tube, or take a peek under the sea as you surf the waves in the ocean. And don't worry, we've debunked the myth that you can't go swimming right after you eat.
In second place, with 29.21% of the vote, is traveling. Whether you're flying across the country for a tropical getaway or visiting family while the weather is pleasant, summer is a great season for travel. 14.16% of voters prefer a summer camping trip to explore the great outdoors and enjoy warm summer nights under the stars.
Summertime is all about celebrations, and 12.90% of voters say there's no better way to enjoy the season than with food and friends, eating delicious hot dogs and good ribs fresh from the grill. Activities like biking (9.14%) and tanning (3.76%) also received some love from people who enjoy soaking up the sun.
Swimming is so fun, you don't even realize you're exercising!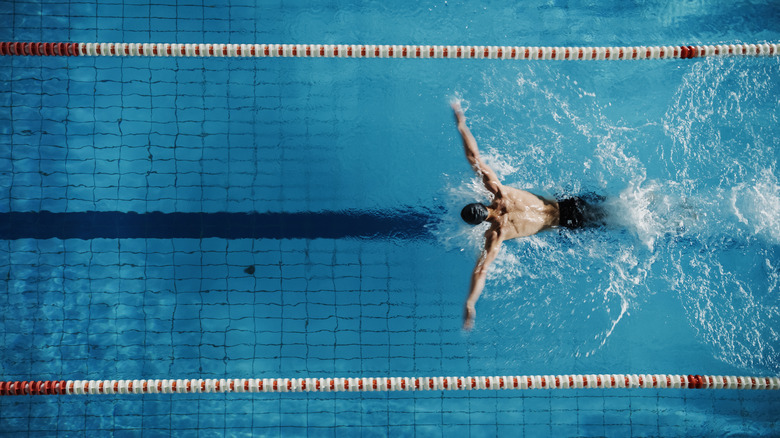 Gorodenkoff/Shutterstock
It's no shock that swimming took first place as the favorite summer activity — it's the perfect way to cool off after a hot day as you splash around and work on your perfect cannonball. It doesn't just heal your inner child, swimming every day has some serious health benefits. According to Healthline, swimming tones practically all of your muscles, and increases strength and endurance without straining your heart. It is the perfect low-impact workout for people with disabilities or injuries, and is a great form of physical therapy that increases flexibility and balance.
Better Health Channel also reports on the many ways that going for a swim benefits your mental health: swimming has been proven to reduce stress, help you sleep at night, and improve your mood. Who isn't grinning from ear to ear when they're diving into a cold pool on a hot day? Before we bid farewell to summer 2022, strap on your cutest swimsuit and enjoy the water — but don't forget the sunscreen!