The Exact Lipstick Elizabeth Olsen Wore For Wandavision's Halloween Episode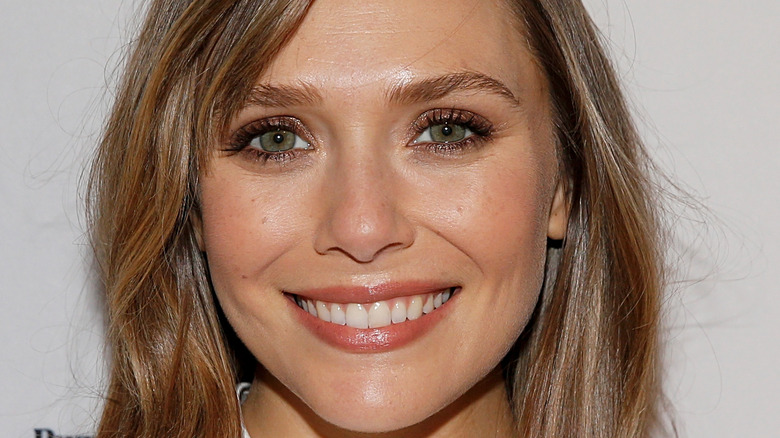 Dominik Bindl/Getty Images
When Marvel first branched out into television, there were concerns over how well the experiment would go. By all accounts, teaming up with Netflix didn't work out as many expected. As IndieWire detailed, the highly promoted likes of "Jessica Jones" and "Luke Cage" failed to set the world alight, despite everyone's best efforts. 
Fortunately, the entertainment juggernaut fared better with Disney+, particularly their kooky sitcom "WandaVision," featuring fan favorites Scarlet Witch (aka Wanda Maximoff) and Vision. 
It was a surprising development. Even star Paul Bettany confessed that he didn't think "WandaVision" would be a hit, but critics loved it — the series achieved an average rating of 91% on reviews aggregator Rotten Tomatoes — and awards bodies did likewise, with the show garnering 23 Emmy nominations for its first season and ultimately winning three. In fact, as Variety points out, pundits were expecting it to sweep the boards. 
Elizabeth Olsen's looks were just as popular, especially her stylish Halloween costume for Episode 6. Here's the exact lipstick she wore for the occasion.
Wanda's lip color perfectly matched her throwback costume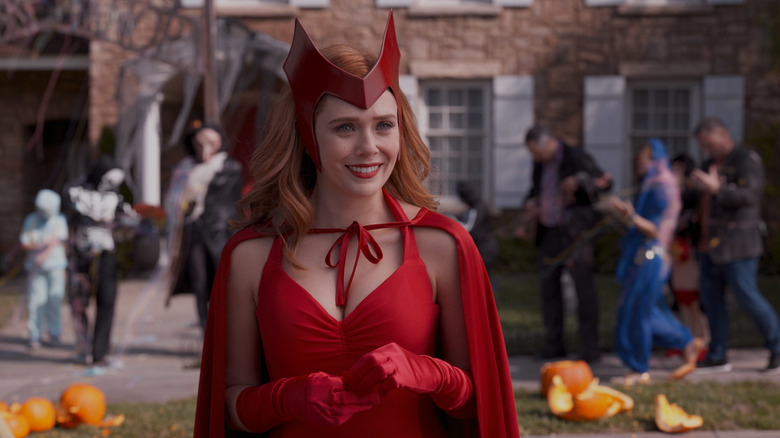 Marvel Studios/Disney+
Per IndieWire, the "WandaVision" Halloween episode, entitled "All-New Halloween Spooktacular," finds the titular witch "dressed up as a 'Sokovian fortune teller' who just so happens to look a lot like the Scarlet Witch seen in Marvel comics," which was obviously a cool moment for longtime fans of the character and newcomers alike. 
The rest of us, meanwhile, simply coveted the lip shade worn by actor Elizabeth Olsen, which perfectly complemented her costume. Makeup artist Brittany Cale shared a TikTok video confirming that the product used on Olsen was Pat McGrath's MatteTrance Lipstick in the shade Forbidden Love, which is described on the brand's site as the "ultimate classic red." Pick it up online for $39. 
The Halloween installment of the Disney+ show was a huge hit, with Good Housekeeping even offering a whole bunch of DIY costume options for those unwilling to shell out the big bucks for replicas. Just don't forget your lipstick. 
WandaVision presented a huge challenge for Elizabeth Olsen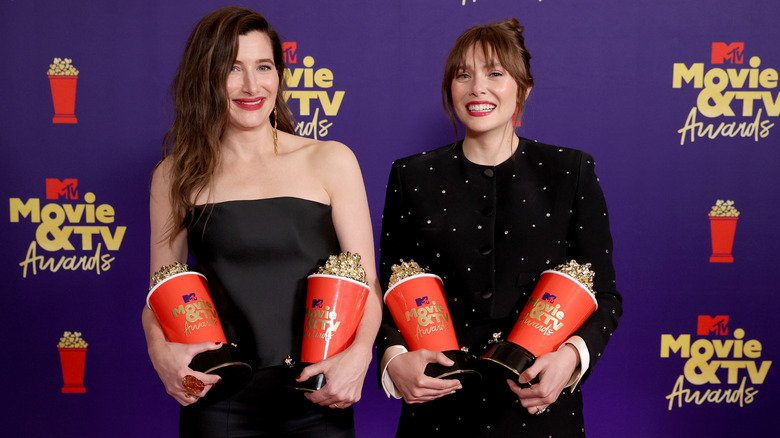 Kevin Winter/2021 Mtv Movie And Tv Awards/Getty Images
Clearly, the show was a major moment for the MCU. Star Elizabeth Olsen admitted she felt uncomfortable filming "WandaVision" because it was unlike anything she'd ever done before. "I've only been working for 10 years, but there is this feeling where you start to get comfortable," she told Elle in 2021. "'WandaVision' was the furthest thing from comfortable for me. It felt intimidating. The character is a completely different thing." 
Olsen even underwent a "sitcom boot camp" alongside her co-stars to get in the groove before filming began (via IndieWire). Playing Wanda changed the game for Olsen, who got her start in indie movies and was launched into the stratosphere upon joining the MCU. She acknowledged feeling "very protective over Wanda" to Empire. 
However, that doesn't mean fans can expect to see more "WandaVision" any time soon. The actor confirmed in an interview with Variety that it was only meant to be one season.