Who Was There When The Bold And The Beautiful's Stephanie Forrester Died?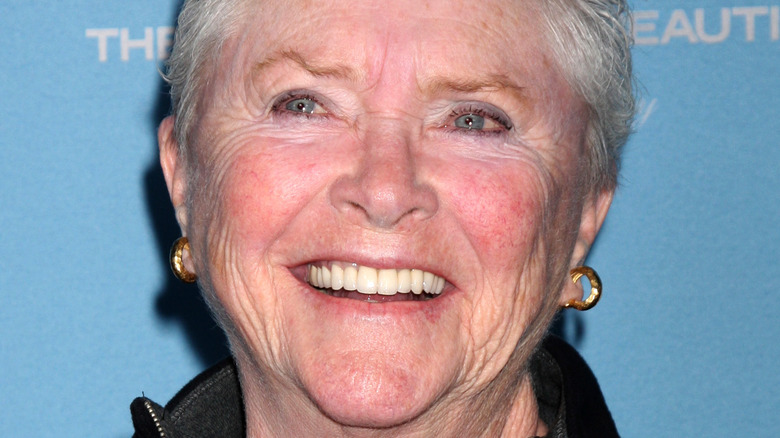 Kathy Hutchins/Shutterstock
For 25 years, soap opera icon Susan Flannery played the role of Stephanie Forrester on "The Bold and the Beautiful." The formidable actress was nominated for nine Daytime Emmys for her portrayal of the Forrester family matriarch, taking home the prize three times. During her time on screen, Stephanie was best known for her relationship with husband Eric Forrester (John McCook), with whom she founded the company Forrester Creations that most of the family still runs to this day (via CBS). Though their relationship wasn't without its strife — they were married and divorced several times — many fans of the show viewed the two as one of soaps' most iconic supercouples.
When the audience wasn't enthralled by the latest drama between Stephanie and Eric, they were being wildly entertained by the eternal feuding between Stephanie and Brooke Logan — played by one of the show's longest running actors, Katherine Kelly Lang. Over the years, Brooke married Eric twice while he was divorced from Stephanie, was briefly married to Eric and Stephanie's son Thorne, and was married to their other son Ridge a whopping six times (via Soaps in Depth). Needless to say, there was a certain animosity between the two women as they fought over the Forrester men for decades. However, by the time that Flannery's run on "B&B" was coming to an end in 2012, the characters managed to develop a strong friendship that was built on their years of shared experiences.
Brooke was a support to Stephanie following her cancer diagnosis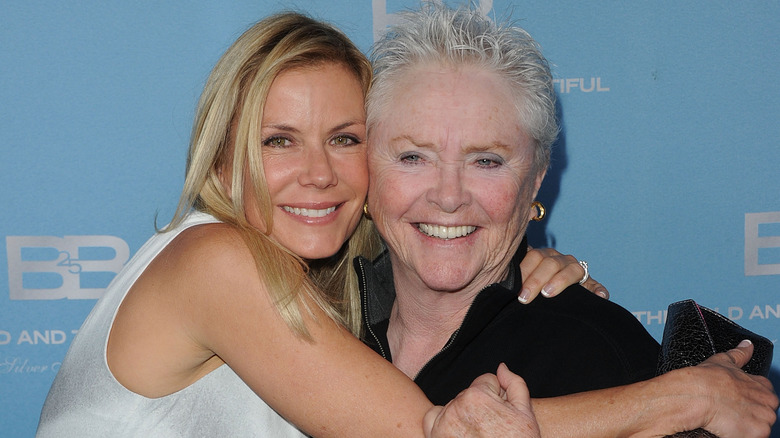 Jason Merritt/term/Getty Images
In 2010, Brooke Logan was the only person privy to Stephanie Forrester's Stage IV lung cancer diagnosis, following a collapse which landed her in the hospital (via Soap Central). Despite the years of bad blood between them, Brooke became a confidant for Stephanie when she decided to keep her illness a secret from the rest of her family. During an interview with TV Guide, executive producer and head writer Brad Bell said of Stephanie's experience with cancer, "It's the weightiest, most intimate and difficult thing she has ever had to wrestle with and to have to share it with Brooke is torture." Though Brooke was probably the last person Stephanie would have wanted to know, the younger woman became her main support system while she wrestled with whether or not to receive treatment, her remission, and when she was re-diagnosed as terminal.
"Stephanie [was] determined to party right into her grave," Bell said. Instead of wallowing, she decided to live her final days to the fullest. She created a bucket list that included things like a birthday party with a Silly Slide and riding the roller coaster on the Santa Monica pier. Actress Susan Flannery was a cancer survivor herself and shared with Bell that the most important thing following such a diagnosis is to maintain a sense of humor, per her own interview with TV Guide. Rather than putting her character through a series of heartbreaking goodbyes, "B&B" stuck to Stephanie's fun-loving nature by throwing an Irish-themed celebration-of-life party where she could be surrounded by all of her loved ones for the last time (via Daytime Confidential).
Stephanie died in Brooke's arms
When it became clear that Stephanie Forrester's final hours were nearing, she decided she wanted to be at her infamous Big Bear Cabin when she passed. Brooke Logan brought her there, and, while they awaited Eric Forrester's arrival, the two women reminisced about the past several decades (via Michael Fairman TV). Brooke apologized for all of the turmoil she caused the family over the years, and Stephanie gifted her the engagement ring from Eric. While sitting on a bench overlooking a stunning view, real-life friends Katherine Kelly Lang and Susan Flannery delivered a tearful and heart-wrenching goodbye scene between their two iconic characters, earning each of them a Daytime Emmy nomination.
Stephanie asked Brooke to sing to her when it became clear that Eric wasn't going to arrive in time for her last moments. Brooke began singing "When Irish Eyes Are Smiling" and held her rival-turned-friend in her arms as she died peacefully. Flannery was thrilled that Brooke was there for Stephanie at the end, beautifully capping off a relationship that was at the heart of the soap for 25 years. After all, as Bradley Bell told TV Guide, "Stephanie and Brooke are the true supercouple of 'B&B.'"