Stephanie Lee Enlisted BIPOC Mental Health Professionals While Creating Selfmade - Exclusive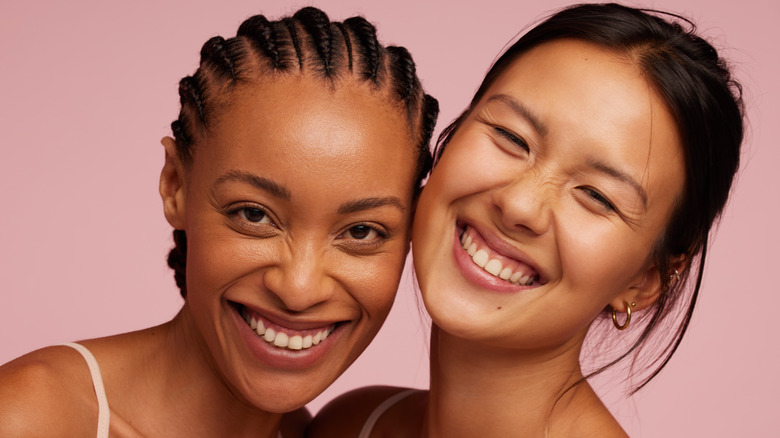 Jacob Lund/Shutterstock
When the COVID-19 pandemic shut down the world, we saw a rise in mental health diagnoses. According to the National Institute of Mental Health, one in five American adults has a mental health illness. While the prevalence of mental health illnesses is similar across races, people of color (POC) are less likely to receive mental health support than their White counterparts, resulting in the disorders lasting longer or having a more severe impact on their lives. A report published by the American Psychiatric Association showed that 48% of White, 31% of Black, and 31% of Hispanic people with mental illness received support in 2015.
Mental health doesn't discriminate, but minorities are less likely to access quality mental health services due to lack of health insurance, awareness of mental health illnesses, and stigma attached to the topic.
Regarding beauty, skin inclusivity is a recent development. Previously, shade options regarding foundations and concealers were very limited, and so was the representation of the BIPOC (Black, Indigenous, and people of color) community in the media. We are making progress, as beauty brands like Fenty Beauty and Mented Cosmetics include a wide range of colors so everyone can find a shade that matches them perfectly in the beauty aisles, per Byrdie. Stephanie Lee, the founder of selfmade, made history by combining skincare with emotional intelligence in a way that's never been done before. She did it with the help of BIPOC mental health professionals.
BIPOC mental health professionals helped create selfmade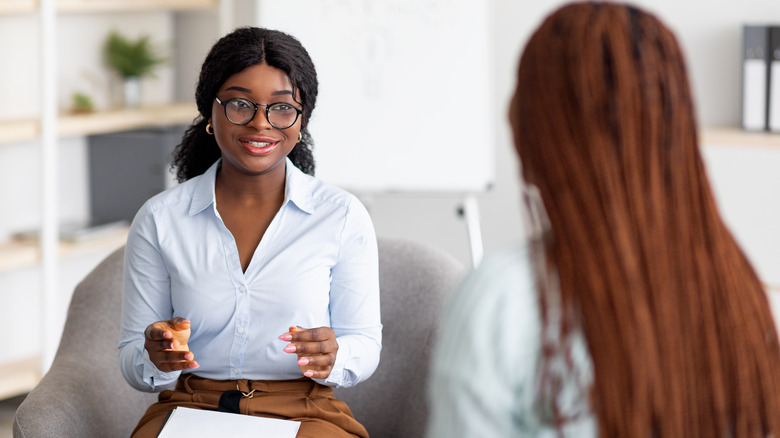 Prostock-studio/Shutterstock
Selfmade was developed in partnership between Asian CEO Stephanie Lee, Black beauty veteran Robyn Watkins, and two Black mental health experts, psychologist Dr. Jeshana Avent-Johnson and psychiatrist Dr. Byron Young, per selfmade. Selfmade prioritizes emotional well-being and helps us understand how mental health affects our skin and physical health.
Each product symbolizes a human psychological concept: attachment, resilience, and intimacy. Lee told The List, "Our product philosophy revolves around psycho-dermatology with the goal of bringing awareness to the exact point where our emotional and mental well-being affects our skin and body function. That body and mind axis is critical to understanding the internal and external stressors that bring us out of healthy homeostasis, triggering stress, which in turn shows up in our skin."
Representation of BIPOC (Black, Indigenous, and people of color) individuals in mental health and beauty is important, so people feel like they belong by seeing others like them represented equally. Lee told us, "Communities of color remain largely under-resourced in mental health tools and conversations. From actual access or lack of representation in practitioners as 83% of psychologists in the US are white." Provider discrimination is another factor as people experience a more positive experience when working with a mental health provider of the same race (via National Library of Medicine). It's possible as people of the same race have similar life experiences, which makes it easier for them to relate to the provider from the same background.
The BIPOC community is the foundation of selfmade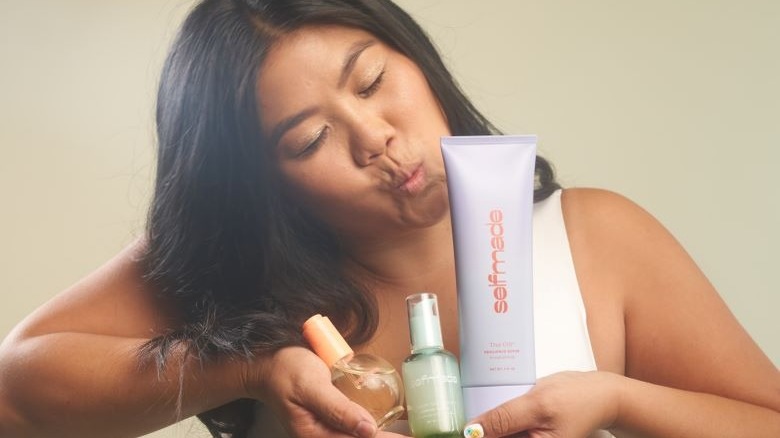 Stephanie Lee
Not only does selfmade develop products with the help of two Black mental health experts, a Black beauty veteran, and an Asian CEO, but its commitment to mental health focuses on the BIPOC (Black, Indigenous, and people of color) community as they are under-represented in the media and professions, and under-resourced in mental health fields.
Stephanie Lee told The List, "We aim for 66% vendors and consultants to be BIPOC, from a Black-owned sustainable ingredient supplier to POC-owned creative studio. Our commitment to inclusivity and social justice is intersectional and a foundational part of the core of our business." Lee added that internally, 70% of staff are BIPOC.
Lee told us, "We are funded by angel investors who are not only diverse but are our stakeholders themselves (50% Millennial and Gen Z)." The brand is taking steps towards progress and inclusivity that we need to see more of in this world, and they give a platform for people to be heard. She said, "Our most successful program is the Junior Advisory Board, where we have a year-long cohort of mental health activists who advise on the business and are the voice of our target stakeholder."
The three product lineup includes secure attachment comfort serum+ with Cortinhib G, the proven hero ingredient to reduce the stress hormone in the skin, self disclosure intimacy serum to promote self-love, and true grit resilience scrub that helps skin trauma and encourages healthy hair and resilient skin.