How Skincare Brand Selfmade Was Created For Gen Z BIPOC – Exclusive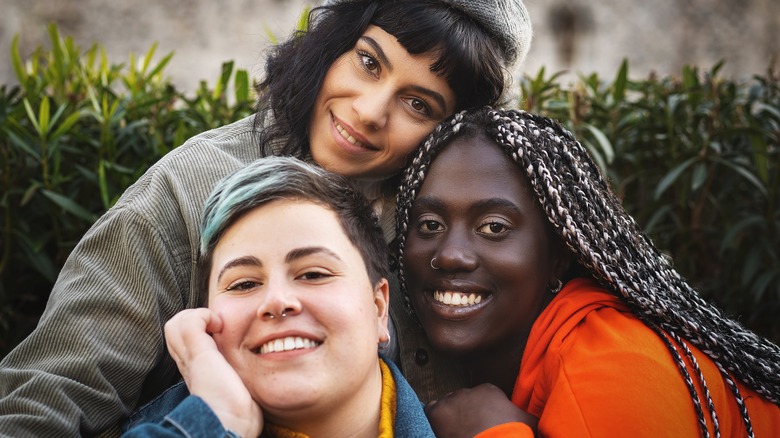 giuseppelombardo/Shutterstock
In the spring of 2020, the world turned upside down when the COVID-19 outbreak impacted millions of lives. People lost their loved ones, employment, and the freedom to have physical contact with family and friends as they were confined to their homes to reduce the virus's spread. As a result, the World Health Organization (WHO) reported that global cases of depression and anxiety went up by 25% within a year of the pandemic, and it impacted young people and women the most.
Generation Z — or Gen Z — is the population of young people born in 1997 or after (via Pew Research Center), and according to the American Psychological Association (APA), they are more likely to experience stress and mental health concerns compared to the older generations regarding issues like immigration, sexual assault, and mass shootings. Similarly, in the BIPOC (Black, Indigenous, and people of color) community, lack of access to health care, including mental health services, dependence on welfare, and unemployment result in higher rates of mental health disorders, per Resources to Recover. Minorities and youths are suffering from more mental health crises and need more support for their emotional wellbeing, and that's why Stephanie Lee created selfmade. Selfmade is an AAPI (Asian or Native Hawaiian and Pacific Islander origin) owned female-founded brand that combines beauty with emotional wellbeing, per selfmade. The company was developed with the help of BIPOC mental health professionals with Gen Z in mind.
The brand was created to support Gen Z and BIPOC community's mental health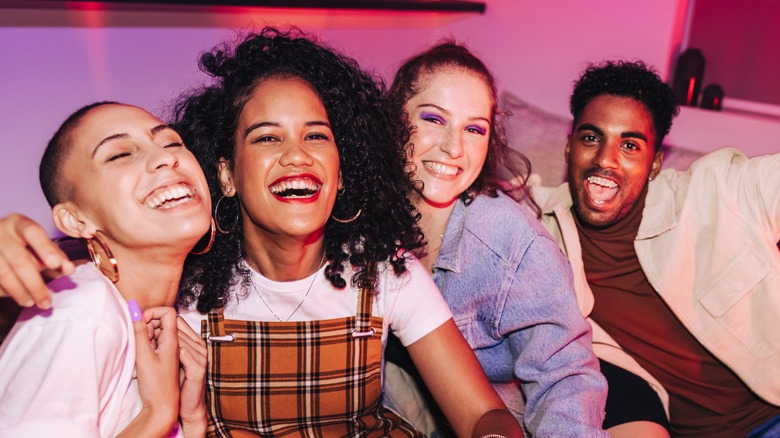 Jacob Lund/Shutterstock
Stephanie Lee's own life experiences and mental health led her to leave the corporate world. She traveled the world and spoke with women and non-binary folks about their self-worth and emotional wellbeing. The experience made her realize there was a need for a brand that focused on the overall wellness of young people and minorities.
We spoke with Lee, who previously worked at the White House under Michelle Obama and asked her how the brand was created for BIPOC and Gen Z. Lee told The List, "From inception, selfmade's commitment to mental health led to a focus on BIPOC, and Gen Z. Communities of color remain to be largely under-resourced in mental health tools and conversations." She added those populations lack access or representation in practitioners, as 83% of psychologists in the country are white.
Several factors influence the mental health of young individuals. She told us, "Gen Z remains depressed, anxious, and stressed from pretty large existential issues from climate change, school shootings, on top of the conventional 'coming of age' b.s. of bullying, hormones of puberty, and understanding identity, etc." However, she added that it's important to accept one universal truth and that is the need to understand and care for one's emotional world. Selfmade beautifully fuses skin care rituals with emotional intelligence to take care of oneself from the inside out, and each product embodies a human psychological concept: attachment, resilience, and intimacy. 
How the Gen Z and BIPOC community helped create selfmade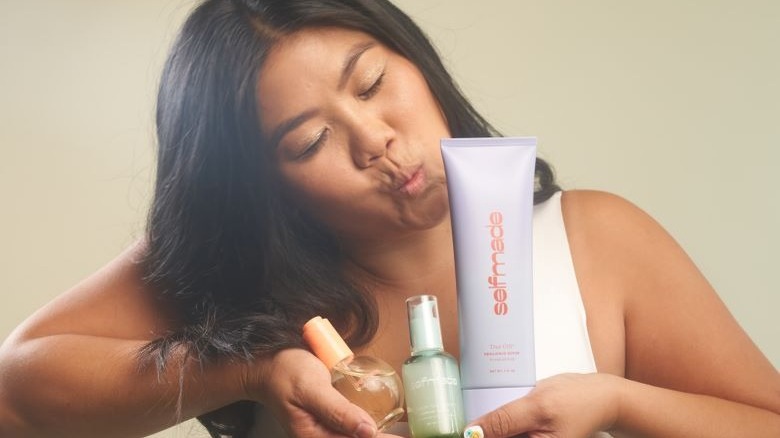 Stephanie Lee
Selfmade was developed in partnership between an Asian CEO, Stephanie Lee, Black beauty veteran Robyn Watkins, and two Black mental health experts, psychologist Dr. Jeshana Avent-Johnson and psychiatrist Dr. Byron Young, per selfmade. This innovative connection between the mind, body, and heart is made with Gen Z in mind as they are validated and developed in partnership with selfmade's mental health professionals to bring these products to life.
While selfmade was created for the Gen Z and BIPOC community, they also helped create it. Lee told The List, "Internally, 70% of staff are BIPOC, and we are the majority female brand where 50% are Gen Z and Zennials. We are funded by angel investors who are not only diverse but are our stakeholders themselves (50% Millennial and Gen Z)."
To keep with the theme of accepting and appreciating the under-represented in the community, Lee told us, "We aim for 66% vendors and consultants to be BIPOC, from a Black-owned sustainable ingredient supplier to POC-owned creative studio. Our commitment to inclusivity and social justice is intersectional and a foundational part of the core of our business."
Lee built the brand with Gen Z before even launching it and said, "Our most successful program is the Junior Advisory Board, where we have a year-long cohort of mental health activists who advise on the business and are the voice of our target stakeholder." Selfmade, indeed, is a community-powered brand inside and out.