How Much Money Do Home Health Aides Make?
Inside Creative House/Shutterstock
Home health aides often serve older generations who need help with daily tasks in their home, per the AARP. In fact, 70% of those 65 or older will need some type of help in their homes in the coming years. But it's not just older people who hire home health aids; anyone who needs extra support may seek out an aide to assist them. According to Bayada, people often choose home health over seeking out a nurse at a clinic because it is more comfortable to do things in their own space. It can also be a less expensive alternative, as you can find the type of help for your specific needs.
As for the home health aide, it can be a rewarding career, but can also allow flexibility. All home health aides work different schedules depending on the clients they serve. You could work as little as two hours a day or you can be a live-in aide that lives with a client that may need round-the-clock support. If you are interested in becoming a home health aide, here is what you can expect to make.
Home health aides make an hourly wage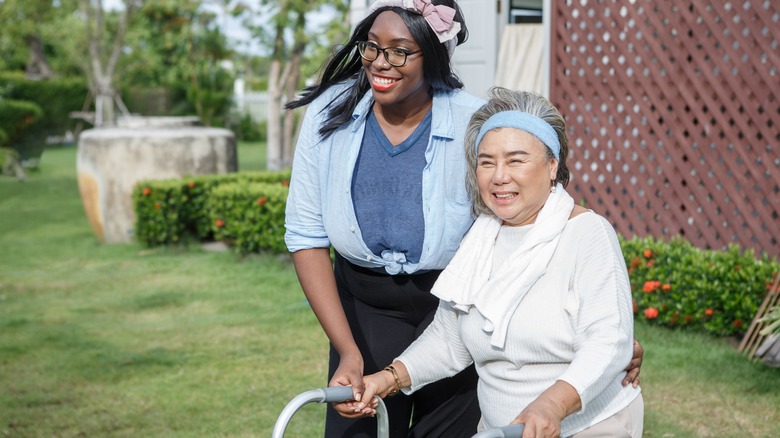 Iammotos/Shutterstock
According to Indeed, home health aides are usually paid hourly. The average national average in the United States is $15.89  an hour, but this number ranges depending on the company you work for and the state you live in. For example, home health aides that live in Chicago can expect to make about $21.86 an hour, while those who live in Philadelphia may make as low as $12.91 an hour.
While a home health aide could be a vital part of someone's medical and personal care, they often aren't paid as much as other medical professionals. According to U.S. News & World Report, an average annual salary for a home health aide is $27,080, with the highest salary coming in quite low at just $31,280. If you are looking at similar positions in the medical space, a medical assistant makes about $36,930 and a nursing aide makes about $32,050, on average. But what, exactly, does a home health aide do?
What to expect when starting a career as a home health aide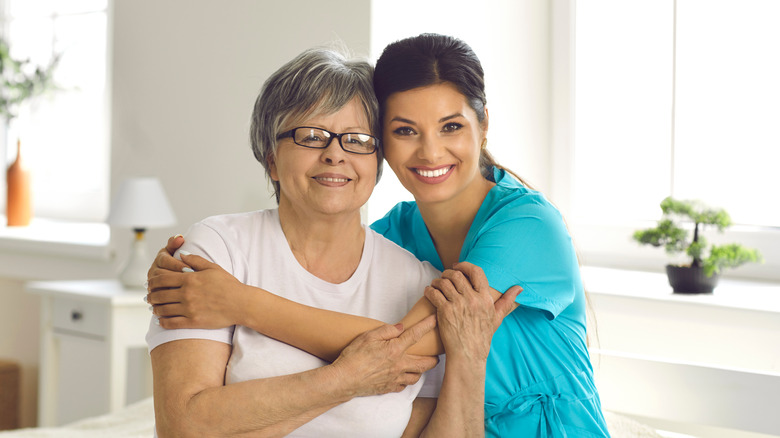 Studio Romantic/Shutterstock
According to The Balance Careers, a home health aide may support the elderly, disabled, or sick perform daily tasks. In addition to helping with everyday tasks, they may also be responsible for giving medicine, checking vitals, and ensuring a patient is comfortable. With so many clients being elderly, you should expect to spend a majority of your time helping them do chores they can no longer do and ensuring they are not a danger to themselves, per the AARP. Many people seek out a home health aide when they begin forgetting to do every day things like turning off the oven or no longer being able to prepare simple meals.
To become a home health aide, you will need to look at the requirements for your specific state. Overall, most home health aides will need about 75 hours of educational training and 16 hours of hands-on training, clinical training. According to the U.S. Bureau of Labor Statistics, the need for home health aide positions will increase 33% by 2030, making it a great, in-demand job with countless opportunities to help the lives of those in need.