The Times Jared Leto Has Pulled Off Eyeliner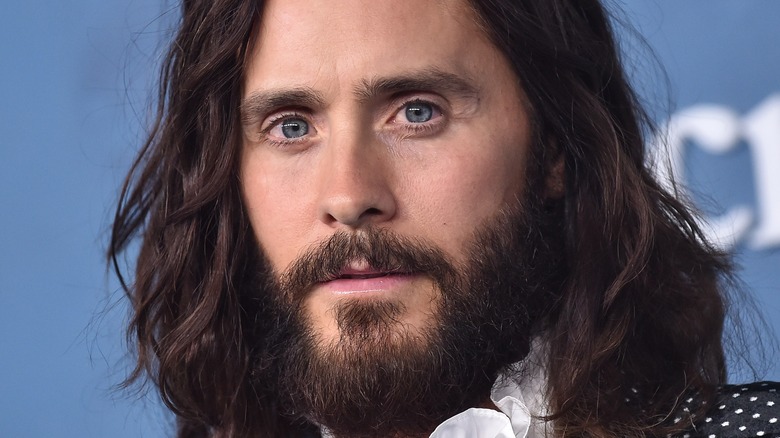 DFree/Shutterstock
Jared Leto is an icon. There, we said what everyone's been thinking and known since the phenomenal actor's career took off in the 1990s (via IMDb). He's something of a risk-taker. Just look at any of the roles the actor has taken on during his career. For example, it requires an explorative soul to take on a character as iconic and, to put it lightly, eccentric as the Joker. Would it surprise you to know that Leto himself had a hand in the character's design? According to USA Today, Leto teased his updated Joker design on Snapchat before the movie was released, giving fans a sneak peek of what was coming.
Famously, Leto stayed in character during most of his time filming "Suicide Squad" (per Entertainment Weekly.) His dedication paid off; you've likely seen plenty of people dressed up as his version of the infamous DC villain over the past few Halloweens.
Along with iconic roles, Leto is also known for his head-turning looks on and off camera. One look he has pulled off time and time again is eyeliner. Eyeliner has history back in ancient times, and was used to draw attention to the eyes — it's something Leto seems to have perfected. Let's take a closer look at the times this Hollywood A-lister pulled off eyeliner and set a new standard for anyone else wanting to rock eye makeup.
Leto wears eyeliner on the red carpet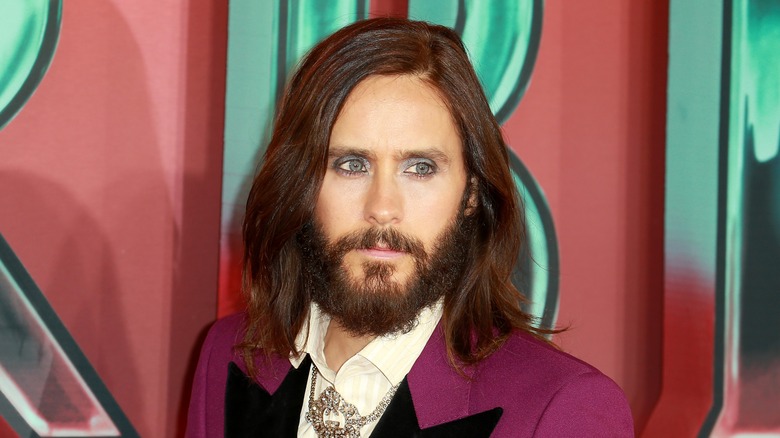 Cubankite/Shutterstock
Leto is one of the original men who made "guyliner" a thing (Adam Levine has pulled off a glam eyeliner look as well). In fact, the "Requiem of a Dream" star is no stranger to makeup of all kinds. In a tweet shared back in 2019, Leto is seen applying a few extra coats of lipstick in the midst of a crowded event. It's a bit too dark to see what shade it is that he's expertly applying, but the end result is without a doubt fabulous.
But back to the eyeliner. At a London premiere for his latest movie "Morbius," Leto turned heads with a marvelously glimmering blue eyeshadow-eyeliner combination. Not only did the combo perfectly match his blue eyes, but Stylecaster also mentioned how the makeup matched seamlessly with his signature purple Gucci suit.
Leto's love for Gucci as a brand goes deep — he played Paolo Gucci in "House of Gucci" in 2021(via IMDb.) Leto is just about unrecognizable in this role. But he also shows his love for Gucci in less dramatic ways, such as the collaborative photoshoot he did to celebrate its #TheNorthFacexGucci collection.
Leto looked amazing as Rayon in Dallas Buyers Club
While Jared Leto can regularly be seen wearing eyeliner off-camera, we're also impressed by his aptitude to wear sometimes tricky makeup onscreen as well. In "Dallas Buyers Club," Leto took on the role of Rayon. Per IMDb, Rayon was an HIV-positive transgender woman struggling with drug addiction. Leto played the sensitive role with such class and realism that he would go on to win multiple awards for his performance, including an Oscar for Best Performance by an Actor in a Supporting Role, according to The Hollywood Reporter.
Leto's overall makeup was simply gorgeous in this role. If you take a closer look at his face, you'll see that Leto is wearing handsome black eyeliner. The eyeliner is slightly smudged beneath his lower eyelid, giving him a tired yet glamorous look, which works towards his role as Rayon.
Throughout the film, Leto is shown wearing different styles of makeup, but they all seem to share a common theme: thick, black eyeliner along the bottom lash line. According to Beauty Gab, applying eyeliner in this area gives the eye an overall intense, smoky, and dramatic look — as does double-winged eyeliner. Leto pulled off the look with ease.