The Time Adam Levine Pulled Off A Glam Eyeliner Look For Late Night TV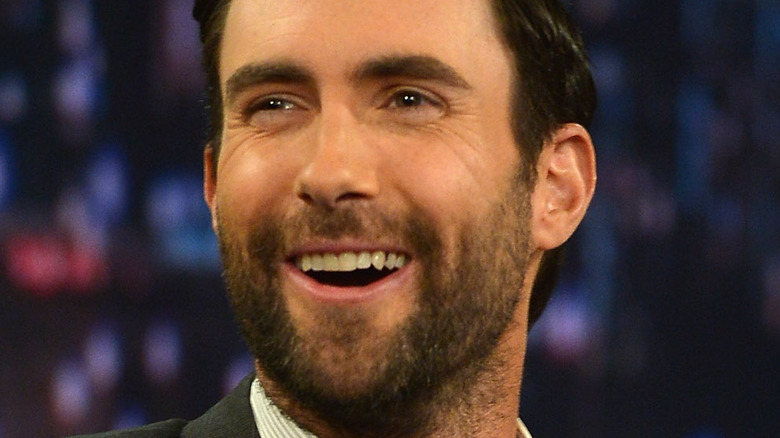 Theo Wargo/Getty Images
One of our favorite makeup items is eyeliner. It's a fun and super easy way to take your everyday makeup look and turn it into something perfect for a glamorous night out for cocktails and champagne. While many wearers of makeup choose to incorporate a sleek eyeliner into their daily makeup routine, there are probably very few of us who have been able to pull eyeliner off quite like Adam Levine.
Glam eyeliner on Adam Levine? You might think these two things don't belong in the same sentence. But if you think of the many iconic looks Levine's rocked over the years, you might give that a second thought. Eyeliner isn't something you expect to see very often on today's rock band members, but the frontrunner of Maroon 5 isn't known for playing it safe when it comes toeing the line for fashion expectations. The lead singer of Maroon 5 has tried many bold and daring statements over the years, including that tattoo he has on a surprising part of his body.
Adam Levine wears glam eyeliner during a performance on Jimmy Kimmel
How in the world is it possible to pull off dozens of tattoos, silver hair, and a flowery tunic that hangs past your knees all at once? Maybe it's just the magic of being Adam Levine.
In April of 2021, Levine pulled off this exact look during a much-anticipated performance on "Jimmy Kimmel Live." The silver-haired singer lit up the stage as he sang his band's song "Beautiful Mistakes" to the crowd. A stunning Megan Thee Stallion also made an appearance during the show, even if it was only in a music video clip.
His crystal-clear vocals and passionate lyrics were more than enough to leave the audience in awe, but Levine truly brought it with the gorgeous makeup and head-turning outfit he wore that night. The pearls wrapped around his neck perfectly complemented the singer's smoky eyes and smudge-free eyeliner. Levine seemed very happy with this look. Before the performance, he even shared his makeup on his Instagram story.
Levine's new look came after leaving The Voice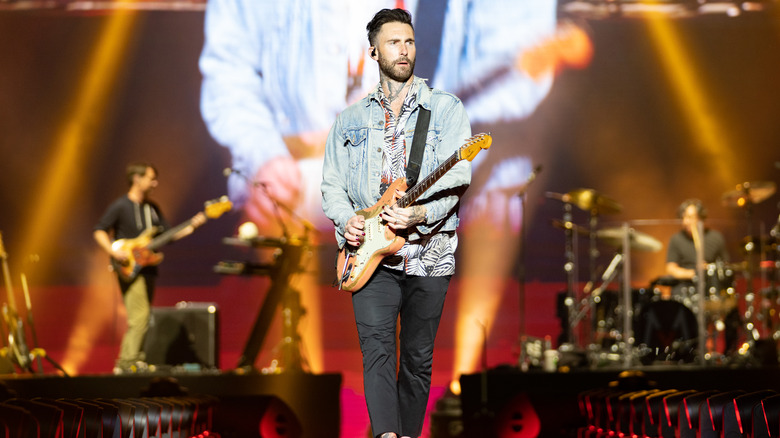 Shlomi Pinto/Getty Images
You'd be hard-pressed to find someone who hasn't heard of Adam Levine or the band Maroon 5. The band debuted twenty years ago with their album "Songs About Jane" (via All Music). It's been a wild ride since then. The band has consistently topped Billboard charts with hit songs like "This Love" and "Misery." After twenty years of creating our favorite songs to jam to, Levine shows no signs of slowing down. On top of his busy music career with Maroon 5, Adam Levine was hired in 2011 as one of the original coaches for the hit TV show competition "The Voice" (via IMDb). 
During Levine's time as a judge, many people fell in love with his trendsetting sense of fashion. Typically, you would see him wearing plenty of black, no sleeves, and leather. After Levine left "The Voice" in 2019, fans noticed his taste in fashion became a lot more flamboyant — take his performance on Jimmy Kimmel Live for example. We love seeing Levine branch out and try new things — who knows what fashionable look he'll serve us next?