Anila Sajja Of Married To Medicine Spills The Tea On Her Beauty Must-Haves - Exclusive
Anila Sajja brings an extra serving of glamour to "Married to Medicine." The style influencer joined the cast of the long-running Bravo series in 2021 and stuck around for the ninth season in 2022. She's found her place amongst her co-stars and is at the center of her share of drama as the season unfolds. More importantly, Sajja never fails to deliver in the wardrobe department. She always looks fierce and regularly shows off her bold, fashion-forward moments on Instagram. For instance, a recent post from a trip to Las Vegas highlighted three enviable 'fits. 
The reality TV star opened up about her style in an exclusive interview with The List. She explained that she likes to stay "really on-trend" and doesn't shy away from what she described as "statement colors," and she even shared a couple of tips for others who are looking to spice up their outfit of the day with a vibrant hue. Interestingly, an easy place to pump things up is in her makeup routine. "My makeup artist will do a lot of those eyeliner colorful things under the eye to make the eyes pop," she explained. 
Although she mixes things up with a dash of cerulean on her lower lash line, Sajja does have some beauty staples that she holds in high regard. She let us know her favorites from her beauty routine, and there are some definite must-haves in the collection.
Her makeup must-haves include staples from Tarte, MAC, and Fenty Beauty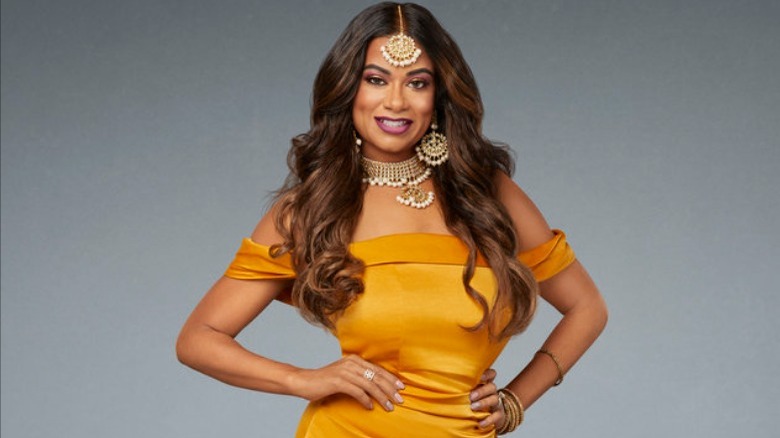 Quantrell Colbert/Bravo
Anila Sajja's beauty routine includes staples from quite a few celebrated brands. "Tarte is my favorite concealer," she told The List. "I always have to have that good coverup under the eyes, and Tarte always does a good job." Another reliable brand is MAC. "I do wear MAC foundation still. I've been wearing MAC foundation forever now. But as a South Asian Indian, it's always been tough growing up to find that color match for my skin tone. MAC has always nailed it in terms of that color, finding that right shade, so I wear that foundation." 
The reality TV star likes NARS for blush and contours with products from Rihanna's Fenty Beauty. "She has the best contour stick ever," she gushed about the "Love on the Brain" singer's brand. While she experiments with a variety of lip products, Sajja does have a favorite eyeshadow brand — Morphe. 
"It works really well," she enthused. "They have those big size palettes with all the colors. You can mix and match and have fun with it." Morphe — an affordable brand you can find within your local Ulta — has every color of shadow under the rainbow. And they don't skimp on quality. "Their pigment stays on really well," Sajja added. "I definitely recommend their eyeshadows."
Anila Sajja isn't afraid of trying out new trends
One of the secrets to Anila Sajja's enviable style is that she enjoys being on the cutting edge. She'll regularly pull from high-end brands like Balenciaga and Fendi and is at times adventurous with her choices. "Anything that's in — that's in style — I'm all about it," she said. Color is clearly important to her, and she's particularly daring when pulling together a palette. "You'll be surprised how beautiful you can look with different color eyeshadows, different color liners, and then doing a different color attire, switching it out," she said. "Nothing has to even match."
Sajja has showcased vibrant oranges and cool greens on Instagram. But there's one color she'll never stray from. "Well, everyone knows this, but I love pink," she said. "Pink is my favorite. All the different hues of pink, I'm for it. Magenta, light pink, dark pink — I'm a pink person."
New episodes of "Married to Medicine" air Sundays on Bravo at 9:00 p.m. EST/PST.