How Many Grooms-To-Be Actually Cheat At A Bachelor Party?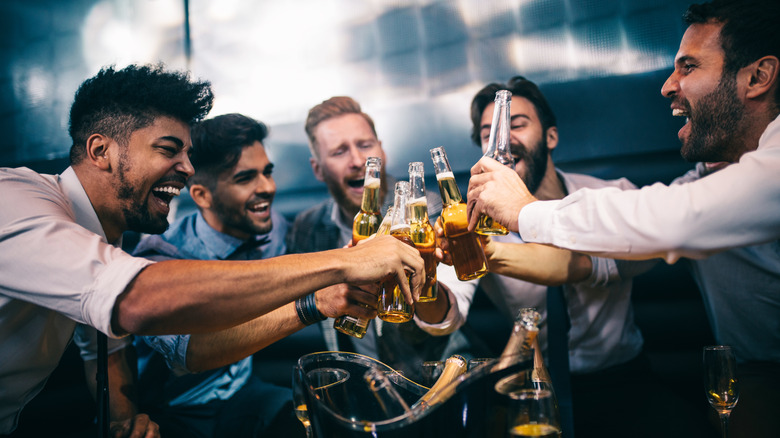 bbernard/Shutterstock
There's nothing quite like a bachelor party to add to the pre-wedding festivities. Back in the day, bachelor parties were usually a few close friends of the groom, led by the best man, going out for a few drinks and possibly swinging by a gentlemen's club. Yet, now, they've become more elaborate.
It's not uncommon today for a bachelor party to be a destination event. The groomsmen and friends will fly or drive to a party that lasts for days (via Men's Journal). Of course, unless you have an open relationship or a previous agreement that bachelor or bachelorette parties are a free pass, they can often cause some uneasiness.
Many bachelor parties tend to focus on male bonding rather than women (via Your Bach Party). Yet, surprisingly, regular options for bachelor parties now often include escorts more than you might think, and the likelihood of cheating partner becomes a distinct possibility. 
It's a valid and disturbing thought right before you commit yourself to someone for life, and you may wonder just how many grooms-to-be actually cheat at a bachelor party.
One out of three grooms-to-be cheat at their bachelor party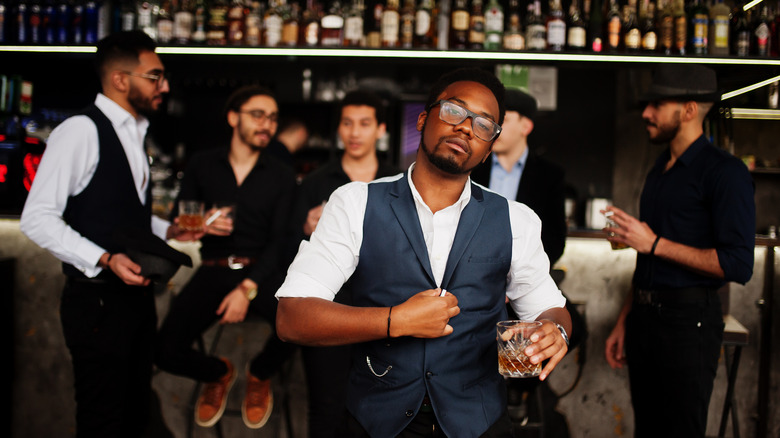 AS photostudio/Shutterstock
According to Men's Health, the short answer is that one-third of all grooms-to-be cheat at their bachelor party. The magazine consulted a survey and interviewed two sex experts who backed up the stats. Clinical sexologist Dr. Carlen Costa says, "I don't think a third is an outrageous number by any means. We've all got a lot of secrets."
What constitutes cheating may vary. For some couples, having sex is the determining factor. Yet, for many, getting lap dances, having strippers, or any kind of physical contact is cheating.
A Reddit post entitled, "Having strippers at the bachelor/bachelorette party is outright cheating," shows just how many people have heated feelings about the subject. The post went viral.
"You're meant to be celebrating the fact you're finally making the bond with your loved one official, not disrespecting them and looking at other people," wrote one poster. "The fact that many consider this normal is bizarre to me. People are absolutely revolting."
What happens at bachelor parties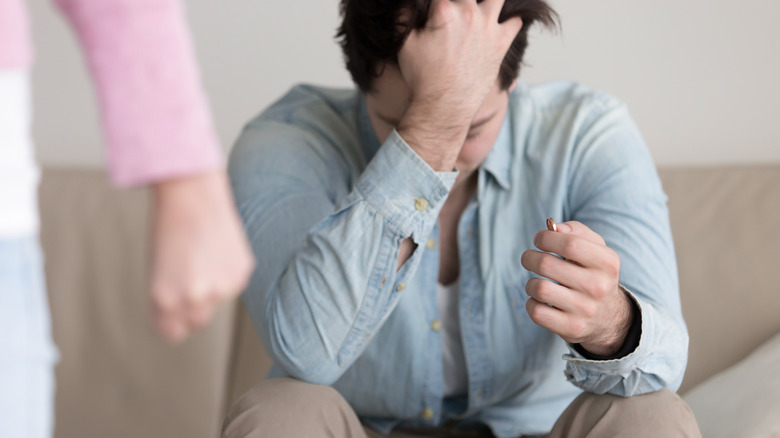 fizkes/Shutterstock
One stripper who has worked in various big cities told BuzzFeed that the typical routine is that the bachelor will get pulled on stage and dance with two fully nude dancers. "At the end, the two chosen girls would take the groom to the VIP room and dance on them, giving them lap dances," she said.
That's what made her reconsider marriage. "The things these grooms would say to us and beg us to go to their hotels ... it made me never want to get married," she said, adding that men usually leave with escorts, not strippers.
What may be most surprising is that the grooms aren't even the most likely to cheat at their bachelor parties (via Cosmopolitan). The worst offenders are the groomsmen and friends of the groom.
In addition, according to Men's Health, stats show that over 92% of taken men who attend bachelor parties and cheat lie about it. Possibly more startling, though, women can typically sense when their partner is cheating or has cheated, but most men never come clean with their spouse for their entire marriage.