These Are The Best Red Lipsticks If You Have Red Hair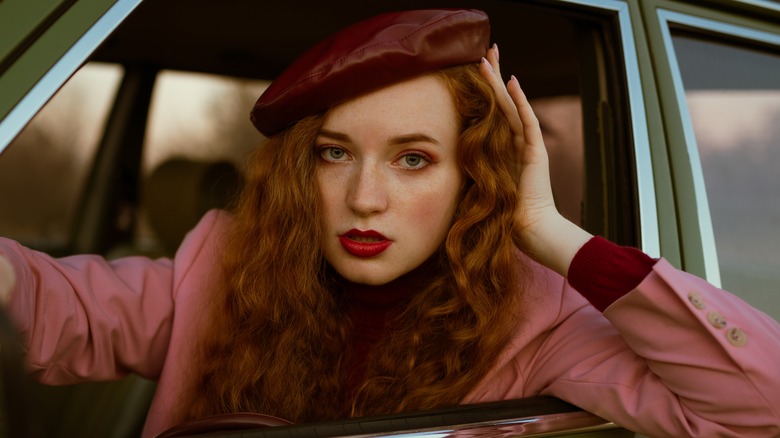 Victoria Chudinova/Shutterstock
We may receive a commission on purchases made from links.
Redheads know that their unique coloring can sometimes make finding the right makeup a challenge. The truth about redheads is that the shade of their locks is super rare; only 1-2% of folks have natural red hair (via BMJ). As a result, it's really no wonder that they aren't top of mind for people designing makeup. Still, redheads want to be able to rock new trends and different makeup looks just as much as people with other hair colors.
Folks often say that redheads should stay away from wearing the color red and opt for cooler tones. This, of course, applies extra to red lipstick, since it's front and center on your face. Still, from Nicole Kidman in "Moulin Rouge" to Emma Stone on the red carpet, we know that not only can redheads rock a red lip; they absolutely should (via How to be a Redhead). 
If you're a redhead who's looking to sport red lipstick, rest assured that you can look chic and glam with red lips; the trick is to find the red that suits you best. 
Make sure your red lipstick complements your skin tone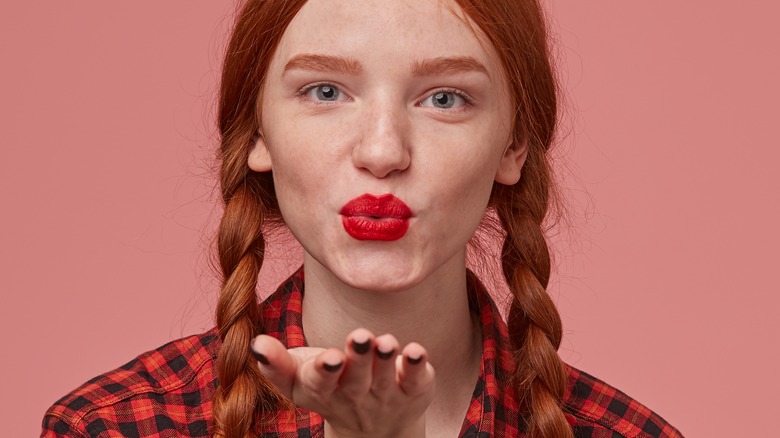 nakaridore/Shutterstock
There are a few things you can do to make your red lipstick stand out and look amazing. The first thing you can do to ensure that your pout is perfect is to look for the best shade to pair with your hair and skin tone. When finding the perfect color red for you, thinking about your undertones can help. Because redheads usually have skin on the light side, they tend to be cool-toned (via How to be a Redhead). If there are blue undertones in your skin or you can see the blue of your veins, you're cool-toned. For you, cooler toned, more purple-leaning reds will complement your skin. If your undertones are more yellow, opt for reds on the warmer, more orange side. If you're still not sure of your skin's undertones, looking at your skin up against a white t-shirt can make it easier (via Byrdie).
Resist any temptation you may have to get a lipstick that's a similar shade to your hair color. Red lipstick can make a redhead stand out in a beautifully vibrant way, but if your lips are the same color as your hair, it just may do the opposite and look dull. You should also be sure to do a relatively neutral makeup look with your red hair. If you have fair skin and pair a bold lip with bold eyes, you can end up looking more clown-like than chic, and no one wants that.
MAC Ruby Woo is a 'universal red'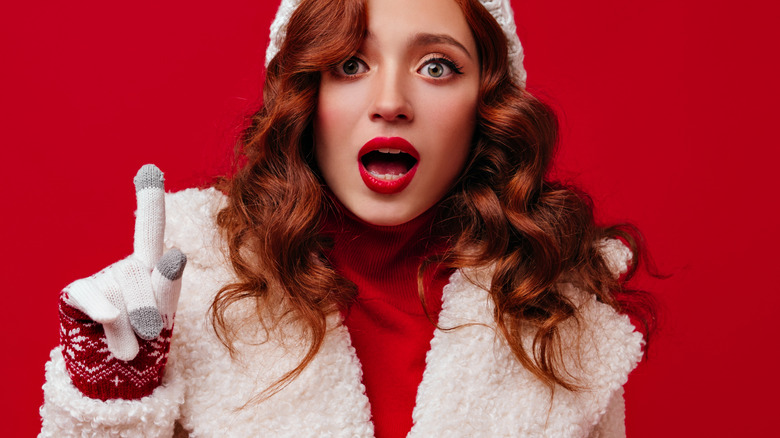 Look Studio/Shutterstock
There are red lipsticks that work particularly well for redheads, so these should be the first ones you try in your search for your perfect red. The first is Revlon Matte Balm in the shade Standout (via Style Craze). Not only is this shade great for redheads, but the color is buildable so you can tweak it to be perfect for your look. Plus, who doesn't love a red lipstick that you can buy at the drugstore?
MAC Ruby Woo seems to be one of the world's favorite red lippies. It's referred to as the "universal red" and supposedly works on every skin tone. Believe it or not, redheads are no exception to this. If you're looking for super bold, classic red, this one just might do the trick (via Glamour). If you're looking for a more coral-leaning, summery red, try Zuii Organic Flora Lipstick in Coral Red (via How to be a Redhead). It'll give you that fun, bold, warm-weather look without clashing with your locks. We recommend picking up these three shades and trying them first in your search for your match-made-in-heaven red.