Love Island's Bella And Chanse Dish About Their Couplings And More — Exclusive Interview
Is there anything more powerful than the bond of female friendship? Think about it — when you're at your worst and just need a shoulder to cry on and someone to distract you with a glass of wine and a millionth rewatching of "Mamma Mia!," who is a better candidate than your best friend? When you're on top of the world, and everything in your romantic life is going off without a hitch, your best friend since college is the first person you want to tell. No matter what life throws at you, female friends will always have your back, even if you're both potentially vying for the same guy.
Take a moment and think about you and your best girls signing up and competing on a reality dating show like "Love Island." It could be a disaster, yes, but it could also be the life-changing experience you've always wanted (and could bring you new female friends along the way). Bella Barbaro and Chanse Corbi were two such young women who found themselves on "Love Island" Season 4, and the two quickly struck a bond that will last a lifetime. Yes, they were giving the same group of guys the once-over to see who could really go the distance outside of the villa — and perceived bad boy Chazz Bryant was there to shake things up, of course — but Bella and Chanse left the villa with a newfound sense of friendship and memories that they'll carry with them. After their time in the villa came to an end, the two sat down with us for an exclusive interview and shared what really happened with Chazz, why Kat Gibson and Jared Hassim apologized to Chanse, and what's coming next for these bicoastal besties.
The duo break down what their elimination was really like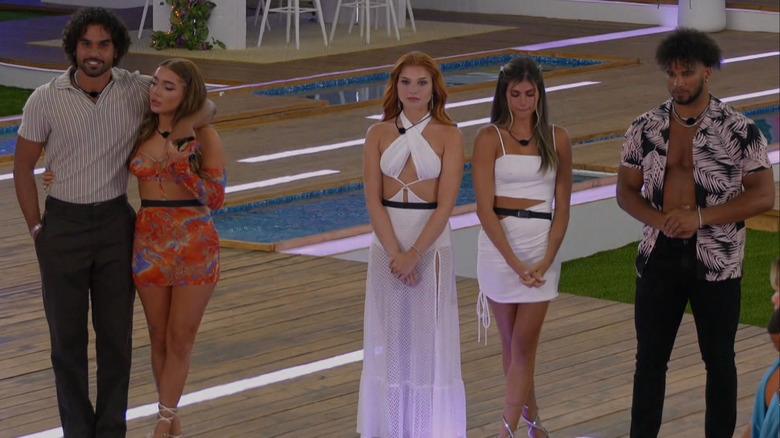 Peacock
I'm really excited that I'm talking to both of you together because you formed such a great friendship, but before we get to your dynamic, I want to talk about the elimination itself. Take me to that moment. You're at the fire pit with Sarah Hyland. What is going on in your heads?
Chanse Corbi: It was crazy. I was sitting right by the fire pit when Sarah walked in, so I was one of the first people to notice that she was there, and my heart sank a little bit because at that point, they'd done so many Islander eliminations. So I knew it was going to be a people vote. Me and Jared [Hassim] weren't really a couple, so I knew that I was going to be collateral damage. Everybody's so great, so the goodbyes and the send-offs and everything, it all made it okay, [as did] being able to know that afterwards, once everybody's out, we'll all still be friends and we'll all still have that family.
Bella Barbaro: I was at the fire pit too with Chanse. I think I was talking to Joel, and I remember seeing the lights go up, and I saw Joel go, "Oh, s***." And I turn and I see Sarah walking in, and I'm like, "Oh my god. What could possibly be happening right now?" I had no clue. I was like, "Are the Islanders going to vote? Is America going to vote?" I had no clue. I don't know. In my mind, I guess I thought, "Okay, I'm in a couple, so I might be safe because I'm with Chazz [Bryant]." But when she said America votes, I felt a ping in my chest. I was like, "I don't know. I have no idea." I know that Chazz had a rocky transition with everything with how his relationships were going in the past on the show. 
So I was like, "Damn, I don't ..." Like Chanse said, "I think I'm going to be collateral damage." But I'm super grateful for the entire experience, and the whole thing was so surreal. The fact that Sarah Hyland even said my name was enough for me. Everyone welcomed all of us there with open arms, and the goodbyes were the most emotional. Packing our stuff up was like, "can't believe you're leaving," crazy. It was a whirlwind, but I'm super grateful for the entire experience as a whole.
Bella reveals what really happened with Chazz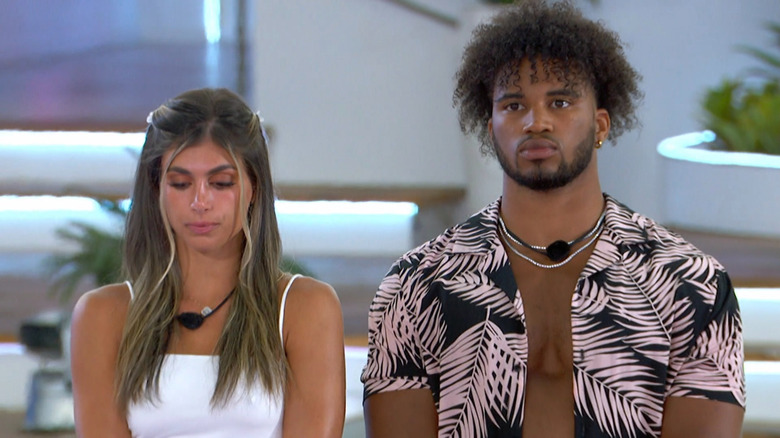 Peacock
I want to break down your couplings, because there was some drama associated with them. Chanse, you were with Jared, and Bella, you were with Chazz. Jared and Kat [Gibson] ended up leaving the island together. I want to break those down and see how you both are feeling in retrospect — maybe something viewers didn't see behind the scenes [or] how you feel about it now. Bella, we can start with you.
Bella: Being coupled up with Chazz, obviously I had the attraction to him. We connected at Casa Amor. A lot of people think that Chazz [and I] only had that one conversation at Casa because that's what it looks like. Chazz [and I] actually had a couple conversations before that one, and both of them were short, but the amount of things that we talked about in those short conversations were deep, meaningful, good things. I was very honored when he picked me to take me back to the villa, because it was 50/50 between me and Gabby [Kiszk], and I love Gabby. She's the absolute sweetest. [She] deserves the world.
Going into it, I wasn't that sure of his ... I was watching the episodes and I saw everything with Sereniti [Springs]. I saw most of the things with Kat, but I guess I wasn't as in-depth with everything as I should have known. Obviously, he was talking with Phoebe [Siegel], and he's had a few conversations with Chanse. We were calling it the love square with what was going on.
I did sit and have a conversation with him beforehand, and I said, "Obviously this is 'Love Island.' We're here to explore options and see connections. If someone pulls you for a conversation, be open, talk to them. You never know." So I did tell him, "You're more than welcome to," because I'm a very secure person. I'm not jealous. I'm very open, and I didn't mind if he went to go talk to people because I would never want to be that person that's like, "Why are you talking to her?" and "Why are you doing this?" I was fine with him speaking with Phoebe and Chanse. It's the name of the game. But I definitely do feel bad for the backlash that poor Chazz is getting from America. He is a great person. He's a genuine soul. I did have a very, very good time with him and getting to know him while I was there.
Chanse on the 'whirlwind' experience she had with Jared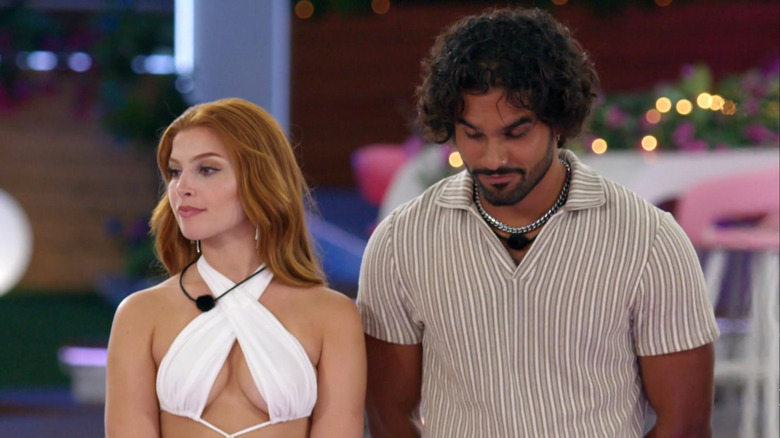 Peacock
Chanse, what about you, with you and Jared, and Kat coming in. What was that like for you?
Chanse: It was definitely a whirlwind experience, to say the least. I coupled up with Jared from Casa Amor. I actually haven't seen the show yet, so I need to get on that eventually because I don't know what they showed exactly of our conversations, but we talked a lot and we got really deep with it. I didn't necessarily feel as though there was anyone in the villa that I would end up being romantically with. I usually get the sense pretty quickly into knowing somebody if that would be something that would work for me or not. Jared and I were getting close, but the second that Kat was there, it was like they were coupled up. So she did kind of swoop him from under me. I know they showed a part where he told me he was sleeping alone and then he slept with Kat outside, and that made me feel a little weird. But then I spoke to both of them about it. They apologized, and like Bella said, I don't mind if you want somebody else. If you want me, want me.
So that made us closer. It made us all understand each other more and where we were coming from. We're still all good friends. I even went home with Kat and Jared. It's funny how it makes us friends — everybody doesn't necessarily love each other, but we really do. I wouldn't change it for the world. Once Jared and Kat got together, I started expanding my horizon a little bit. I was talking to a lot of the different guys that were single. I wasn't in the mode of stepping on people's toes and ripping relationships apart. That's not me. I was getting to know everybody with the little bit of time I had left because I knew if I wasn't in a serious couple, I wasn't going to be on the island for too long. I did want to get closer to everybody and fuel connections that would last forever.
Chanse and Bella on regret and what's next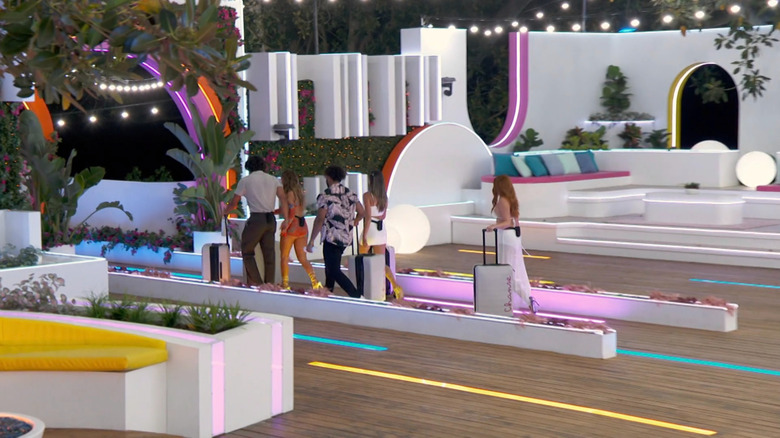 Peacock
We talked a little bit about Chazz, but now that you're both out [and] you both got your phones back, what's it been like going on social media and seeing so many people comment on your relationships [and] your approach to the show? Do you feel the weight of this public persona now that you have?
Chanse: It's been lit for me and Bella (laughs). Everybody loves us. Coming off of there, everyone's like, "Justice for Bella and Chanse." I'm like, "Thank you. Thank you."
Bella: Yeah. I'm like, "Thank god you don't hate me."
Chanse: Some people are getting really roasted online, but we're fine. So that's nice.
Bella: Glad to say we're good.
Do either of you have any regrets from your time on the show, anything you wish viewers would've seen more of or less of?
Bella: For me, none at all. I feel like I put my all into everything. I was authentically myself. That's all I could have ever asked for. I feel like I went out in a good light. My time was definitely cut short, but it was meant for me to go at that time. If I was going to go, it couldn't have been a better time for me to go. The connections I've made, the people I've met, I will know for a lifetime. I definitely have no regrets about anything.
Chanse: That's how I live my life in general — leave it all out on the table and live life with no regrets. There are very few things that I do regret in my life, and this is absolutely not going to be one of them. I learned so much about myself and about connections between people that I can bring into my life now and [how I can] improve the quality of my relationships over time. Even though we were only in there for a little over a week, it was probably one of the most important weeks I'll ever live in my life.
You two share a close friendship. What does life look like next for you both? Are you going to be traveling to get back together or to hang out?
Bella: Yeah, for sure.
Chanse: We're already planning trips out.
Bella: I texted her, "I need to come see you." Literally yesterday, I was like, "I'm coming to LA. We need to see each other again."
Chanse: Mm-hmm. [About] 75% of the cast lives in LA, so it's going to be really easy to see everybody who's local. I love to travel, so I'll be out visiting Bella, Phoebe. I know Isaiah's in Florida. We got places to go.
"Love Island" USA Season 4 drops new episodes Tuesdays through Sundays on NBC's Peacock, with recap episodes being released on Saturdays.
This interview has been edited for clarity.