Are Victoria And David Beckham Compatible Based On Their Zodiac Signs?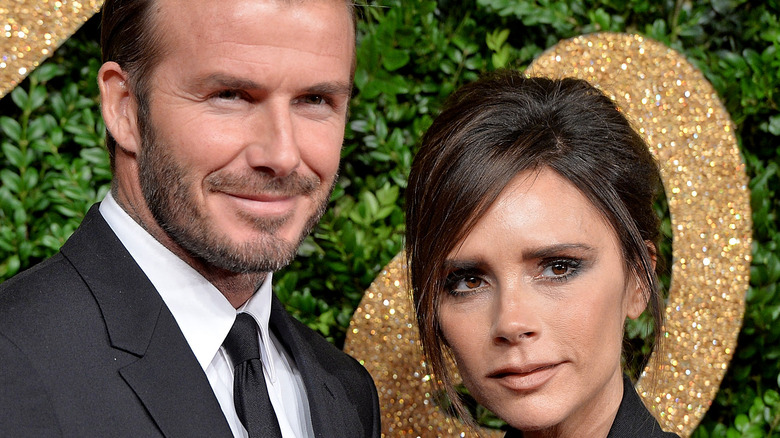 Anthony Harvey/Getty Images
When Posh Spice Victoria Adams began dating soccer star David Beckham the world took notice. The pair made one of the most beautiful celebrity couples, and their appeal hasn't been lost on fans even after two decades of marriage. Victoria Beckham met her future husband in 1997. The two quickly hit it off, and the singer wrote her phone number on the back of an airplane ticket, which David kept all of these years (via Brides).
In 1999, Victoria and David tied the knot and started their family, welcoming the first of their four children, son Brooklyn. Later, sons Romeo and Cruz were born, followed by daughter Harper. The couple has appeared to stand the test of time, even though things haven't always been easy for them. There have been rumors of cheating or divorce, but they've always seemed to ignore the noise. "People have been making things up about our relationship for 20 years," Victoria told British Vogue in 2018. "We both realize that we are stronger together than we are as individuals."
In 2015, Victoria claimed that she and David were a great match for each other. "He likes things done a certain way, which is great because I leave a mess everywhere I go. That's why we are good partners. I leave a mess and he tidies it up," she told People. 
However, is the Spice Girl right? Are she and David a compatible match based on their signs?
David is a Taurus and Victoria is an Aries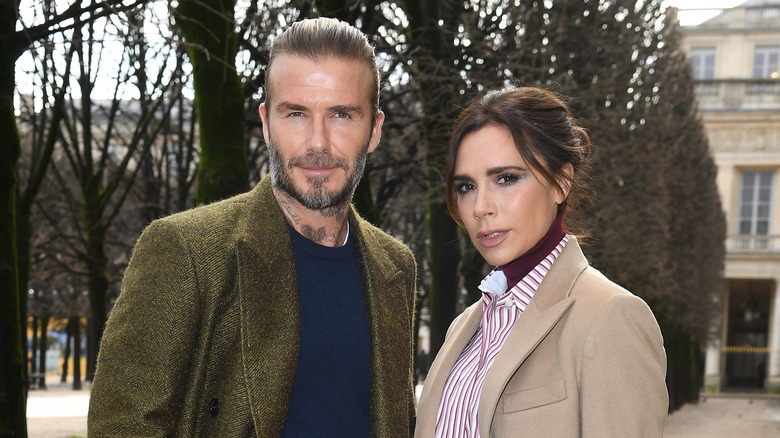 Pascal Le Segretain/Getty Images
David Beckham was born on May 2, 1975 (via Astro Charts). This makes the athlete a Taurus sun sign. Male Taureans are said to be goal oriented and are able to work hard to achieve their dreams, per Thought Catalog. They want success and know that they'll have to put in the effort to obtain it. The sign is also said to have some strong values that make them very responsible and reliable to those in their lives. Family is very important to the earth sign, and they prove it with their trustworthiness. In addition, when a Taurus man finds love he'll do everything he can to hold on to it, which can make them fantastic partners.
Meanwhile, Victoria Beckham is an Aries born on April 17, 1974 (via Astro Seek). Women who are born under the fire sign are said to have iconic style, and that couldn't be more true for Victoria who has been a trendsetter for decades (via People). Female Arians are said to possess a joy for life that often leads them to look for fun and engaging activities, per Everyday Health. They're also said to be creative and independent. Aries women also have a reputation for loving successful partners and like to be treated like queens while they treat their significant others equally as well.
So, how do these hardworking and successful signs match up in the compatibility department?
David and Victoria Beckham have intense chemistry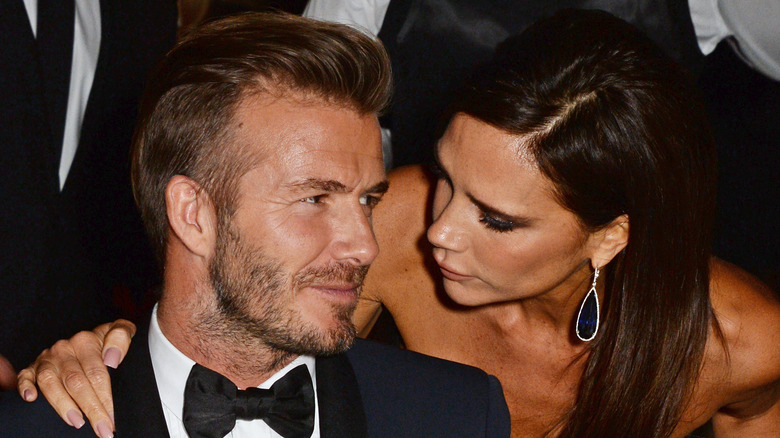 David M. Benett/Getty Images
Taurus men like David Beckham are said to be very attracted to Aries women such as Victoria Beckham. Male Taureans are said to love an Aries woman's passion and generosity, while also being drawn to her ambitious nature, per Popular Astrology. Meanwhile, female Arians may find themselves loving a Taurus' sense of style as well as their ability to be completely devoted to her. According to My Today's Horoscope, because many Taurus men won't like a woman who needs boatloads of attention from him, Aries is a very compatible match.
The New York Post suggests that David and Victoria have very intense chemistry based on their birth charts and that they are extremely well suited for one another. It's said that the famous couple brings out the best qualities in each other and knows when to let the other shine a bit brighter. In addition, their charts also reveal that they have a strong sexual bond and that they seem to be a set of very supportive and caring partners for each other.
Meanwhile, because David and Victoria have already accomplished so many of their goals, they're predicted to have some of their best years ahead of them. So, if the Beckhams are one of your favorite celebrity couples, you may just find that they're in it for the long haul and will continue a pattern of success in their marriage.