The Illicit Affair That Took Place In William And Catherine's New Home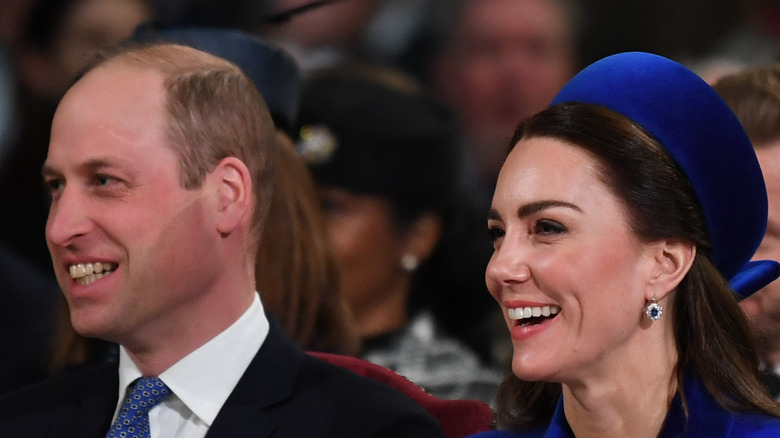 Wpa Pool/Getty Images
Kensington Palace confirmed Catherine Middleton and Prince William's move to Adelaide Cottage in Windsor. However, some people are livid with Catherine and William about their new home. The chief executive for the UK organization Republic called the Cambridge's move to Adelaide Cottage "disgraceful" because Kate and William's move to Windsor will be the couple's fourth home. This isn't the first time Adelaide Cottage has created negative headlines for the royal family, though. It turns out that the Duke and Duchess of Cambridge's new home has ties to Queen Elizabeth's sister, Princess Margaret as well. 
Adelaide Cottage is a grace-and-favour home, which means the British monarch owns it. The monarch then allows a resident to live in the home rent-free or at a lower cost as part of their employment package or as a reward for service to the crown. House Beautiful reports that the Cambridges are downsizing by moving to their new home in Windsor, as Adelaide Cottage only has four bedrooms and is listed as a Grade II property. 
While it may be smaller, Adelaide Cottage has a rich history. According to House Beautiful, William IV built Adelaide Cottage in 1831 as a getaway for his wife, Queen Adelaide. It was later occupied by RAF Captain Peter Townsend along with his wife and two children. Townsend's name may be familiar to royal fans. He was a war hero and equerry to King George VI, but it was Townsend's relationship with Margaret that he may be most known for as it created some royal drama. 
Peter Townsend lived in Adelaide Cottage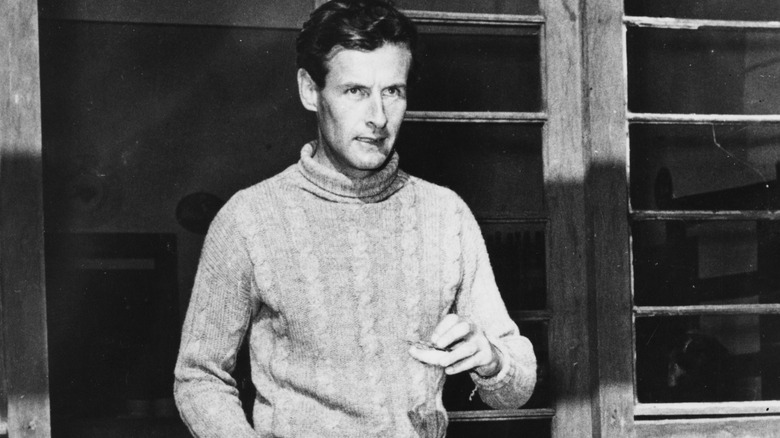 Central Press/Getty Images
The Duke and Duchess of Cambridge's new home, Adelaide Cottage, is creating a scandal, but it's not the first time. The Daily Mail reported that Adelaide Cottage was once the home of Peter Townsend, the great love of Princess Margaret, Queen Elizabeth's younger sister. The war hero lived at the cottage with his wife and two boys until his divorce in 1952. After the divorce was when Queen Elizabeth's younger sister and the dashing Townsend carried on their secret affair at Adelaide Cottage. It was very racy for the princess and Townsend to use the grace-and-favour home as their love nest. According to People, rumors of the affair between the princess and Townsend became public after Queen Elizabeth's coronation in 1953, where a reporter caught Margaret picking a bit of fluff off Townsend's jacket — a very intimate gesture.
Town & Country reported it wasn't just Townsend's divorce that made him unsuitable for Margaret. He was 16 years older than the princess. The outlet also reported that Margaret and Townsend fell for each other after his divorce and after the death of her father, King George VI, but the truth about Margaret's affair with Townsend (and Adelaide Cottage) didn't come out until later. The true story is quite shocking, even by today's standards.
Princess Margaret's affair in Adelaide Cottage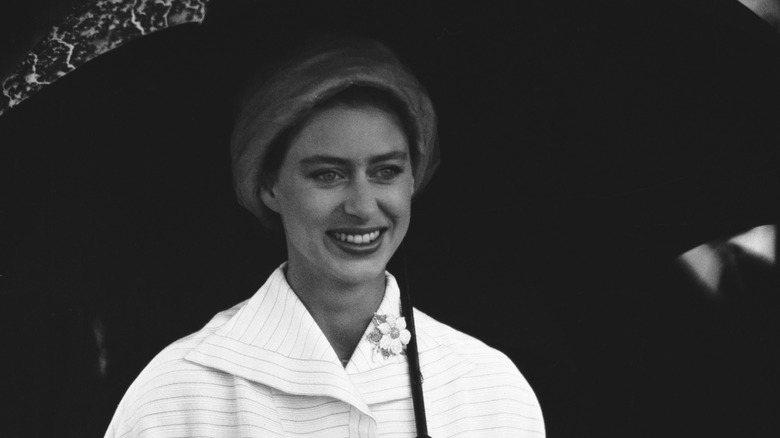 Victor Blackman/Getty Images
Princess Margaret's romance with Peter Townsend may have been a scandal in the 1950s because he was divorced and they had a 16-year age difference, but details discovered later on make the affair between Margaret and Townsend outrageous — and Adelaide Cottage even more scandalous. The Duke and Duchess of Cambridge might want to sage Adelaide Cottage before moving in.
The Daily Mail reported that Margaret and Townsend fell in love during the royal family's State tour of South Africa in 1947. At the time, the princess was just 17 and the former pilot was 32. Margaret tagged along on the South Africa trip, which included the king, queen, and Princess Elizabeth. Since Margaret was just a teenager at the time, Townsend was assigned to chaperone her as part of his official duties. According to the Daily Mail, Peter and Margaret were in each other's company each day, and the princess told a friend later, "We rode together every morning in that wonderful country, in marvelous weather. That's when I really fell in love with him."
According to People, in the 2017 biography "Ma'am Darling: 99 Glimpses of Princess Margaret," Colin Brown wrote that the princess and Townsend started seeing each other in 1947 when Townsend was still married with two sons. Brown also claimed that Townsend had asked for a room next to the princess during a royal event in Northern Ireland. 
A teenager falling in love with a married father of two, who is twice her age, would be shocking even in today's tabloids.