The Britney Spears Song You Should Listen To If You're A Cancer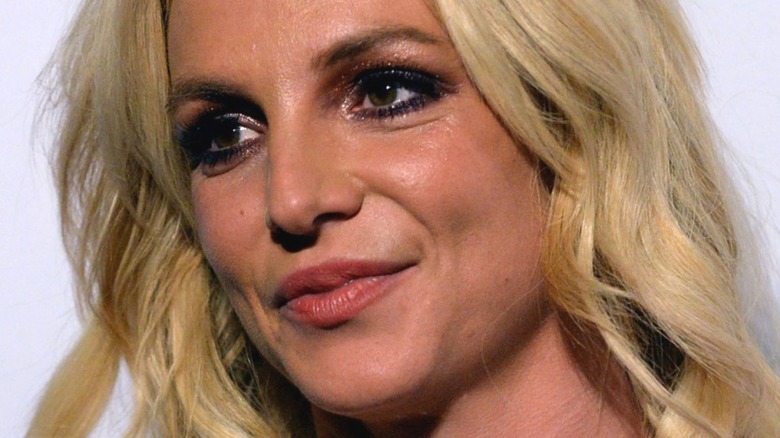 Scott Dudelson/Getty Images
Britney Spears is the pop queen, now and forever. The Grammy-winning artist revolutionized the music industry with her catchy hits, intricate dance moves, and high energy performances. Spears has had a stunning transformation since her "Mickey Mouse Club" days. Britney Spears was even almost in a girl group before she famous, proving the amount of talent she had at a young age (via OK! Magazine).
Spears' legacy speaks for itself. Glamour named her "Woman of the Year" in 2003, an unexpected honor Spears shares with Speaker of the House Nancy Pelosi. This title tracks considering her long list of accomplishments and contributions to music, including 2007's comeback album "Blackout" being inducted into the legendary Rock and Roll Hall of Fame's music library, per MTV.
Accolades aside, the pop icon has a song for any situation. Spears is a Sagittarius, which, as per Allure, explains her creativity, ambition, and versatility. While her lyrics work for every season, certain parts of her music catalog serve big Cancer energy.
'...Baby One More Time' is the Cancer anthem
Per Cosmopolitan, Cancers are generally seen as devoted, fiery, and wistful. Britney Spears is the queen of impassioned lyrics, whether it's a party starter or emotional ballad. According to Garage, nothing screams Cancer more than the single that started it all, "...Baby One More Time." The 1998 banger's true meaning was finally revealed in author John Seabrook's "The Song Machine" (via Huffington Post), and its themes of recovering from a breakup and trying to win back an ex fit Cancerian values perfectly.
When it comes to dating, Cancers are the biggest romantics. They feel deeply, love even harder, and are dedicated to making things work, per Vogue. There is no lyric more fitting than "I shouldn't have let you go / And now you're out of sight, yeah," per Genius. In a throwback interview with MTV, Spears herself saw this situation as something many people could relate to — living with the regrets of a breakup that might have been right at the time, but only tortures them now.
These sad love songs will have all Cancers in their feelings
Cancers in need of an outlet to express their emotions won't go wrong turning to Britney Spears' extensive discography — especially those who are fresh off of a breakup or dealing with relationship drama overall. Tarot blog Punk Priestess labeled 1999 hit "Sometimes" the ultimate Cancerian song because of its reference to uncertainty and trust issues in a relationship. 
At its core, "Sometimes" touches on some of the worries that Cancers may encounter in relationships as they don't trust easily, per Astrology.com. The lines "It's not that I don't wanna stay / But every time you come too close, I move away" hint at relationship anxieties that everyone goes through, per Genius. Because relationship struggles is a running theme here, The Talko recommended rounding out a Cancerian playlist with the energetic "Born to Make You Happy." Loving, compassionate, and sentimental Cancer will have this track on repeat.