Celebrity Psychic Reveals The Luckiest Dates To Get Married In 2022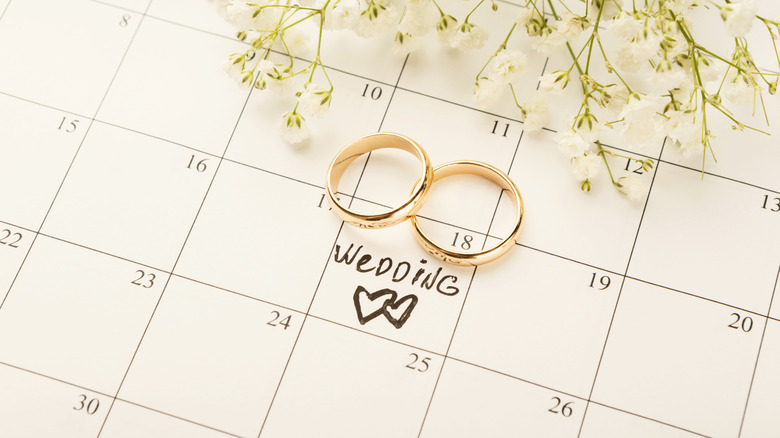 Prostock-studio/Shutterstock
From securing the perfect venue to arranging the ideal seating chart and rounding up everyone's RSVPs, the journey to your wedding day can be a long and stressful one, especially when wedding trends come and go so quickly — intimate weddings and long, awkward speeches are among the wedding trends that are no longer cool in 2022. But some traditions will always stay in style, like ways to bring luck and good fortune on your wedding day.
According to Reader's Digest, traditions that promote good luck are present in weddings from cultures all over the world that date back centuries. Everyone hopes that their wedding day will be the best day of their lives, and with a little luck on their side, their wish could come true.
Even the date you decide to get married on can be a sign of good fortune, but planning a wedding is hectic enough without the added stress of figuring out which days are lucky and which are unlucky. Fortunately, astrologers and psychics have done the hard work for us, looking to the sky to see which lucky dates are written in the stars.
Start your marriage off right on these extra lucky dates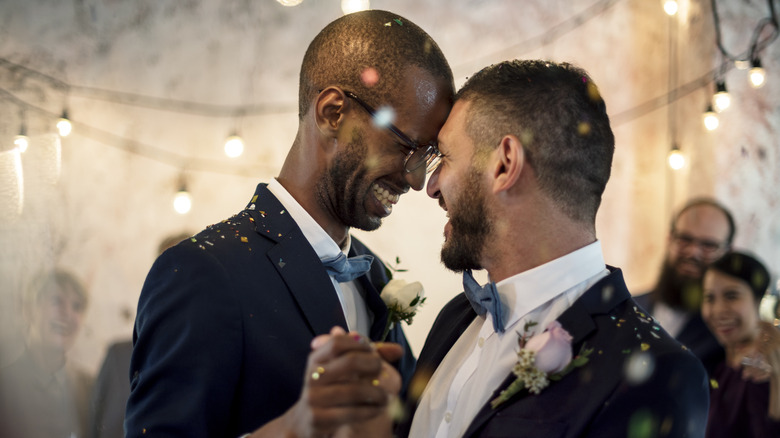 Rawpixel.com/Shutterstock
Whether or not you buy into the idea of psychics, when it comes to your big day, you can never be too careful. Psychic to the stars Inbaal Honigman shared her wisdom about lucky wedding dates with Hitched, based on the location of the planets and the moon throughout the year. According to Honigman, you still have three chances to get hitched on the luckiest dates of 2022.
September 10th joins the sensibility of Virgo with the "romantic" Pisces moon, making for a unique combination of luck. Don't worry about the opposing zodiacs, in fact, Honigman says it's perfect. "In a marriage, we need a good dose of romance, and a huge smattering of sensibility, so this date is ideal," she said. 
On September 25th, the sun and moon both enter Libra territory, which Honigman calls a "balanced date." The psychic source also foresees financial wealth if you are married while "the new moon as well as the sun are in Capricorn" on December 23rd.
Celebrity psychics aren't the only ones interested in particular dates; according to wedding planner Nicole Froelich, it is customary in Chinese culture to pick a date that falls on the luckiest day possible, based on the couple's zodiac signs (via Brides). Per The Knot, English folklore also says that Saturday weddings are the unluckiest days of the week, which is definitely a bummer since a majority of modern weddings are planned on Saturdays.
Wedding superstitions that could bring good fortune to your wedding day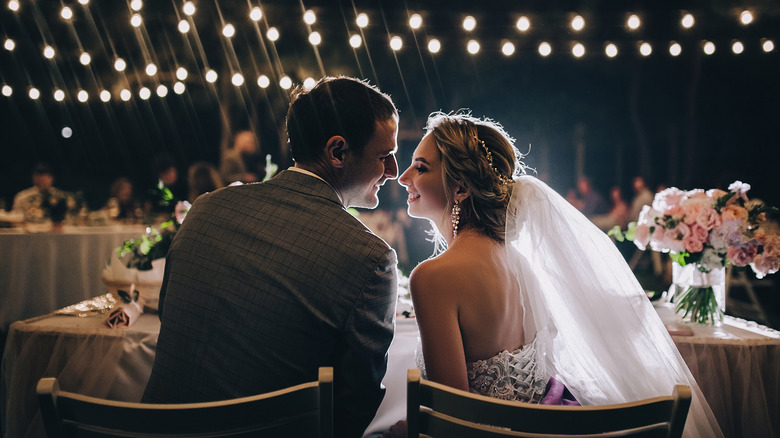 Shchus/Shutterstock
Psychic Inbaal Honigman also revealed the unluckiest dates to get married in 2022 – but not to worry. If your date happens to fall on a less than ideal day, there are plenty of ways to still ensure your wedding is the luckiest it can possibly be. Wedding traditions that date back hundreds of years are rooted in superstition — from wedding bells to throwing rice, there is a reason for every tradition and it's usually to promote good luck or avoid bad luck.
While it is mostly a fashion statement today, the history of the bridal veil began as a way to hide the bride from evil spirits (via History Daily). According to Martha Stewart, borrowing something to wear from a happily married person can bring good luck to the bride. Today, there are plenty of modern ways to incorporate something borrowed into your wedding day style.
Some things can also happen by accident and bring good luck to your day, like finding a creepy crawly in your wedding dress. According to Bride Box, "Spiders are considered good luck in many cultures," but don't kill it or it could lead to financial ruin. And however unlucky it may seem, rain on your wedding day is actually a symbol of prosperity, per CNN.
At the end of the day, your wedding will be full of good fortune because you are marrying your partner and best friend, which we think is the best luck of all.