Over 25% Of People Prefer This Timeless Diamond Shape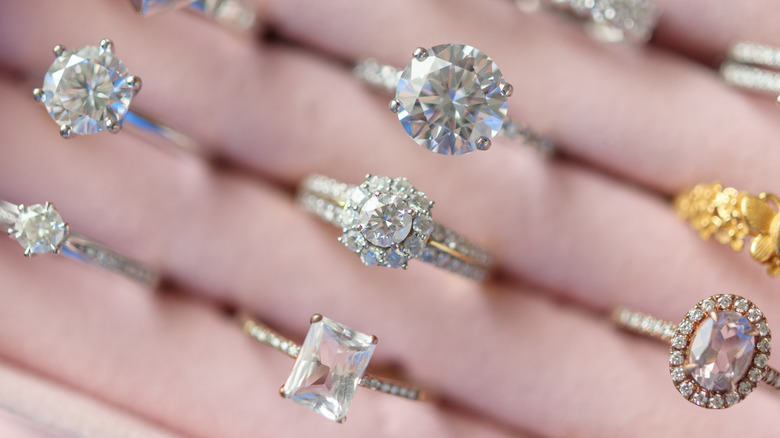 Kwangmoozaa/Shutterstock
As the glamorous Marilyn Monroe once sang, "Diamonds are a girl's best friend." Whether they're draped around your neck or weighing down your ring finger, you don't have to be a girl to rock a diamond-studded look. Diamonds were once believed to repel evil spirits, protect warriors in battle, and even have healing properties, per Brilliance. These days, diamonds are mostly worn as shiny accessories, a symbol of style and wealth — but the gemstones come at quite a price.
If you're in the market for a shiny new rock, you might find yourself wondering why diamonds are so expensive. Contrary to popular belief, diamonds actually aren't rare. According to Rare Carat, diamonds are one of the most common gemstones, but the cut and quality of diamonds can be hard to come by, which is why the biggest and clearest ones that make their way to the jeweler cost a pretty penny.
When it comes to diamonds, there is also a wide variety of colors, sizes, and designs to choose from, especially when you're in the market for the perfect Instagram worthy engagement ring. But which style is the most popular amongst diamond lovers? The List conducted a survey asking 558 people, "Which diamond shape is your favorite?" The top voted diamond is a timeless classic that anyone can pull off.
This classic diamond style goes well with everything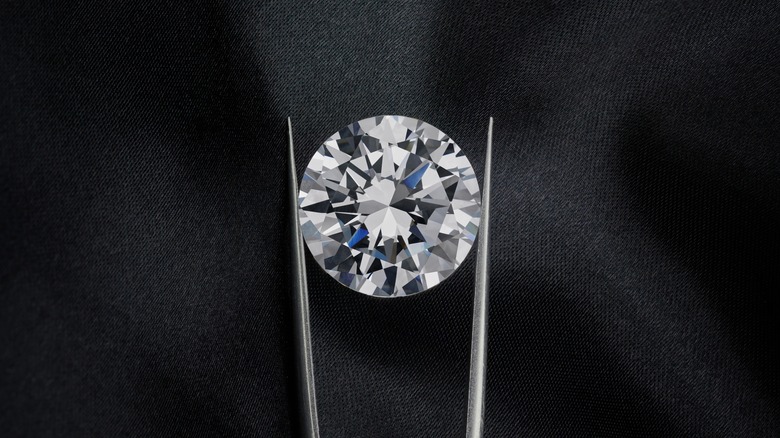 Mark S Johnson/Shutterstock
Every type of diamond cut is gorgeous in their own way, but when it comes time to crown the most popular, there can only be one winner. According to The List's survey, the top voted shape is the classic round diamond, with 25.81% of the vote. Padis Gems reported that,"Round diamonds account for over two-thirds of diamonds sold." Emerald cut diamonds came close with 24.91% of the vote, a large, rectangular cut diamond with rounded edges.
About 16.6% of people preferred square shaped princess cut diamonds, while another 16.13% preferred oval shaped diamonds. According to Brides, oval shaped diamonds are wildly popular amongst celebrities — Simone Biles, Ariana Grande, and Kourtney Kardashian have all been spotted rocking beautiful oval-shaped engagement rings.
Pear shaped diamonds were 8.96% of people's favorite cut, a unique style that resembles the world's sparkliest teardrop. Per Padis Gems, pear diamonds are difficult to cut, so they are not easy to come by and can be very expensive. Only 7.53% of people prefer cushion diamonds, a vintage rounded cut that got its namesake because of its resemblance to a pillow (via The Diamond Pro).
While all these styles of diamonds can be worn a ton of different ways, the gems are most commonly associated with engagement rings. If you've met the one you want to spend your life with, dreaming about the perfect round cut diamond ring might be just around the corner. 
How to drop hints about your favorite diamond style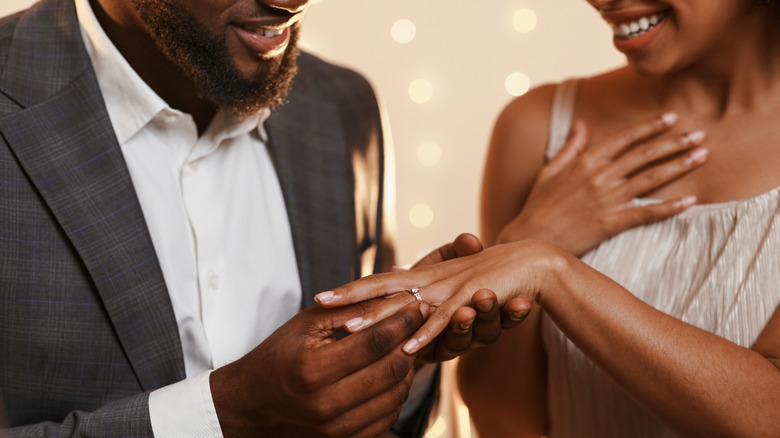 Prostock-studio/Shutterstock
Let's be honest, we all have a preferred style of diamond that we think will look best on our left ring finger. Whether you're ready for your partner to pop the question, or you're still searching for your happily ever after, knowing what style suits you best is never a bad thing. Ring shopping can be challenging, and you don't want your partner to make the mistake of buying the wrong engagement ring. To avoid the awkward trip back to the jeweler after the proposal, here are ways to drop hints about what style you'd love to see when the love of your life is down on one knee.
The best way to ensure you get the right engagement ring is simply to spell it out. When you and your partner have the marriage conversation, casually mention the styles of rings you like. The Knot suggests giving your partner specific photo examples, which shouldn't be too hard — who doesn't have a Pinterest board full of engagement inspo these days? And don't put all the pressure on your partner to figure it out; window shopping with them can be a great way to point out exactly which rings suit your style.
If you prefer something more subtle, enlist the help of a friend or relative to assist your partner when shopping for your ring. And if diamonds simply aren't your thing, there are tons of gorgeous engagement ring alternatives to choose from.