What We Know About Jill Biden's Second Bout Of COVID-19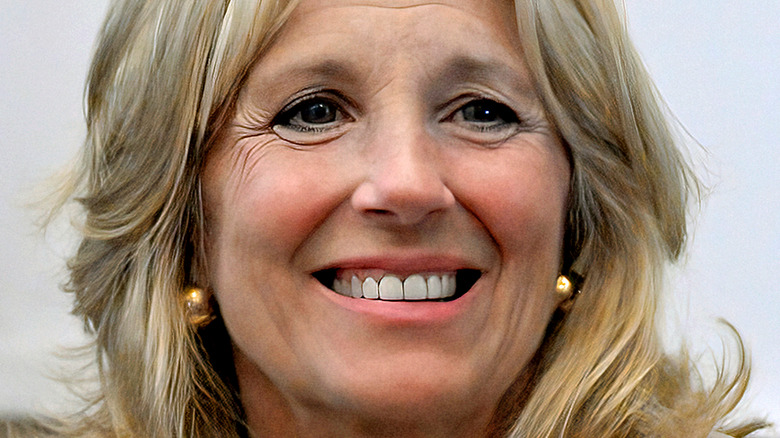 mark reinstein/Shutterstock
They say that couples who have been married for many years start to look and sound alike, but the president and first lady are taking that concept too far. In July, President Biden battled a case of COVID-19, only to test positive again just days after his recovery, per the New York Post. Less than two weeks after that, Dr. Jill Biden tested positive for COVID-19 during a family trip to South Carolina. As per recommended protocol, she self-isolated in their vacation home until she tested negative twice. She was also given the antiviral drug Paxlovid, as is recommended by the CDC for individuals at risk of developing severe complications from the illness.
After her isolation period, the first lady joined the president in Delaware, only to discover on August 24 that she, too, had tested positive yet again for the virus (via CNN). The phenomenon of a positive test after Paxlovid treatment is called a "rebound" case. A researcher recently told Scientific American that a rebound happens in roughly 5 to 10 percent of cases, but that doesn't mean the medication isn't effective. While patients should still isolate themselves to avoid infecting others, they're unlikely to suffer serious symptoms or require hospitalization.
The president returned to the White House shortly before his wife's test results came back, and will be wearing a mask indoors for 10 days, per The New York Times. Dr. Biden's other close contacts have been notified of her condition.
The first lady has a special caretaker at her side
There's no doubt Dr. Jill Biden is getting excellent care from her medical team, and her deputy communications director says that she has no symptoms, per People. Best of all, the first lady is receiving constant care from a very special nurse. On her Twitter and Instagram accounts, she posted two photos of Willow, the latest pet to join the Biden family. 
The gray tabby first caught Dr. Biden's attention when she nonchalantly jumped up on the stage during a campaign rally in Pennsylvania. The Bidens arranged to adopt the friendly feline, and Willow officially moved to Washington in January 2021. Per CNN, Willow frequently travels with the family when they go away on weekends. Happily, such was the case when Dr. Biden tested positive for the second time.
"She won't leave my side!" the first lady tweeted. "I'm grateful to have Willow with me as I recover from COVID-19." Willow is seen leisurely stretching out on a cushioned bench on what appears to be a deck or porch. 
Followers of Dr. Biden responded with get-well wishes and photos of their own fur caretakers. One respondent explained, "Willow is only returning the love she receives from her paw parents. Animals are very intuitive, the most protective, and intuitive animals are rescues. Willow knows her paw momma isn't feeling well, so she's gonna take care of you."