What We Know About Jill Biden's COVID-19 Diagnosis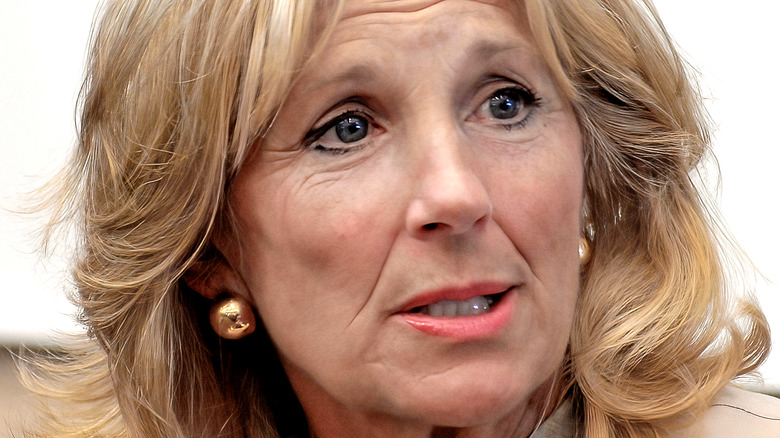 mark reinstein/Shutterstock
Nine days after President Joe Biden left his quarantine at the White House, having experienced rebound positivity following his initial COVID-19 diagnosis last month, First Lady Jill Biden has now tested positive for the virus (via VOA News and CNN).
Her communications director, Elizabeth Alexander, shared an update on Biden's symptoms Tuesday, saying, "After testing negative for COVID-19 on Monday during her regular testing cadence, the First Lady began to develop cold-like symptoms late in the evening. She tested negative again on a rapid antigen test, but a PCR test came back positive."
Alexander added that the 71-year-old, who is starting on a course of the antiviral drug Paxlovid per CDC guidance for high-risk individuals, would be staying at a private home in South Carolina, where the Bidens, including embattled first son Hunter, are currently vacationing. While the POTUS is expected to return to Washington today, his wife will have to stay in The Palmetto State until she has "two consecutive negative COVID tests."
Joe Biden will also take further precautions following his wife's diagnosis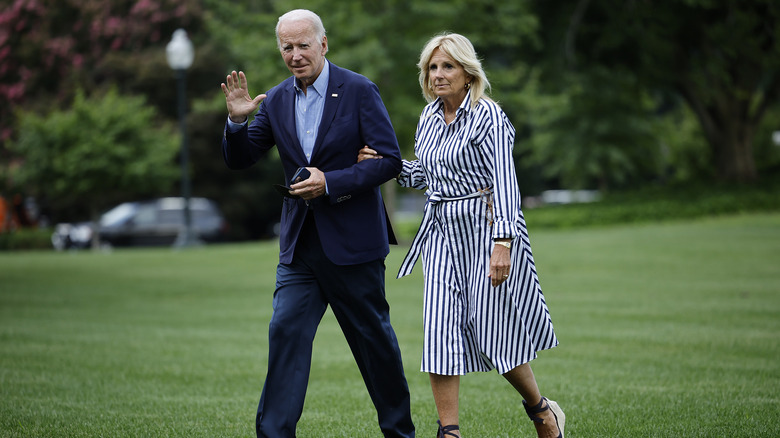 Chip Somodevilla/Getty Images
The Post and Courier confirms Joe Biden, who traveled to South Carolina with the First Lady last week, is scheduled to board Air Force One and travel to the nation's capital, returning to sign the controversial Inflation Reduction Act. According to the New York Post, the POTUS will wear a face mask indoors and around other people for the next ten days, since he was a close contact of his wife. 
Meanwhile, of course Jill Biden, who is double vaccinated and boosted, having tested positive for COVID following her husband's illness, and his ongoing, troubling cough, definitely got people chatting on Twitter.
Many comments echoed this sentiment: "Has Jill Biden already [made] the public statement that she's so thankful for all of the shots and that she's starting Paxlovid yet?"
Well wishes for a speedy recovery peppered the comments on Twitter, while someone else added, "This is one heck of a transmissible virus. Wishing @FLOTUS and @POTUS well."