Everything We Know About Archie And Lilibet's Nannies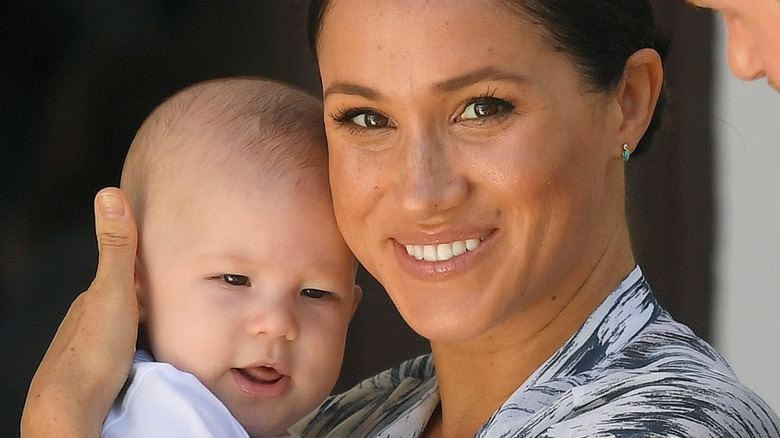 Pool/Getty Images
It's been a long time coming, but the Duchess of Sussex's highly-anticipated podcast, "Archetypes," is finally here, and suffice to say she's not mincing her words. During the debut episode, which featured tennis star Serena Williams as a guest contributor, Meghan Markle opened up about a terrifying situation involving Archie. As the former "Suits" star recalled, she and husband Prince Harry were on a royal tour of South Africa back in 2019 when they received word about a fire in the little boy's nursery.
Archie was just four and half months old at the time, so the couple was understandably distraught when they heard the shocking news. Thankfully, Archie wasn't in the room at the time, and the situation was dealt with efficiently before it escalated further. Notably, Meghan took issue with how uncaring higher-ups were, admitting she and Harry were expected to continue on with their day as normal, with little empathy for what they were going through. As has become custom by now, The Firm disagreed.
Royal sources have a very different recollection of Meghan's fire incident, with the Daily Mail noting that, per insiders, the blaze never actually took hold and it was little more than the heater smoking and being swiftly unplugged. Moreover, Harry's biographer Angela Levin asserted, "As an actress doesn't she know the show must go on." One of the biggest talking points about the whole incident, however, is the mention of the baby's nanny, whose identity was previously a closely-guarded secret.
Meghan Markle gushed about Archie's nanny on her podcast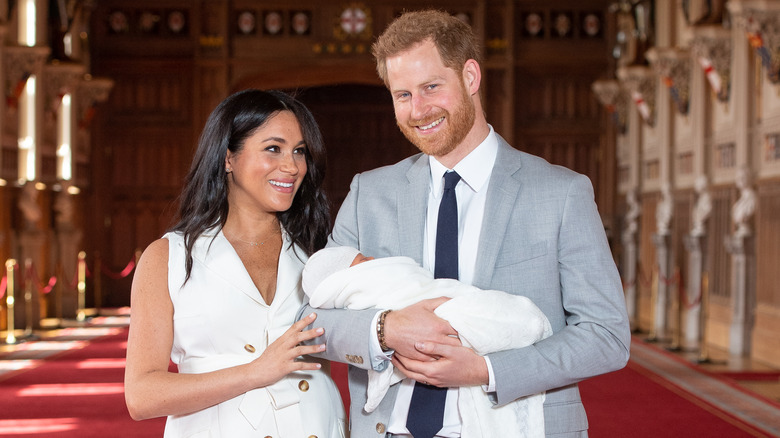 Wpa Pool/Getty Images
As the Daily Mail reports, during her chat with Serena Williams on "Archetypes," Meghan Markle made reference to Archie's nanny at the time, a Zimbabwean woman named Lauren who typically tied the baby to her body with a mud cloth, which the celebrity couple absolutely "loved." Lauren was very shaken by the fire in Archie's nursery, with Meghan revealing she went to get a snack, thankfully taking the baby with her, and in the mere moments she was gone, the heater went up in flames.
The Duchess of Sussex confirmed Lauren, whom she described as "amazing," stayed on until the couple moved to Canada, shortly after defecting from the royal family. She was briefly spotted with the Sussexes at Cape Town airport, back in 2019, which was also during the royal tour in question. Elsewhere, Lauren was seen visiting Sir Elton John's home in the South of France with them a month prior. Although Lauren didn't live at Frogmore Cottage, the trusted helper accompanied the family on royal excursions.
According to biography "Finding Freedom," Meghan and Harry had to abruptly get rid of one of Archie's night nurses due to "unprofessional" behavior. As Hello! Magazine points out, though, stories have been circulating for years that they found it almost impossible to settle on the right nanny for Archie. If Lauren stayed for years, this is patently untrue.
The Sussexes wanted to make sure they chose the right people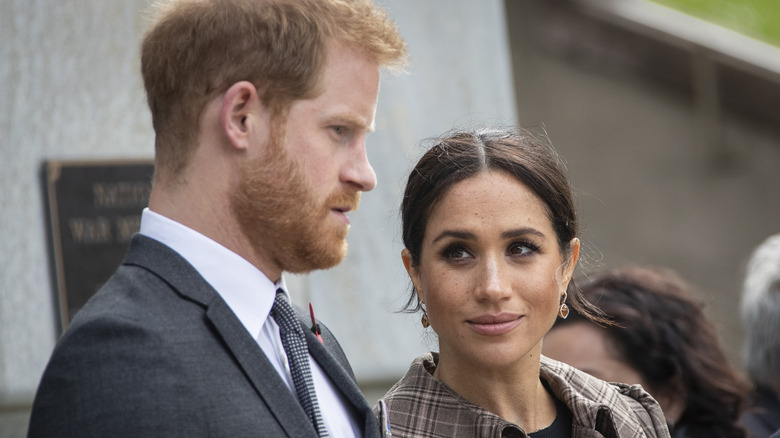 Pool/Getty Images
Hello! Magazine notes that, in the early days after welcoming Archie, Meghan Markle's beloved mother, Doria Ragland, was on hand to assist her with him. She likely did the same once Lilibet arrived, too, but otherwise the Montecito-based couple's nanny situation remains somewhat vague — probably by design, since the royal defectors value their privacy above all else. As a source informed Us Weekly, "The Sussexes do have nannies to call on when their schedules get crazed, but they're still extremely hands-on and try to keep the hired help to a minimum for the most part."
They added, "It's been easier for them with Lili in many ways, even though it's twice the work, technically, because they've been able to use a lot of the techniques they learned with Archie and take care of things like feeding or bathing without too much fuss." The Sun raised concerns about their approach after reports emerged that Meghan and Harry had fired three nannies in a matter of weeks, but an insider clarified that, first off, different people are required at different stages of the child's life.
Likewise, they did "not want to rush this or take any risks getting this decision right" since, "It's deeply personal and can depend on the needs of the baby and parents." Judging by how long Lauren stayed with them, clearly the Duke and Duchess of Sussex prefer to keep a nanny who fits as long as possible.