How Donald Trump Ruined Jared Kushner's Marriage Proposal To Ivanka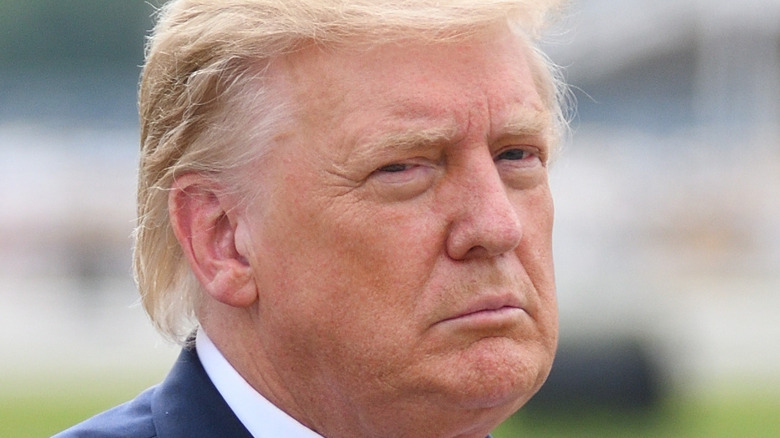 Evan El-Amin/Shutterstock
It has long been reported that former president Donald Trump was not in favor of his daughter Ivanka marrying real estate developer Jared Kushner. In fact, at one point, the controversial GOP candidate hoped the former model would get together with a famous football player.
As Trump told Howard Stern in a 2004 interview, "Tom Brady, the quarterback, is somebody that really likes Ivanka and he's a great guy and I got to know him at the Miss Universe contest" (via Hola!). Kushner himself admitted that his now father-in-law dangled the prospect of the Tampa Bay Buccaneers star scooping up Ivanka in his new book, "Breaking History."
There was another reason the former POTUS was skeptical about Ivanka ending up with the former New York Observer owner, and it had to do with religion (via New York Post).
Another tidbit that Kushner bestowed upon readers in his buzzy book is that at one point, the dad of three broke off his relationship with his then-girlfriend because she wasn't Jewish. The good news is that the couple worked it out, and the eventual advisor to the commander-in-chief went on to propose. But exactly how that proposal went down is nothing short of eye-rolling.
Ivanka Trump didn't get the surprise proposal some women dream of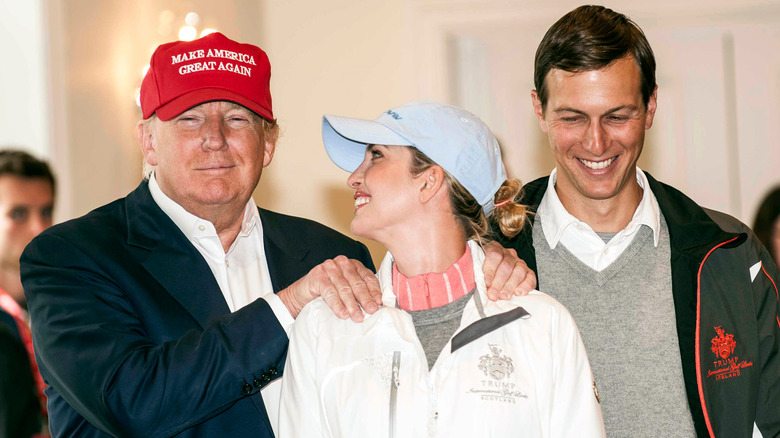 Christian David Cooksey/Shutterstock
It's every woman's dream to have their dad involved in their engagement. Or not. But in the case of Jared Kushner's plan to propose to Ivanka Trump, that's exactly what happened. In fact, Donald Trump not only had intimate knowledge that his soon-to-be son-in-law was offering his daughter a ring, but he kinda ruined the entire engagement.
After Ivanka announced she planned to convert to Judaism, even with Trump questioning why he didn't convert to Christianity instead, Kushner went to Trump Tower to ask for the big man's permission to marry his daughter. According to "Breaking History," the eventual president was aware that the proposal was planned as a surprise (via Yahoo!).
But as the 41-year-old writes in the book, which was panned by The New York Times, but still rose to the top spot on the Amazon bestseller's list, "Later I learned that right after I left Trump picked up the intercom and alerted Ivanka that she should expect an imminent proposal."
Although the likely 2024 presidential candidate foiled Kushner's plans for a surprise proposal, it seems all's well that ends well, since the couple has been wed since 2009 (via Town & Country).