New Documentary Makes Shocking Claim About Eric And Donald Trump Jr.'s Relationship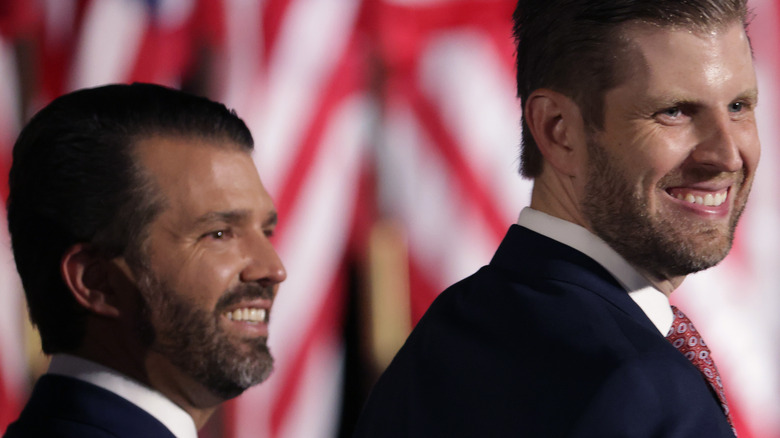 Alex Wong/Getty Images
By many accounts, the Trump brothers are on the same page about many things — including some issues that maybe they shouldn't be, such as tax evasion (via Vanity Fair). Donald Jr. and Eric have been business partners and share so much in common, namely that they both call former president Donald Trump "dad." Both men said "I do" at Mar-a-Lago — although Eric is still married to his wife, Lara (via Town & Country).
But Don Jr. is six years older than his little brother, and according to at least body language expert, Traci Brown, that dynamic matters. "Don is in charge; Eric's coming along for the ride," she told Bustle in 2019.
Now, a new documentary claims that there's more to how the younger Trump feels about his outspoken brother, and it's not just your typical sibling relationship (via Newsweek). 
Alex Holder took to Reddit to answer the most pressing questions about his work and one topic that came up was how Don Jr. and Eric get along. The answer is definitely raising eyebrows.
Alex Holder speculated about the dynamic between the Trump brothers but didn't elaborate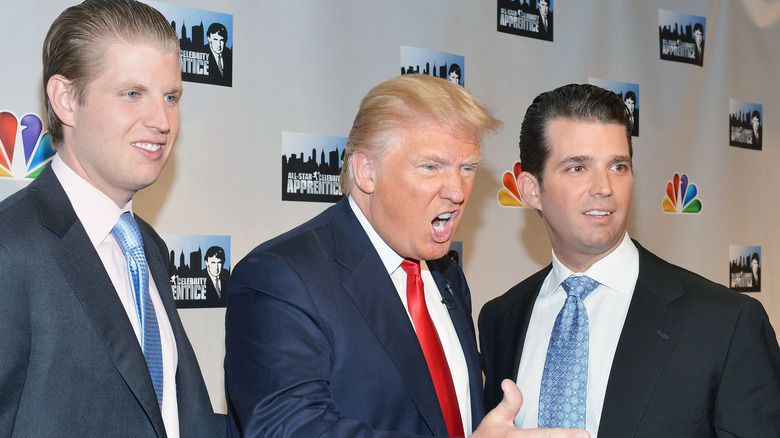 Slaven Vlasic/Getty Images
In the Reddit Q&A, Alex Holder introduced himself as the "twice-subpoenaed documentary filmmaker" of the movie "Unprecedented" about the Trump family. As Politico explains, his work, which contains footage from the 2020 election and the insurrection at the Capitol, was subpoenaed as part of the Jan. 6 investigations.
At one point in the wide-ranging Reddit session, someone asked, "What smaller moments with/between the family surprised you the most?" That's when Holder answered, "Eric seemed to be pretty scared of his older brother." When pressed about what that meant, the filmmaker did not elaborate, although plenty of speculation among commenters ensued, with some people voicing the sentiment that younger brothers are often scared of their older brothers.
Of course, Donald Trump Jr. is certainly opinionated, which could have something to do with his younger brother's trepidation around him. Consider that nearly everything the older Trump tweets is highly controversial, such as his recent defense of his dad surrounding the Mar-a-Lago raid.