This Fan Favorite Acne Remedy Proves Its Worth Once Again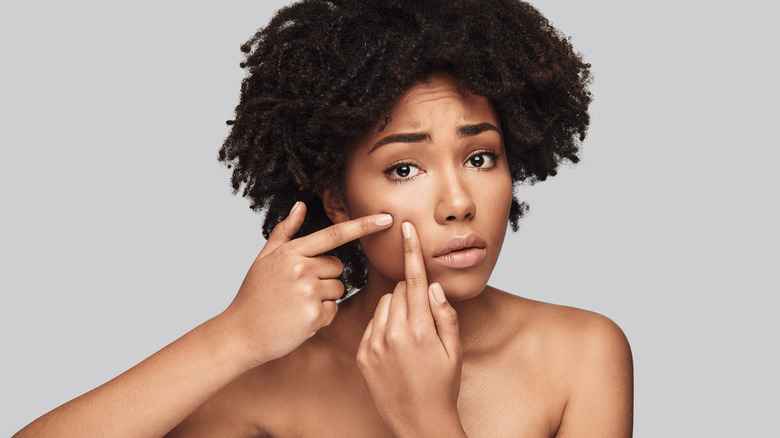 G-Stock Studio/Shutterstock
We all dream about perfectly clear skin. As a teen, we're promised that our acne will disappear once we emerge from puberty and enter adulthood. But for many, acne sticks around, popping up when you least expect it. No matter where you're going or what you're doing, nothing ruins a day quite like a breakout.
Getting rid of inflammatory acne can be a serious struggle: the American Academy of Dermatology Association reports that "approximately 85% of people between the ages of 12 and 24 experience at least minor acne," and some continue to battle breakouts well into adulthood.
While there are a ton of acne products to choose from on shelves today, most of them contain harsh chemicals and potent smells that can be overwhelming for your skin (and your wallet). Sometimes, a holistic acne treatment is the most natural and cost-effective way to give your skin some relief, and most of the ingredients can be found in your home!
To find out which DIY treatment has had the most success, The List conducted a survey that asked 558 people, "Which is the best natural home remedy for acne?"
Next time your acne flares up, try this top voted cure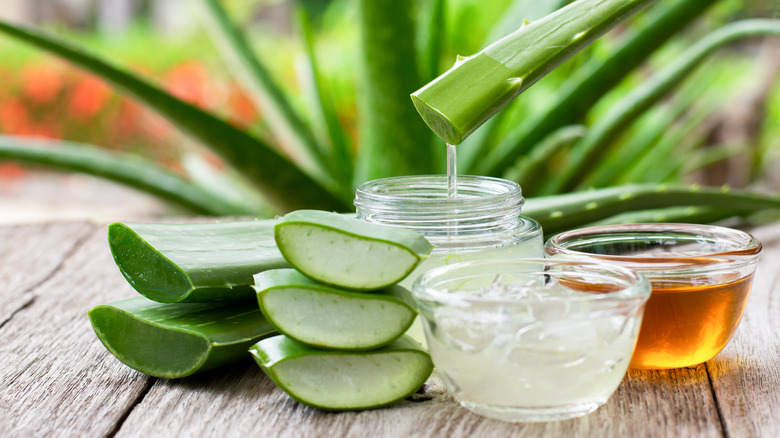 NIKCOA/Shutterstock
When it comes to natural and gentle home remedies for acne, the possibilities are endless. But which ingredient are people using most often for their DIY facials? According to The List's survey, 25.09% crown witch hazel as their go-to acne remedy. According to WebMD, witch hazel is a plant; when its leaves and bark are extracted, the liquid has many topical health benefits. Per Healthline, witch hazel can "​​ease inflammation and soothe sensitive skin." Some use it as a toner, applying it after cleansing to shrink open pores and prevent excess oil. It can also help with sore throats, scalp irritation, and even hemorrhoids (Via Healthline). With all its benefits, witch hazel is a great thing to have in your home.
In second place with 23.84% of the vote is another helpful plant: aloe vera. Don't be fooled by its spiky exterior, the plant's healing properties make aloe vera a perfect addition to your beauty routine. The gel inside the aloe vera plant is full of antioxidants and has anti-inflammatory properties, making it a great option for all skin types, per Medical News Today. Apply the gel directly to your face or mix it with ingredients like lemon and tea tree oil for added benefits that can calm acne flare ups. Aloe vera can be planted right into your garden for a never-ending supply of your new favorite natural skincare.
More natural remedies for stubborn breakouts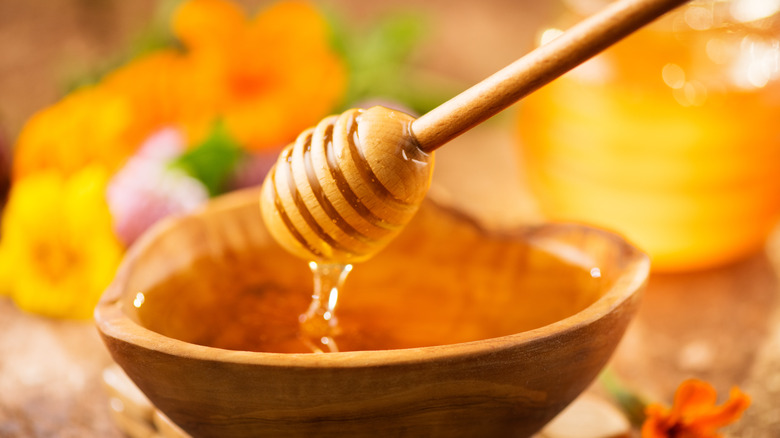 Subbotina Anna/Shutterstock
Witch hazel and aloe vera aren't the only household items that make for great home remedies for acne. About 17% of people reach into their pantry for green tea when they have breakouts. According to Verywell Health, green tea is packed  with antioxidants that reduce swelling and fight off acne, especially hormonal blemishes that pop up around the nose and mouth area.
When you're brewing your green tea, make sure to add some honey. Not only does it taste good, it fights acne, too! About 14% of people voted for honey as their favorite remedy. Allure says it works best on inflamed pimples and recommends using only raw honey without added sugars and preservatives.
Apple cider vinegar has been all the rage for people who want to cure their colds or shed a few pounds, but its benefits don't stop there. Over 13% of people swear by ACV to fight their acne. According to Byrdie, it "balances skin's pH, chemically exfoliates, [and] reduces hyperpigmentation."
About 8% use zinc in their skincare routine, a mineral that helps your body fight off unwanted bacteria that can prevent breakouts. You can introduce your body to zinc as a topical cream, a supplement, or by eating foods high in zinc such as nuts, beans, and oysters, via Healthline.
Whether you're turning these ingredients into a homemade face mask or applying it to your skin straight, we wish you all the luck on your journey to clear skin.