The Soap Operas You May Not Have Realized Joe E. Tata Was On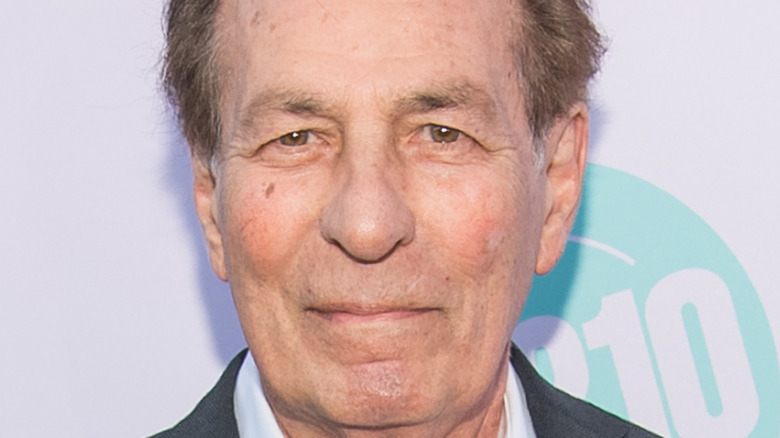 Emma Mcintyre/Getty Images
Joe E. Tata was quite a prolific actor having been on several classic TV shows including "Batman," "Lost In Space," "Voyage to the Bottom of the Sea," "Mission: Impossible," and dozens more. However, it was his role as Nat Bussichio — owner of the Peach Pit on the '90s Fox series "Beverly Hills, 90210" — that made him a fan favorite. Fox News reported Joe E. Tata's heartbreaking death recently, noting that in 2017, he learned he had Alzheimer's disease and that his daughter, Kelly, had started a GoFundMe campaign to help him.
Former castmate on "Beverly Hills 90210," Ian Ziering posted a tribute to Tata on Instagram. In it, Ziering stated, "One of the happiest people I've ever worked with, he was as generous with his wisdom as he was with his kindness ... The stories of days gone by that he would share, incredible experiences in the entertainment industry that he was a part of would keep us all captivated ... My smile dims today but basking in fond memories moves him from my eyes to my heart where he will always be." 
Fans responded with an outpouring of love and condolences. One fan summed it all up with the response, "So sad for the loss of your good friend. Every true fan of the show knows how loved he was by all of you guys." With 88 credits under his belt, Tata worked mostly on crime dramas but there's one genre he worked in that may surprise some fans.
Joe E. Tata appeared on a lot of TV shows including two soap operas
Joe E. Tata had a very successful career, and while his IMDb credits are many, among them are two surprising roles. In 1987, he played Rudy King on the ABC soap opera, "General Hospital" (via CineMagia). Soaps.com clarified that he only played Rudy once on "GH," but also played a character named Warren on "Days of Our Lives" twice in 1981.
According to Screen Rant, the character he played the longest in his career was Nat on "Beverly Hills, 90210." Acting in 238 episodes, he was in more than many of the series regulars including Luke Perry and Shannen Doherty. Screen Rant goes on to mention that Tata's death is the third in a string of "BH90210" related deaths the past two weeks, which include writer Jessica Klein and Denise Dowse who played Mrs. Yvonne Teasley, the Vice Principal of West Beverly Hills High School.
In 2008, ABC News reported that a reboot of "Beverly Hills, 90210" would be a modern day re-imagining of the original show, creatively titled simply, "90210." Shannen Doherty, Tori Spelling, and Joe E Tata were slated to make guest appearances. The article goes on to explain how the reboot is different from the original. A Boston Herald review praised the reboot and particularly liked the fact that Nat's Peach Pit in this version was very contemporary.
Joe E. Tata was a well-respected and beloved actor who will be sorely missed by co-workers and fans alike.