How Steve And Kayla Johnson Were Connected To Stefano's Son Benjy On Days Of Our Lives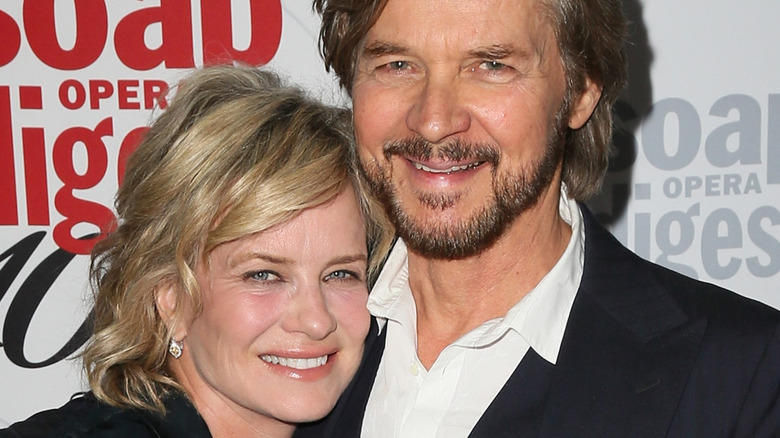 David Livingston/Getty Images
Longtime "Days of Our Lives" viewers know that Stefano DiMera (Joseph Mascolo) was the biggest villain that Salem had ever seen. During his decades-long reign of terror, the devious DiMera patriarch known as The Phoenix created chaos and heartbreak for many fan-favorite characters. Although he was best known for his evil schemes, Stefano valued his family and had many children, both biological and adopted. The DiMera family tree is a complicated one.
Stefano had three biological daughters — Renee DuMonde, Megan Hathaway, and Lexie Carver (via Soap Central). He also later found out that he had fathered Andre DiMera (Thaao Penghlis), Chad DiMera (Billy Flynn), and EJ DiMera (Dan Feuerriegel). Stefano also adopted three children during his life, including Kristen DiMera (Stacy Haiduk), her brother Peter Blake, and Tony DiMera (also Penghlis). All of them he considered essential members of his family, per Soaps. After Stefano's death, it was discovered that he had fathered twins with Vivian Alamain (Louise Sorel). Sadly, he never got to meet his sons, Stefan and Jake.
While fans may remember many of Stefano's children and how they came to be a part of his family, some viewers might not recall Stefano's forgotten son, Benjy Hawk.
Steve and Kayla were instantly drawn to Benjy
Benjy Hawk is one of Stefano Dimera's lesser-known children on "Days of Our Lives." The character was first introduced in 1988 with Darrell Thomas Utley in the role, per Soaps. Benjy was the son of a woman named Ellen Hawk. Ellen had a short relationship with Stefano that resulted in her pregnancy and did her best to keep her son away from the evil Salem villain. Sadly, she didn't succeed. After fleeing town with Benjy, Ellen was caught and killed, leaving her son to get trapped in an explosion that left him deaf for the rest of his life.
After Steve Johnson (Stephen Nichols) and Kayla Brady (Mary Beth Evans) got married they met Benjy during their honeymoon (via TV Fanatic). They instantly connected with the little boy and could speak to him through sign language due to Kayla losing her hearing for a period of time (via Soaps). The couple longed to adopt the child, but he ended up living with his grandfather.
However, "Days of Our Lives" fans hadn't seen the last of Benjy, and he surprisingly turned up in Salem again as part of a DiMera scheme targeted toward his old friends Steve and Kayla.
Benjy's life was tragically cut short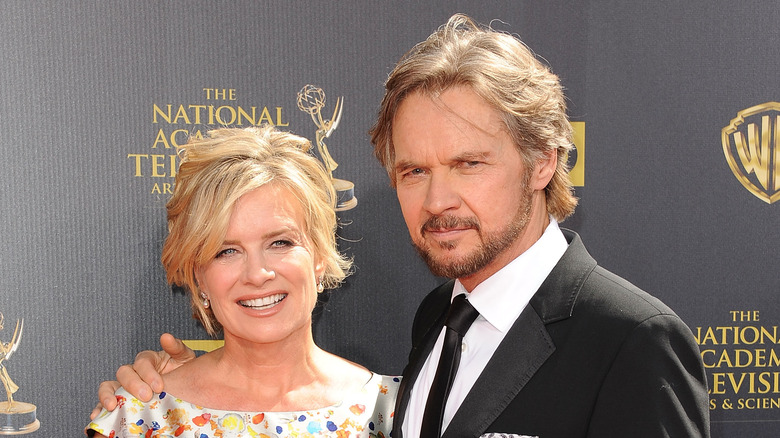 Angela Weiss/Getty Images
Many years later, "Days of Our Lives" viewers saw an adult Benjy Hawk come home to Salem, this time with actor Jim Lunsford in the role, per Soap Central. Benjy came to town after hearing that Steve Johnson and Kayla Brady had been poisoned. Benjy reunited with his former friends and even introduced him to his wife and their son. However, things took a dark turn when Stefano DiMera contacted his son and forced him to give Steve a tarot card, which Stefano often used to trigger Steve into a brainwashed state, per Soap Opera Digest. Later, Benjy admitted that Stefano forced him to give Steve the card by threatening his family.
Sadly, Benjy's story doesn't get better from there. While in Salem, he was kidnapped by Stefano in hopes that he would be a liver donor match for his father. After the surgery, Stefano faked his death and even held a funeral, per Soaps. Benjy came to the event and shot his father, but Stefano was wearing a bulletproof vest. The situation led Benjy to be institutionalized, but later, Steve found him buried in the cemetery.
Benjy never fit in with the DiMera family, and sadly didn't get the chance to bond with any of his siblings. Many of Stefano's children have met heartbreaking fates over the years, but Benjy's may be one of the worst.