The Products Celebrity Hairstylist Marco Pelusi Recommends For Scalp Care – Exclusive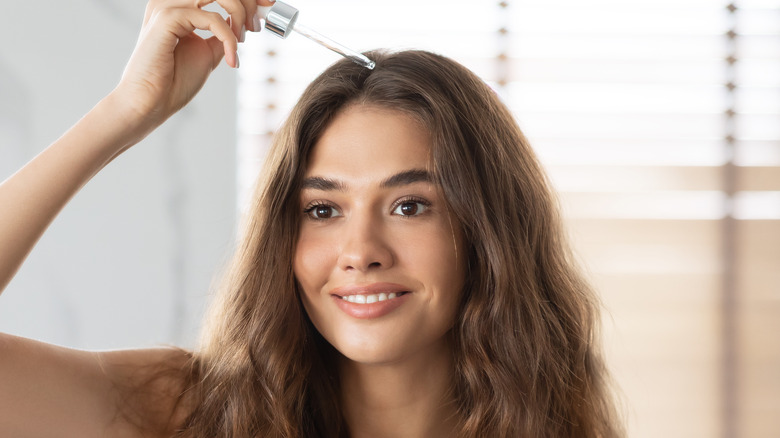 Prostock-studio/Shutterstock
We may receive a commission on purchases made from links.
Most of us don't think about our scalp when we think about beautiful hair. However, if the skin on your scalp isn't healthy, it will affect the health of your hair. Scalp care has been super trendy in recent years, and people are finally addressing the condition of their scalps because that's where hair grows. If your scalp feels itchy and dry, you're not going to feel as confident about your hair compared to if your scalp is healthy. Stress induced by the pandemic and life, in general, can cause hair to fall out as well, according to The New York Times. At times like that, if you don't (literally) address the root of the problem, you're probably not going to feel too good about your tresses.
Hairdresser and certified trichologist Guy Parsons told Harper's Bazaar, "Each hair grows from, and through, an individual follicle which surfaces on your scalp. Sebum (aka oil) is also produced by each individual follicle via the sebaceous gland." He added that if the hair follicles or the scalp where it grows from aren't healthy due to an infection, too many dead cells, or sebum — it won't let your hair grow properly. That's why scalp care is so important. Even Space NK saw a 196% growth in scalp care in 2020 (via Harper's Bazaar), so skincare is more than just about face and body. Now that you know the importance of scalp health, you need to find the best products, and for that, we spoke with celebrity hairstylist Marco Pelusi.
Marco Pelusi's favorite products for scalp care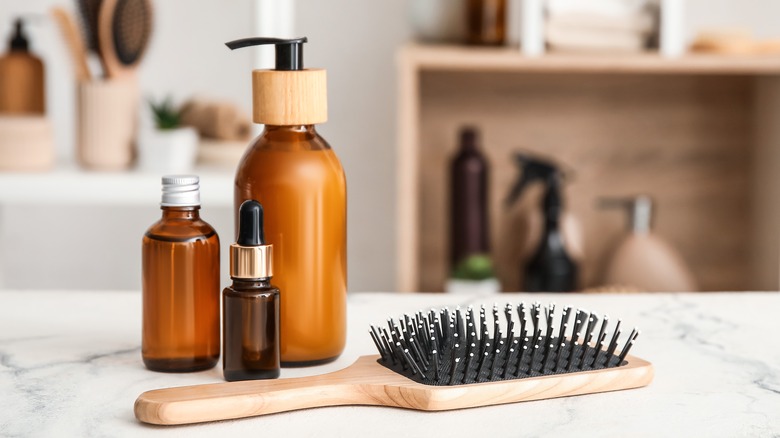 Pixel-Shot/Shutterstock
Award-winning celebrity hairstylist Marco Pelusi is an expert in hair health. Previously, Pelusi told us about maintaining the brightest hair color and his number one tip to nourish your scalp. Here he's telling us about his go-to products that he trusts for the healthiest scalp of your life.
Pelusi shared with The List, "[A]n easy way to help stimulate the scalp can be with the haircare products you use. My signature collection of products includes a shampoo with rosemary in it." A 1998 study showed that 44% of people with alopecia improved their hair using rosemary oil in aromatherapy compared to those who didn't. According to WebMD, rosemary could stimulate hair growth by improving circulation at the roots.
Pelusi told us, "Rosemary is an ingredient that is known to help stimulate circulation." For a daily use shampoo that's great for scalp circulation, he recommends marco® color health shampoo with collagen color guard®.
He said, "This shampoo is a zesty, herbal formula that cleanses and moisturizes, while protecting hair from premature color fade. Powerful antioxidant oils, such as rosemary, clove, and peppermint oils, are included, to soothe, condition, and provide a therapeutic environment for the hair and the scalp." He also recommends using a clarifying shampoo occasionally. "A non-toxic, gentle, clarifying shampoo is nice for someone with buildup from product on the scalp," Pelusi added. However, if you have a scalp issue caused by a medical condition, he recommends seeing a dermatologist.
Other best scalp products to consider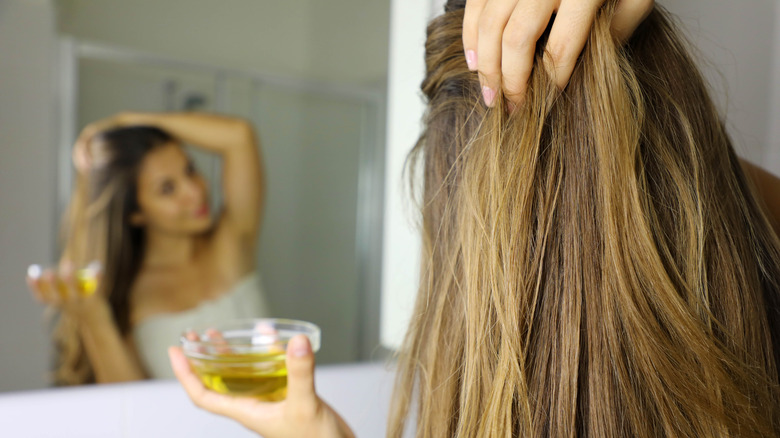 Zigres/Shutterstock
Beautiful hair starts at the roots, so investing in hair products that support scalp health might not be a bad idea. If you're looking to give a little extra TLC to your scalp, we have the best products for you.
Shelly Aguirre, a stylist at Maxine Salon in Chicago, told Byrdie, "The skin on the scalp needs some dedicated TLC. Regular exfoliation can help remove product residue and environmental pollutants that can build up and potentially even affect how well your hair is growing." Aguirre's favorite is Oribe Serene Scalp Exfoliating Scrub because it has alpha-hydroxy acids to eliminate dead skin cells and is safe for all hair types. Infused with a soothing flower complex, it nourishes and calms your scalp and even strengthens your hair. It hydrates your scalp and makes your hair super soft too.
Mona Gohara, a board-certified dermatologist and associate clinical professor of dermatology at Yale School of Medicine, is a fan of argan oil and vitamin E for dry scalp. Gohara told Allure, "They repair the scalp barrier while hydrating simultaneously." Moroccanoil Dry Scalp Treatment is an excellent pick because, in addition to argan oil, it has salicylic acid that can gently exfoliate to reduce dead skin cells to prevent itchiness.
Juhi Singh, an Ayurvedic medical practitioner, recommends Ranavat Fortifying Hair Serum because this magical concoction of amla, sunflower, and jasmine oils feel (and smell) wonderful during a hair massage and can also prevent hair thinning, per Vanity Fair.