What Is The Gorpcore Aesthetic?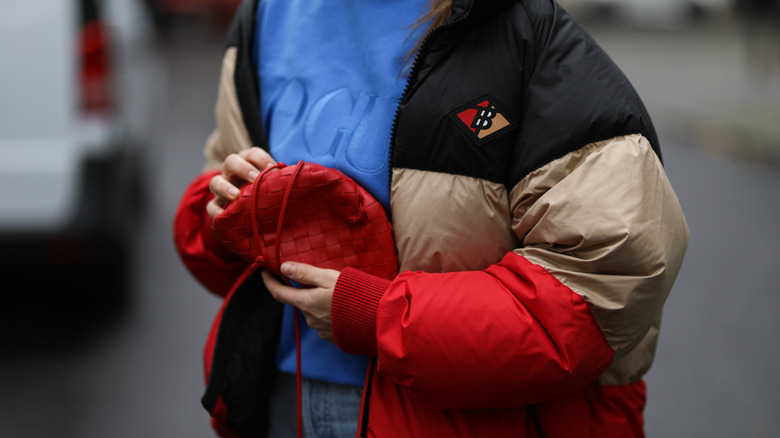 Jeremy Moeller/Getty Images
With all the fashion trends that have emerged in the past couple of years — cottagecore and dark academia chic, to name a few — it's difficult to keep up. However, gorpcore is one trend that appears to be perfect for the upcoming colder months. Not to be mixed up with gawping at someone (different spellings but same pronunciation), gorpcore was first mentioned in 2017, when Jason Chen wrote an article for The Cut and put a name to the trend. 
He stressed that gorpcore wasn't a new trend, but rather one that just hadn't been named yet. The name is derived from the colloquialism "good ol' raisins and peanuts," a popular hiking snack. So, what exactly defines gorpcore? Grailed explained that gorpcore is "a style focused around wearing utilitarian, functional, outdoors-inspired gear." In other words, it's time to start looking for that old camping fleece.
If that sounds right up your street (or hiking trail), you'll need to know the essentials and key basics so you can rock the trend and stay warm at the same time. A trend that's cool and functional at the same time? Sign us up!
The trend isn't new, but has risen in popularity recently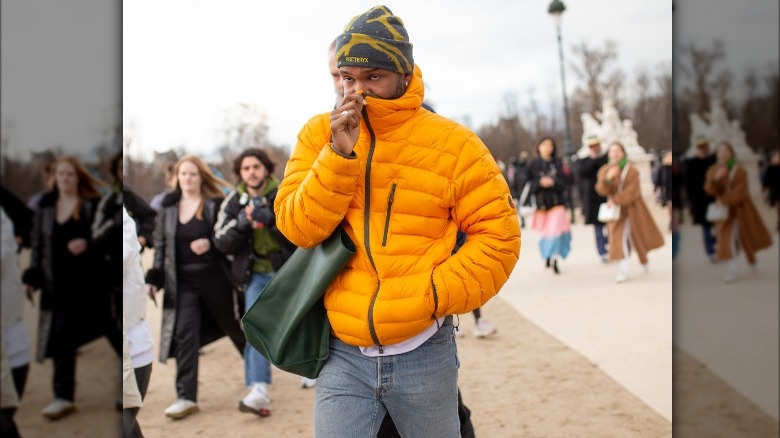 Matthew Sperzel/Getty Images
As reported by Vogue, gorpcore essentials include oversized puffer jackets, fleeces, tech-looking trainers, and baggy utility-style trousers. We're talking super cozy and comfy materials paired with figure-hiding silhouettes. The main intent is to be ready for a hike at all times, with weather-appropriate pieces of clothing even if you're just walking to your local corner shop.
Moreover, Grailed noted that it's important to layer your pieces. Though this isn't unique to gorpcore and can be seen in many trends, layering is the key to making your pieces work together. As silhouettes are boxy, having your fleece peek out from under your puffer coat will elevate your look and prevents it from looking one-dimensional. However, this does not mean you have to look shapeless all the time. If you are planning to style your gorpcore essentials casually rather than for actual outdoor activities, it's perfectly acceptable to cinch your fleece at the bottom or tie the drawstrings of your hoodie.
Finally, a big part of gorpcore is the logo on your clothing. Certain brands are already popular outside of gorpcore, such as The North Face and Patagonia, but other less-known labels that are popping up everywhere include Snow Peak and Arc'teryx.
Celebs are leading the pack when it comes to making gorpcore into streetwear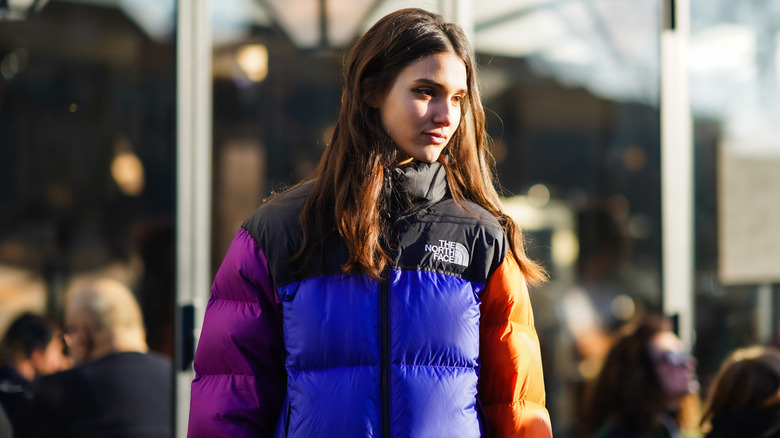 Edward Berthelot/Getty Images
You may be feeling a little lost on how to style the gorpcore trend. Luckily, celebs have given us some inspiration. Models Bella Hadid and Hailey Bieber have both been spotted in baggy trousers and fleeces, with Hadid dubbing her top a "sexy fleece" (via Vogue). They matched their gorpcore essentials with comfortable sneakers and beanie hats for a cool streetwear style. 
The trend encourages color over neutrals, too. Online fashion platform Lyst reports that there was a huge 72% increase in searches for colorful Arc'teryx pieces in January 2022, one of the most popular brands of the trend. Puffer jackets may already be a statement piece depending on the level of puffiness you go for, but the message is clear — gorpcore is welcoming color palettes so bold and bright you'll be able to spot your friend across the mountain (or, more realistically, the grocery store).
Cold weather season is approaching fast, and the urge to wrap ourselves in the coziest clothes possible before facing the outdoors grows stronger the colder it gets. There's only one solution, and that's to start digging for those hiking trainers you wore once, because gorpcore doesn't seem to be going anywhere anytime soon.