General Hospital's Jaw-Dropping Cliffhanger Has Fans Theorizing Who Really 'Hooked' Ava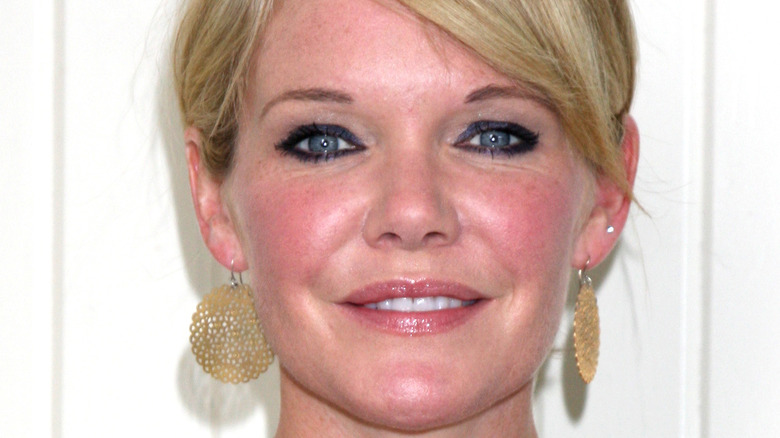 Kathy Hutchins/Shutterstock
Recently, "General Hospital" posted a trailer on Twitter for upcoming episodes showing a montage of scenes. One of the clips showed a mysterious person donning a pair of leather gloves in the Quartermaine boathouse, and then that person's right hand was wielding a hay hook slashing downwards — indicating that there's a new threat to the citizens of Port Charles. Although the clip showed that it was the person's right hand, fans speculated it was Ryan Chamberlin (Jon Lindstrom), even though the audience knows that Ryan severed his right hand to fake his death, as noted by Blasting News. Yet, as the episode played out on Friday, the mysterious person was wielding the hook in their left hand, so clearly the video was flipped in the promo to sow the seeds of confusion with astute viewers who pay attention to every little detail.
Per Soap Hub, Ava Jerome (Maura West) accidentally overheard part of an argument between Austin Gatlin-Holt (Roger Howarth) and the mysterious Mason (Nathanyael Grey) who has been threatening Austin for unknown reasons. Mason didn't like that she could have heard anything they said and went after Ava. Meanwhile, Spencer Cassadine (Nicholas Chavez) got drunk after learning that his father, Nikolas Cassadine (Marcus Coloma), slept with his ex-girlfriend Esme Prince (Avery Pohl) — paving the way for a possible drunken blackout. 
The stage is being set for the mystery concerning who stabbed Ava, and fans are running wild on social media with theories about who it could be.
The mystery begins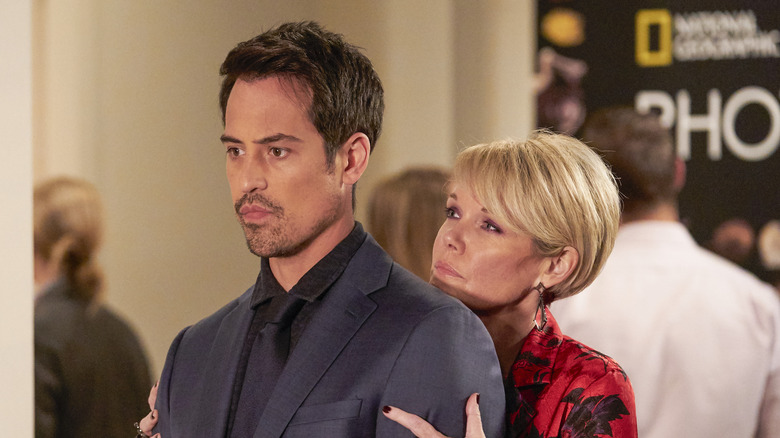 ABC/Craig Sjodin
On Friday's "General Hospital" end-of-the-show teaser, Elizabeth Webber (Rebecca Herbst) states, "It happened again!" And Victor Cassadine (Charles Shaughnessy) questions his grandson, Spencer Cassadine, asking, "How much do you remember of the last few hours?" (via YouTube).
The "General Hospital" Twitter post before the episode aired stated, "Ava's night just took a deadly turn." Fans wasted no time replying with one saying, "Since I'm a 'leftie,' I tend to notice other lefties...And Esme is a 'leftie,' clearly naming Esme as a possible suspect. Another sharp fan noticed, "Seems the hook 'person' is a lefty." The suspect list increased with the reply, "Ah not Ava! Hope she makes it, ok list of who could've done this: Esme,Ryan,Austin's 'cuz' Mason,Victor although we see him,Liz."
Many fans were very concerned for Ava's life. Some even threatened to stop watching the show if she was killed off, with one person writing, "Let's not say Ava and dead in the same sentence. Not going there." The love for Ava and her portrayer Maura West was undeniable, as evidenced by the response, "Maura West is my favorite actress on GH! She is beyond amazing! I don't think they would be stupid enough to kill her off!" Although Nikolas and Ava are on the outs, Celeb Dirty Laundry speculates Nikolas will be devastated by Ava's attack, but stay by her side through it.
However this plays out, the Port Charles Police Department has another frightening mystery to solve.