Here's How Ivanka Trump Really Felt About Chrissy Teigen's Targeted Tweets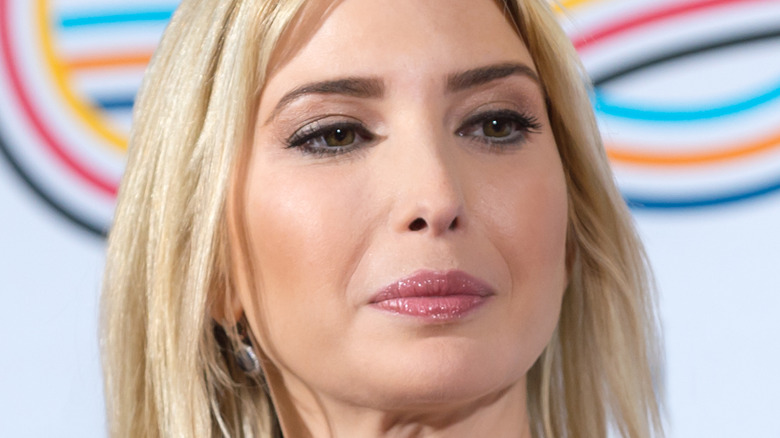 photocosmos1/Shutterstock
Ivanka Trump is used to being criticized. As a senior member of one of the most controversial families in America, the mom of three has been at the receiving end of her fair share of trolling. Consider that the 40-year-old has grown up in the public eye as well, so she has plenty of experience with scrutiny. That said, according to her husband Jared Kushner, underneath the thick skin his wife has developed is, not shockingly, an actual person who may have been hurt by the past targeted tweets sent by Chrissy Teigen.
First, a little brush up on one of the "Sports Illustrated" model's most high-profile past feuds. Courtney Stodden publicly accused Teigen of bullying her on Twitter, with the cookbook author eventually apologizing (via Glamour). "I'm mortified and sad at who I used to be. I was an insecure, attention seeking troll," she tweeted in part in 2021, adding that she was "ashamed" at what she had done.
But the damage was largely done, especially given that Teigen admitted Stodden was not the only victim of her online bullying. As NBC News reports, the scandal cost the star partnerships with Target and Netflix.
Someone else who was the target of Teigen's mean tweets is Ivanka, and Kushner is finally speaking out about how the TV personality affected the former advisor to the president.
Let's face it — Chrissy Teigen hates the Trumps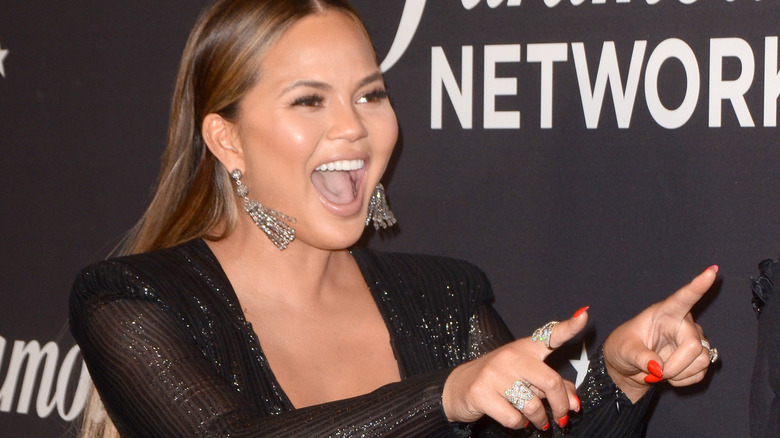 Kathy Hutchins/Shutterstock
It's no secret that Chrissy Teigen is no fan of Donald Trump. She was on hand for Joe Biden's inauguration and it was from Washington, D.C. that the mom of two roasted the outgoing commander-in-chief on Instagram. About the conservative's term being over, Teigen added the "shame will last forever" and opined, "History will not be kind to you, you absolute psychopath. But I never was anyhow."
Unsurprisingly, the model was also critical of Ivanka Trump, saying in 2019 she displayed a "complete lack of empathy" over the president's immigration policy. Since the former POTUS blocked Teigen on Twitter, she also took to the former first daughter's account to put her on blast following her share about Goya beans, after the company endorsed her Republican father, a move that inspired some people to call for a boycott of the iconic brand (via Nine.com).
"Had it with anyone who EVER defends this woman or puts her as the 'sane' one in this family," Teigen tweeted in 2020, adding Trump holding the beans in the post amounted to "a repulsive trolling of the people." Finally, the star wondered if the political daughter's post was legal. It's worth noting that according to Insider, the post may have violated government ethics rules.
Although Trump didn't say anything at the time, or now, Jared Kushner is speaking out on her behalf.
Jared Kushner describes Ivanka Trump as classy and Chrissy Teigen as the opposite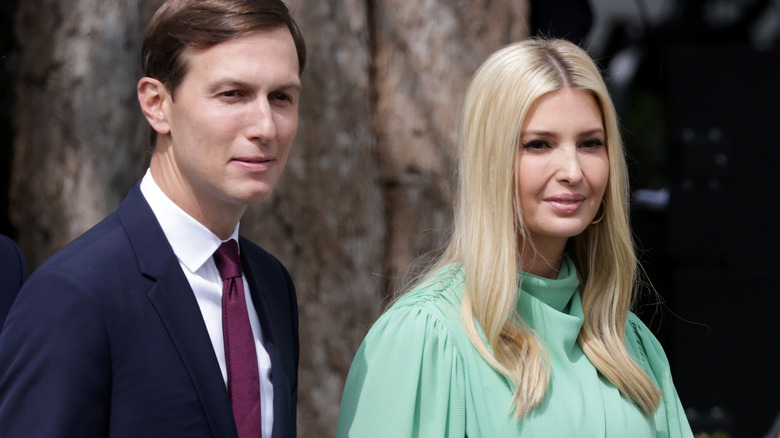 Alex Wong/Getty Images
Jared Kushner was promoting his buzzy book "Breaking History" on Hugh Hewitt's radio show when the topic of Chrissy Teigen going after Ivanka Trump over beangate came up.
As Kushner told the host about his wife, she was "doing amazing business" via a brand that was "about empowering women" which he says won her praise at the time. "And then she basically gave up the actual business part and just went to pursue the mission, and the same people who praised her for it started attacking her, often viciously and very cruelly," he said.
One person to whose level the dad of three said Trump never "lowered herself to?" Teigen, whom Kushner went on to call a nasty troll. Meanwhile, he maintained that his wife remained "elegant" amid the terribly mean things that were said about her.
The author never admitted that Trump was hurt, but instead contemplated that he figured she had to be. Instead, he noted the former first daughter brushed off attacks like those at the hands of Teigen.
At time of writing, neither Trump nor Teigen had responded to his comments.