A Timeline Of Chrissy Teigen's Feuds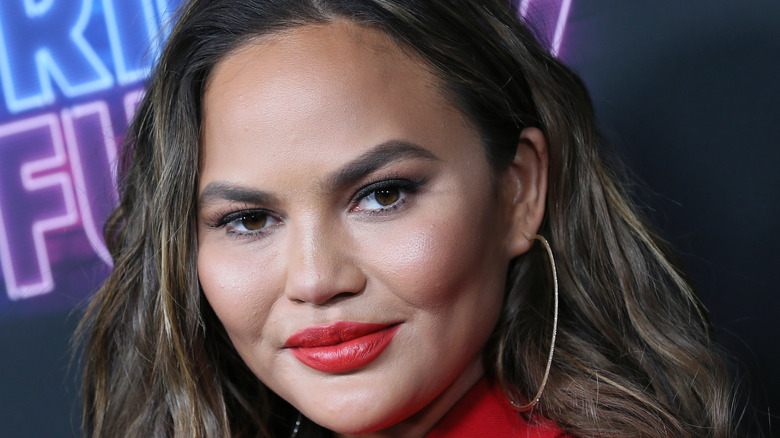 David Livingston/Getty Images
When Chrissy Teigen was knocked off her perch as the undisputed queen of Twitter, following allegations of cyberbullying by socialite Courtney Stodden, followers were left reeling. As Us Weekly reported at the time, Stodden made the shocking claims during an interview with the Daily Beast, revealing that Teigen used to message them back in the day, encouraging them to commit suicide, among other horrible things. The "Cravings" cookbook author apologized twice, but, for many people, it was too little, too late — especially considering that Stodden was just a teenager at the time of the alleged abuse. 
Further accusations came from "Project Runway" alum Michael Costello, later deemed to be falsified, which muddied the waters somewhat, while Teigen's husband John Legend rallied to her defense. Lucrative brand partnerships and deals were canceled left and right as Teigen complained about being forced off social media, essentially claiming her voice had been silenced. Meanwhile, Stodden advised they hadn't received anything personally from the model, even months later. 
Although the bullying allegations might have seemed shocking at first, this wasn't Chrissy Teigen's first public scandal. 
Chrissy Teigen will seemingly fight with anybody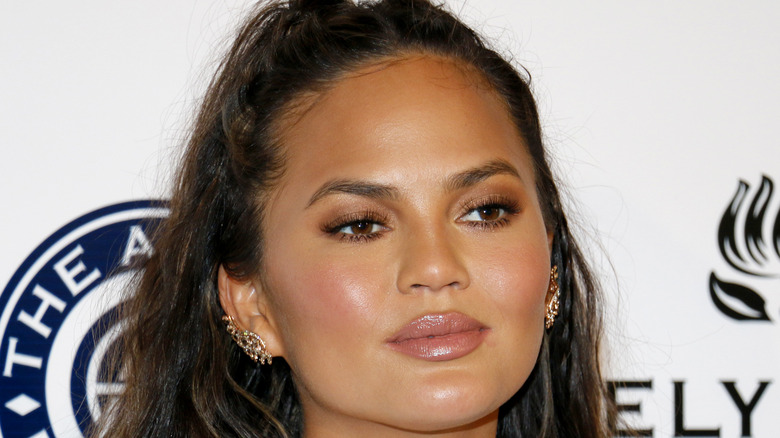 Shutterstock
As Page Six details, Courtney Stodden wasn't the first subject of Chrissy Teigen's ire — far from it, in fact. She celebrated being blocked by former President Donald Trump after the model kept tweeting incessantly at him, writing, "After 9 years of hating Donald J Trump, telling him 'lol no one likes you' was the [last] straw." 
However, some of her other feuds made less sense, including the one with former "Saturday Night Live" star Jay Mohr, whose newborn son's name Teigen made fun of back in 2011 (via Newsweek). Mohr simply told Teigen to take a hike and continued on with his life.
A couple years later, Teigen tweeted about "Teen Mom" alum Farrah Abraham regarding her sex tape, describing the reality star as a "whore" and telling her "everyone hates you." Teigen was widely accused of slut-shaming as a result. 
She then turned her attention to former New York Times food writer Alison Rohman, who criticized Teigen for gaining popularity without deserving it, leading the journalist's column to be temporarily shelved. However, after the two publicly sorted out their differences, Rohman was reinstated — only to confirm in December 2020 that she wouldn't be coming back.
Has Chrissy Teigen really learned her lesson?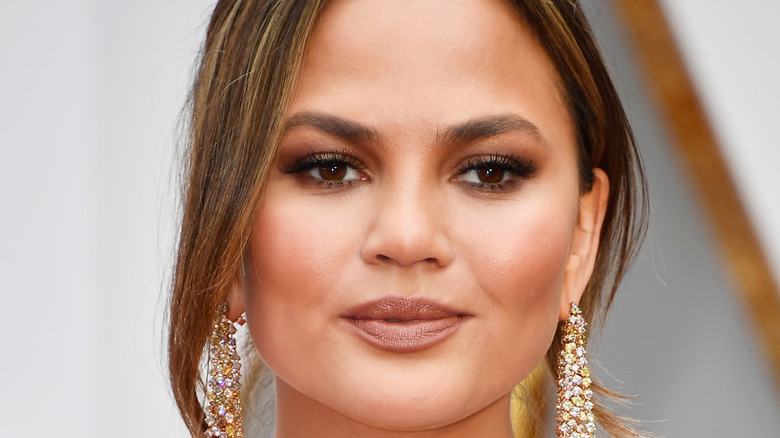 Frazer Harrison/Getty Images
Elsewhere, one of the weirdest feuds Chrissy Teigen took part in, which was one-sided to boot, found her targeting child actress Quvenzhané Wallis. Wallis was nominated for an Oscar at the time for her stirring performance in "Beasts of the Southern Wild." As Newsweek notes, Teigen quipped in a since-deleted tweet that Wallis was "cocky" and that she felt "forced" to like her. 
Teigen also beefed with fellow model Tyra Banks behind the scenes of the talk show "FabLife," as per Page Six. They reportedly didn't see eye-to-eye due to their age difference. However, according to certain sources, there was no real issue between them, and it was all gossip. Luckily, "FabLife" was canceled after just one season.
According to Page Six, after "Arrow" star Katie Cassidy criticized journalist Erin Andrews, Teigen jumped to the latter's defense and even accused the actress of not having a job in the process. Cassidy fought back, decrying Teigen as a negative and sad person. 
All of which brings us to Courtney Stodden, whose damning accusations against Teigen brought her many previous feuds to light in 2021. According to the non-binary star, Teigen used to constantly tweet attacks at them, both privately and publicly. 
The "Cravings" author admitted to being an "attention-seeking troll" in one of her public apologies, but, considering everything else that's happened over the years, for many, it simply wasn't good enough.