Lindsey Graham Says Real Trouble Lies Ahead If Donald Trump Gets Prosecuted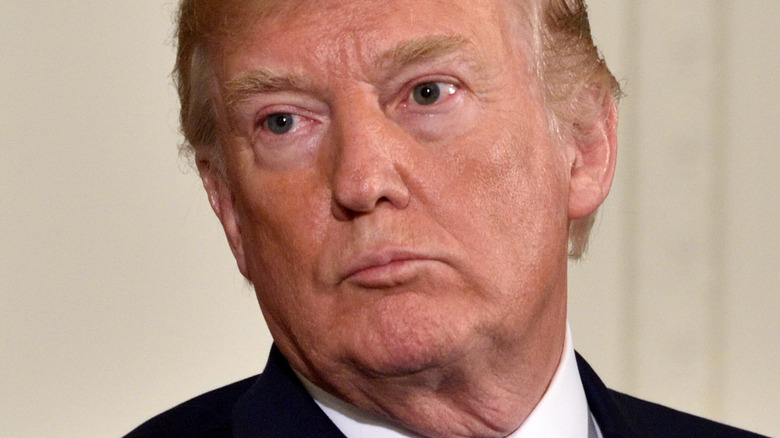 Evan El-Amin/Shutterstock
All eyes are on former President Donald Trump as multiple investigations are pending against him. Since the January 6 summer hearings concluded, data revealed that an overwhelming majority of voters support the ongoing investigations against Trump, including the FBI's August raid in Trump's Mar-a-Lago residence.
Once headlines broke about the unannounced raid, GOP officials like Representative Marjorie Taylor Greene of Georgia publicly vocalized her support for Trump, tweeting, "Defund the FBI." Similarly, Trump's former chief of staff, Mick Mulvaney, tweeted his skepticism of the FBI raid, saying: "It appears this raid was, in fact, just about documents. As even some on the left have opined: that is simply outrageous."
Trump has tried to absolve himself of all guilt, citing multiple times that the FBI and Department of Justice are conducting a "witch hunt." And though there have been Republicans clearly advocating in Trump's favor, the New York Times recently reported that members of the GOP have remained rather quiet on the legal matters against Trump as time has progressed. For instance, Republican Virginia Governor Glenn Youngkin told Fox News, "I would just caution folks not to draw too many conclusions." Youngkin's comment comes after the now-redacted Mar-a-Lago affidavit.
One member of the GOP, South Carolina Senator Lindsey Graham, is now offering some insight on what he thinks is in store for the country if Trump is found guilty.
Senator Lindsey Graham said 'there will be riots' if Donald Trump is prosecuted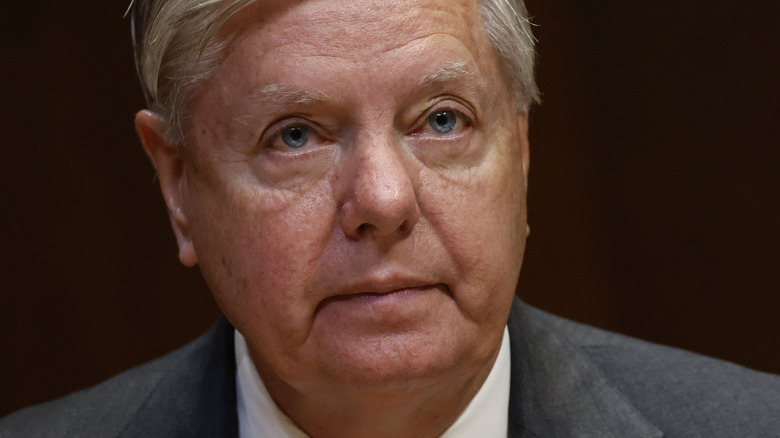 Pool/Getty Images
The United States government has retrieved more than 300 classified documents from Donald Trump's Mar-a-Lago home, according to The New York Times. As a result, members of the GOP like Senator Lindsey Graham are speaking on the future of the investigative legal process.
In an appearance on the Fox News segment "Sunday Night in America with Trey Gowdy," Graham spoke on the "double standard" he believes is occurring compared to Trump and President Joe Biden's son, Hunter Biden. "There is a double standard when it comes to Trump," Graham said on the show (via the Daily Mail). "What happened with Hunter Biden is that the FBI weighed in to make sure the story didn't break before the 2020 election."
Graham went on to say that if Trump gets prosecuted in regards to his possession of classified documents, he says there will be "riots." He added, "If they tried to prosecute President Trump for mishandling classified information after Hillary Clinton set up a server in her basement, there literally will be riots in the street. I worry about the country ... Look at what happened to Hunter Biden. They gave him a complete pass, apparently. And social media outlets suppressed information that could have mattered."
Graham was referring to an incident that happened mere weeks before the 2020 presidential election where Hunter Biden's laptop content was leaked by the New York Post, including revealing photos and emails.