Things You Should Keep In Mind If You're Buying A Peloton Second-Hand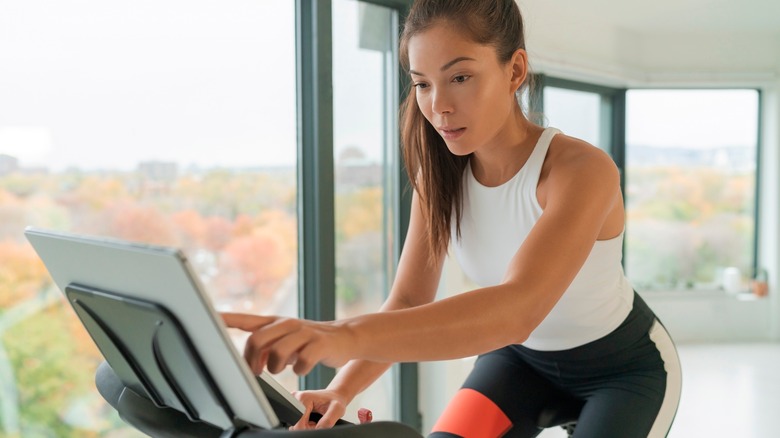 Maridav/Shutterstock
Are you ready to see what all the Peloton hype is about? Whether you have dabbled in the classes on your iPhone, have used the bike religiously in the gym, or have never even heard of instructor Cody Rigsby before, if you want to take the plunge, you'll need to learn your options when it comes to buying.
While it may seem like everyone you know owns a Peloton bike, it may be a bit pricier than you expect. According to Peloton, the current price for a basic bike (without any frills, shoes, etc.) is $1,445. Their newer model, the Bike+, starts at $2,495. In order to use all the bike's functions, you will also need to purchase a monthly membership, which is currently $44 per month. For those who can't afford this high price point, there are some options. Peloton offers a financing option where you can pay off the bike over time, either in 12, 24, 39, or 43 months. You do have to be approved to get this financing option, so if that isn't in the cards for you — or the idea of having this debt doesn't sit well — you can also consider buying a bike second-hand. If you chose to go this route, here is what you need to know before buying.
What to know before buying a second-hand Peloton bike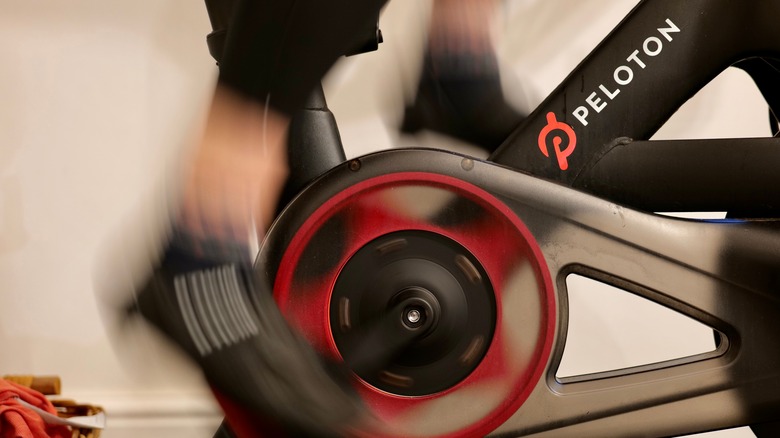 photocritical/Shutterstock
If you choose to look second-hand when purchasing a Peloton bike, you can expect to save a few hundred dollars on the ticket price of a new one, per Pelo Buddy. And, depending on where you live, you likely won't have too much of an issue finding a Peloton second-hand. In fact, according to Self, the market is flooded with these bikes as many people realize that they don't use it as much as they thought they would. But there is one big caveat to buying a used bike from anyone other than the official Peloton company. According to Shape, buying a second-hand bike means you do not have access to their warranty. So, if something does break on the bike, you won't be able to call up Peloton and have it fixed. Instead, you will need to fix it yourself or pay Peloton to send someone out (a new bike owner would get this service for free).
Because of this, it's super important to make sure the bike you are buying is in good shape. You may be able to find some used bikes for as low as $700 — but that doesn't mean it's worth the low price. Pelo Buddy recommends inquiring about how often the bike was used before they put it up for sale and be sure to know about any damage to the bike or the bike's software before handing over your money. You may also want to ask about accessories — it doesn't hurt to ask the seller to throw in their Peloton bike shoes with the sale.
Where to buy a used Peloton bike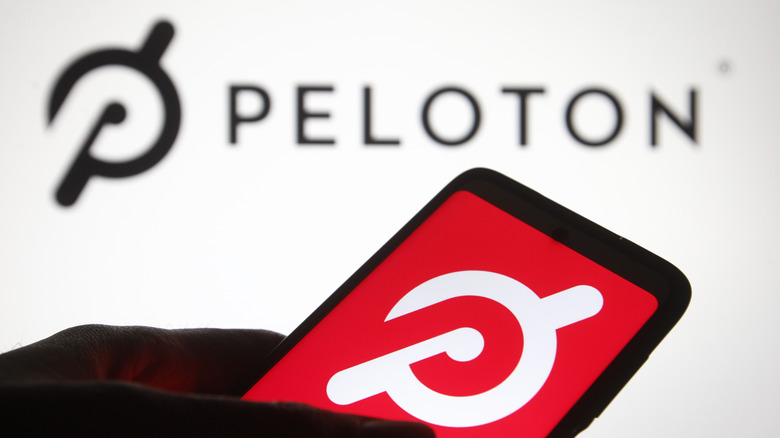 viewimage/Shutterstock
If saving a few hundred dollars is enough to have you not caring about Peloton's warranty, there are a few places you can look for a second-hand bike. Pelo Buddy recommends starting your search on Craigslist. You simply head to the "for sale" section and filter to "Peloton." From there, you should be able to find a whole list of results that are close to your area. If Craigslist doesn't work, you may want to check out Facebook Marketplace. Before you agree to buy a bike, make sure you ask the important questions and even consider asking for a few pictures. NextDoor and eBay are other options for finding a used Peloton bike and Pelo Buddy also recommends joining the Peloton Buy Sell Trade (BST) Facebook group, which can help you score a deal on things like bike shoes, apparel, and other Peloton equipment.
Regardless of where you find your bike, Peloton does have some guidelines to follow to ensure you get the most out of your exercise machine. It's always best to try and find a bike that is local to avoid shipping, but if you do find one that is not nearby, Peloton has a few tips. According to Shape, they recommend making sure any shipping or moving company you use offers insurance on the bike. They also recommend removing all the hardware, including the screen and pedals, before putting it in a box to ship. It may be good practice to suggest this information to your seller to ensure the product is delivered in the best possible condition. Once you have your bike secured in your home, it's time to learn what all that Cody Rigsby fuss is all about.