Meghan Markle Gets Candid About Feeling Discriminated In Royal Life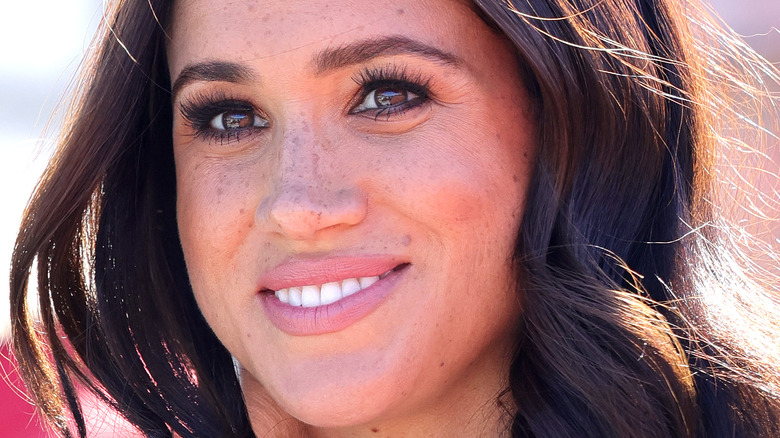 Chris Jackson/Getty Images
It was no secret that things couldn't have been going well when Prince Harry, Duke of Sussex and Meghan Markle, Duchess of Sussex, stepped back from their royal duties in January 2020; that's not a thing that one does lightly. There had been discussions behind the scenes with the queen for the couple to play kind of a hybrid role by representing the queen as well as becoming financially independent, but if one is representing the queen, that is in and of itself a full time job, CNN notes. By stepping down as working royals, Harry and Meghan lost a number of things. They cannot use the HRH titles — His and Her Royal Highness — Harry lost some of his military titles, and they've paid back the state-paid renovations of their U.K. residence, Frogmore Cottage.
After leaving royal duties behind, Meghan and Harry made a deal reportedly for $25 million with Spotify for content, per Vanity Fair. And on its first day, Meghan's podcast called "Archetypes" was No. 1 on the platform, dethroning Joe Rogan, according to Deadline. Though not everyone seems to love it. In her first episode, she spoke with Serena Williams, and in that conversation she revealed a scary moment with baby Archie. For her second episode called "The Duality of Diva with Mariah Carey," Meghan spoke with the singer about a range of topics, including facing discrimination when she started dating Harry.
Meghan Markle faced discrimination from the British media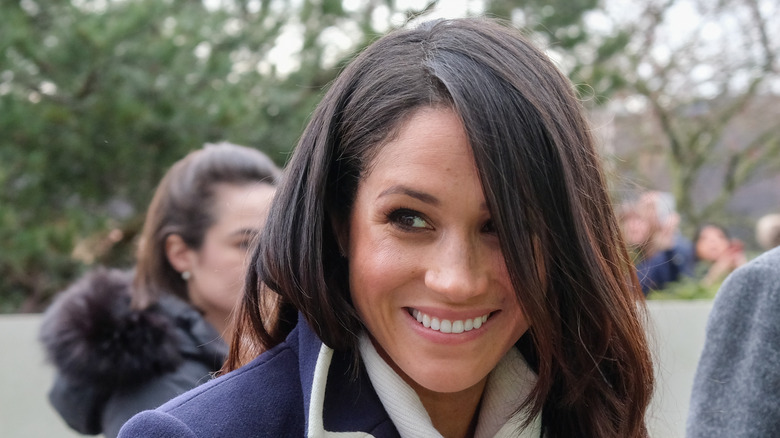 MattKeeble.com/Shutterstock
Meghan Markle, Duchess of Sussex, talked to Mariah Carey about the shared experience that they have as being women of mixed race on her latest podcast episode. "Because we're light skinned, you are not treated as a Black woman," Meghan said. "You're not treated as a white woman. You sort of fit in between. If there is any time where there was more focus on my race it was when I started dating my husband. Then I started to understand what it was like to be treated like a Black woman because up until then I was treated as a mixed woman and things really shifted."
Meghan also recently talked with The Cut about her experience with the British media and the discrimination that she faced. She explained that — while in the royal family — if she wanted to share a photo of her child, she was expected to "first have to give them to the Royal Rota," the British media pool, before posting it anywhere online. However, that didn't sit well with her, because, as she put it, "Why would I give the very people that are calling my children the N-word a photo of my child before I can share it with the people that love my child?"
Meghan Markle struggled with how the press presented her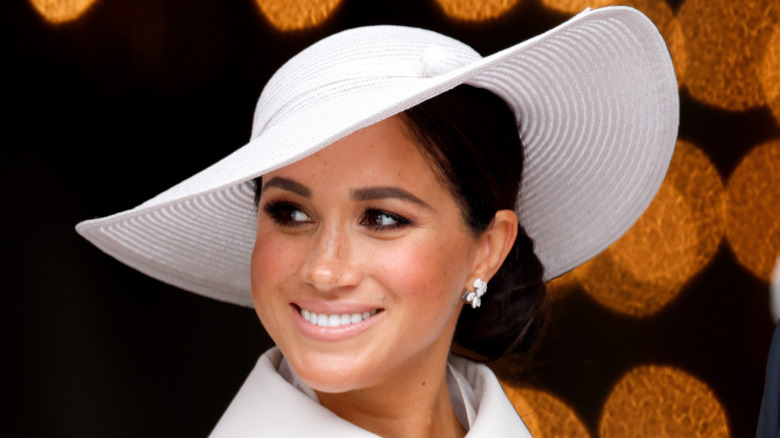 Max Mumby/indigo/Getty Images
Just one example of how the media was publicly discriminatory — we didn't see or hear them referring to her children with that word, not to say that they didn't — came shortly after it was revealed that Prince Harry and Meghan Markle were dating. The Daily Mail ran an article with the headline "Harry's girl is (almost) straight outta Compton: Gang-scarred home of her mother revealed — so will he be dropping by for tea?" Meghan continued to face negative media attention, and she's done what she can to fight back against it. In 2021, for example, the Duchess of Sussex won a legal case against the Mail on Sunday, which had run excerpts from a private letter that she had sent to her father Thomas Markle, per The Guardian.
Discrimination apparently happened behind closed doors within the royal family, too. In the bombshell interview with Oprah Winfrey, Meghan said that within the firm, there were "concerns and conversations about how dark [Archie's] skin might be when he's born." In an interview with ITV in 2019, she spoke about facing challenges as a new mom and a newlywed, saying that things had been a "struggle." Meghan further opened up to Oprah about needing to get help with her mental health, but she didn't feel supported in her efforts by the royal family.