Why Twitter Users Are Slamming Donald Trump Jr.'s Presidential Quiz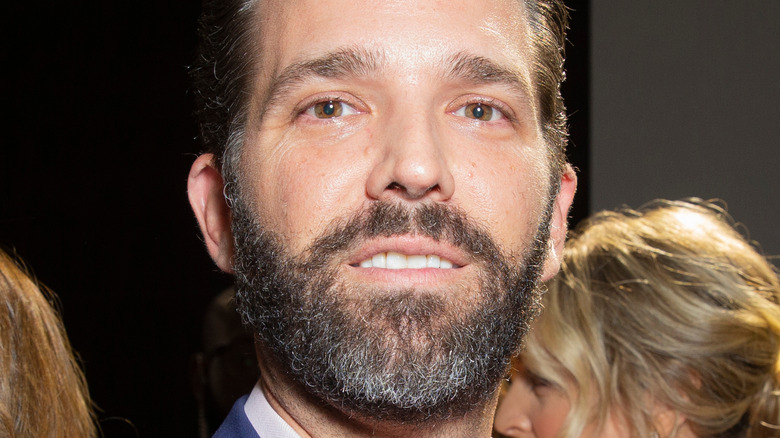 lev radin/Shutterstock
Although Donald Trump Jr. didn't have the best relationship with his father early on (via People), he has grown to become one of the former president's biggest supporters. The feeling is mutual: Donald Trump appointed his oldest son executive vice president of the Trump Organization (per the Trump website), tasked with creating new properties for the family empire. 
Don Jr. often defends his father on Twitter and elsewhere, even though the reaction isn't always what he might hope. At a recent rally event for Matt Gaetz, the former first son made a joke about the FBI search of Mar-a-Lago and the rumor that the agency was looking for sensitive material about nuclear weapons. "For the record, I have to say that if Donald Trump still had the nuclear codes, it'd probably be good," he quipped (via The Recount). The Twitterverse was unimpressed, with many calling out the eldest of the Trump children for making light of what could prove to be a federal crime on his father's part.
This hasn't deterred Don Jr. from continuing to promote his father on a daily basis. His latest effort came in the form of what appeared to be a fun trivia quiz. "How well do you know President Trump?" Don Jr. tweeted. "Take the fast quiz and see how well you know your favorite President here now." But anyone who did accept the challenge soon found out that there was an agenda behind it.
The quiz was a fundraising gimmick for the Trump campaign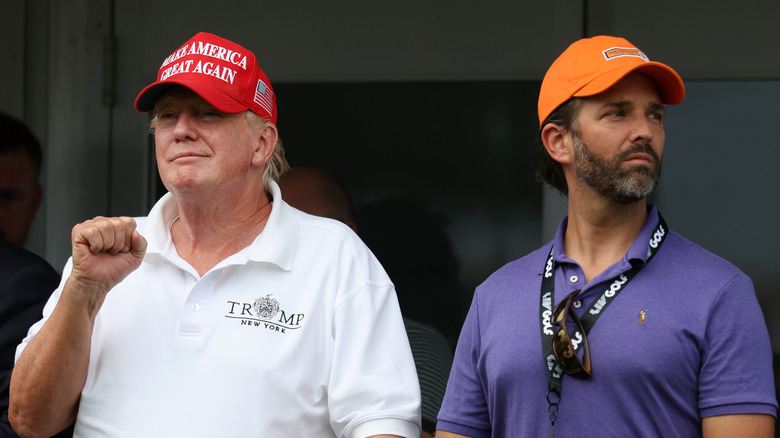 Jonathan Ferrey/liv Golf/Getty Images
As folks found out after following the link tweeted by Donald Trump Jr., the quiz was part of an ad for Save America, his father's political action committee. The test consists of six general-knowledge questions about the former president, such as, "How many kids does President Trump have?" and "What is President Trump's favorite fast food?" In order to confirm the answers, test-takers have to provide their name, email, and cell phone number and agree to receive text messages from Save America. One can assume that, like many messaging programs from political organizations, the texts will urge users to contribute to Trump's re-election efforts.
Twitter wasn't buying it. One commenter surmised, "Let me guess . . . it's a fundraising link. If your dad is a billionaire, why can't he pay his bills?" Another agreed, "Taking a quiz on a donation page where you have to pay to get results is something only a MAGA would do. Sad." And one user took issue with Don Jr.'s wording: "He ranks near the bottom of presidents. He's certainly not my favorite. He's been the worst in my lifetime."
Some other followers boasted of having plenty of knowledge about Trump. One tweet pulled no punches: "I know he is a lying, corrupt, treasonous, insurrectionist, Putin loving criminal." Then there was this quip: "I know he took home classified, top secret documents. And traveled around the world with them. Did I pass the quiz?"