Why Meghan Markle's Former Hobby Has Senior Royals Shaking In Their Boots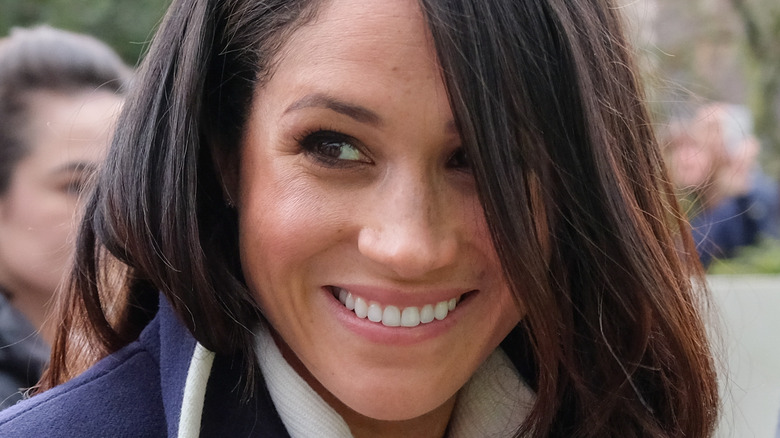 MattKeeble.com/Shutterstock
Meghan Markle could not be more different from her sister-in-law Kate Middleton and the Queen in that instead of honoring their long-held tradition of remaining tight-lipped about what goes on inside the royal family, the Duchess of Sussex is all-too-happy to share, well, pretty much everything.
The duchess' open-book policy was kicked off in her widely-watched interview with Oprah Winfrey, with the children's book author revealing, among other insights, that she felt senior royals displayed racially-insensitive behavior toward her (via Time). This disturbing allegation is what led to Prince Harry and Meghan leaving royal life behind for a freer existence on the West Coast.
Of course, without the confines of the palace, Meghan has been able to speak out even more about the royal family. Her recent interview with The Cut was one forum through which people heard her takeaways from her time spent inside The Firm.
Among the more controversial comments she shared was her comparison of marrying the Duke of Sussex to Nelson Mandela being freed from prison in terms of the events' significance for oppressed people. Even the former South African president's grandson had some not-so-receptive feedback about that statement.
Meanwhile, Meghan's podcast has also featured some eyebrow-raising claims about the royals. What might come next has members of the family feeling extremely uneasy.
Meghan Markle has not held back on her podcast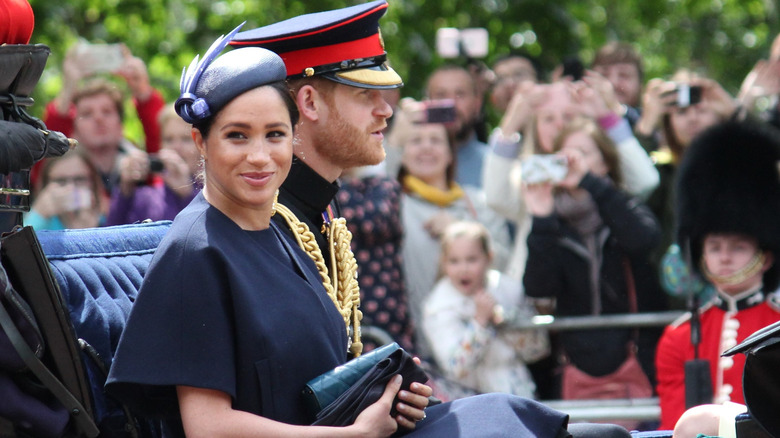 Lorna Roberts/Shutterstock
Meghan Markle seemed to continue her takedown of the royal family in the first installment of her podcast "Archetypes," saying at one point that upon starting to date Prince Harry, one word changed for her forever — ambition (via Newsweek). The insinuation that it was her royal in-laws who discouraged the Duchess of Sussex from going after her dreams was detected by many listeners, with one person tweeting Meghan is "out of touch" with the purpose of the monarchy's mission of "duty and service."
The second episode of "Archetypes" featured guest star Mariah Carey, and more insight into how the Duchess of Sussex felt upon entering royal life. "I mean, if there's any time in my life that it's been more focused on my race, it's only once I started dating my husband. Then I started to understand what it was like to be treated like a Black woman," she bravely shared in part (via Geo.tv).
If the royals weren't thrilled to hear how Meghan marrying into their family shifted her reality, then they likely won't love that the hobby the mom of two has returned to recently.
Meghan Markle rediscovered an outlet for her difficult royal experiences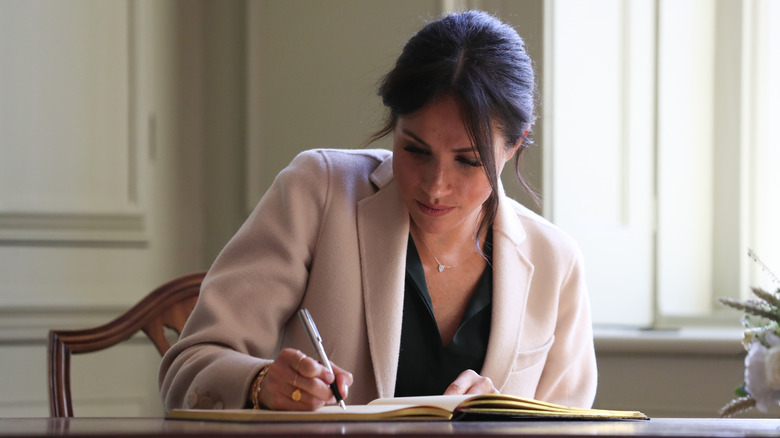 Wpa Pool/Getty Images
It was way back in 2019 and Meghan Markle and Prince Harry were living in Frogmore Cottage in London (via House Beautiful). It turns out that the Duchess of Sussex was keeping a journal at the time, which she rediscovered upon visiting the U.K. for the Queen's Platinum Jubilee this past June (via Daily Mail).
"You go back and you open drawers and you're like, Oh my gosh. This is what I was writing in my journal there?" she said in an interview about coming across the diary. As a so-called insider said about the journal, it acted as an outlet for all of Meghan's frustrations when she was living in London. "If it ever saw the light of day it would surely be dynamite," the source said, commenting specifically on the largely-held belief that in addition to the Duke of Sussex working on a book, his wife likely has plans to write a tell-all as well, likely incorporating her long-lost journal entries.
Margaret Holder, a royal expert, put the revelation into perspective, saying, "She had enough time in the royal fold to learn secrets, some decades old, which could cause embarrassment and heartache for the Queen and her family, but could earn a fortune for Meghan." As such, the royal family might be quite nervous.