General Hospital's Briana Nicole Henry Shares An Adorable Update On Life As A Mom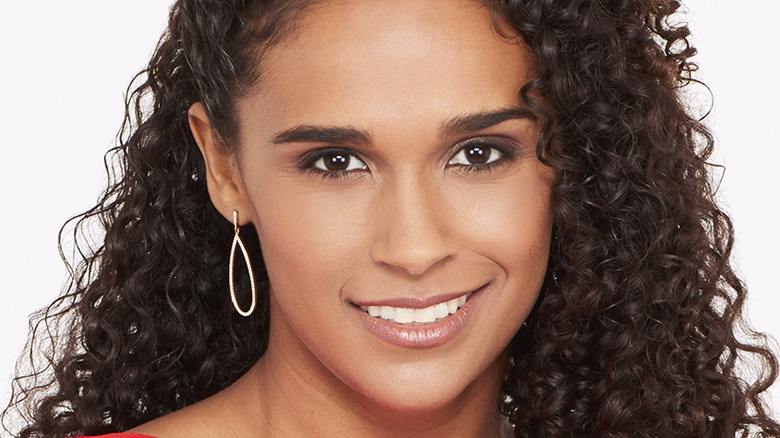 ABC/Craig Sjodin
The city of Port Charles on "General Hospital" has had many police commissioners over the years, but one of the most memorable is Jordan Ashford. A few actresses have played Jordan on the show and, while Tanisha Harper is currently playing the character, fans will never forget Briana Nicole Henry who left "GH" in 2021 (via TV Insider).
Henry posted on Instagram that she exited "GH" because she felt the need to "move on." In her heartfelt message, she said, " I am a better actor because of the time I spent within those walls and will forever be grateful for the way the show nurtured and challenged my ability."
In February, Henry announced on Instagram that she and her husband Kris Bowers had welcomed a baby girl named Coda into the world. The announcement came with Henry saying, "You have introduced me to my favorite version of myself. Thanks for making the journey here with me little one." Bowers added, "thank you for reminding me of my power throughout this entire process. I love you. Lucky us." Henry topped it all off with a poem from Yrsa Daley-Ward.
Henry continues to share with the world the joy of her infant daughter.
Briana Nicole Henry shares her family life
After sharing the news that she gave birth to her first child, former "General Hospital" actress Briana Nicole Henry has continued to update fans on what is going on with her family. Recently, she shared an Instagram post marking her daughter Coda's six months on this planet, sharing pictures of herself with the baby, her husband holding Coda, and Coda herself. "Six months of my heart existing outside of my body. Life with you is more beautiful, chaotic, messy, terrifying and full of purpose. You make everything just more. We love you..." she wrote.
Several of her former co-stars including Finola Hughes, Katelyn Mac Mullen, Sofia Mattsson, and Kathleen Gati gushed over the pictures of the child. One fan wrote, "Oh my goodness!!!! She's beautiful just like her mama." Another replied with, "She is just stunning!!!!!! Omg so happy for you both." Most, if not all, of the posts overwhelmingly complimented Coda using such descriptive words as "adorable," "cute," "beautiful," "precious," and dozens more — as well as congratulating Henry and her husband. One statement said, "Could she be any cuter? God bless you guys," while a heartfelt fan said, "Beautiful baby!!!!! I still miss you on GH!!!" Henry's fans are global as evidenced by the post, "WHAT A BEAUTIFUL FAMILY.. QUEBEC, CANADA 🇨🇦 HERE."
Although Celebrating the Soaps had questioned Jordan's effectiveness as police commissioner, fans will continue to enjoy updates of the life of one of their favorite stars.