The Crucial Difference Between Meghan Markle's First Two Podcast Episodes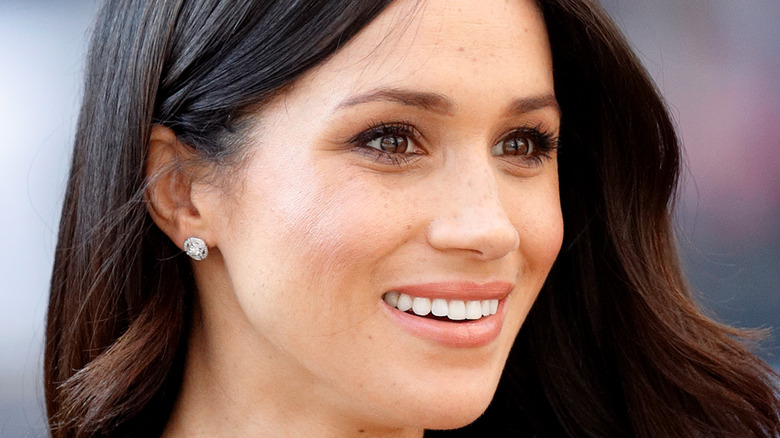 Max Mumby/indigo/Getty Images
Meghan Markle is giving Joe Rogan a run for his money with her new podcast, "Archetypes," which rocketed to the top of the Spotify charts, knocking the controversial commentator back to No. 2. The success of her debut episode was especially impressive considering how critical the initial reviews were. As The Telegraph put it, although "Archetypes" seeks to dismantle the ways in which women are held back, in reality, it's yet another way for Meghan to push her own agenda.
The Duchess of Sussex sat down with longtime friend and living legend Serena Williams for the premiere, but, according to reviewers, she barely got a word in — The Spectator claimed it took 11 minutes for Williams to say anything substantial. In fact, The Times denounced "Archetypes" as "pure, narcissistic gibberish." Shockingly, the word Meghan said over 200 times in her first podcast was "I," according to royal expert Kinsey Schofield (via Express).
All eyes were on whether the former actor would turn it around for episode two, when Mariah Carey joined her for a chat. And, according to PR experts, there was a notable difference this time around.
Mariah Carey encouraged the Duchess of Sussex to have a proper discussion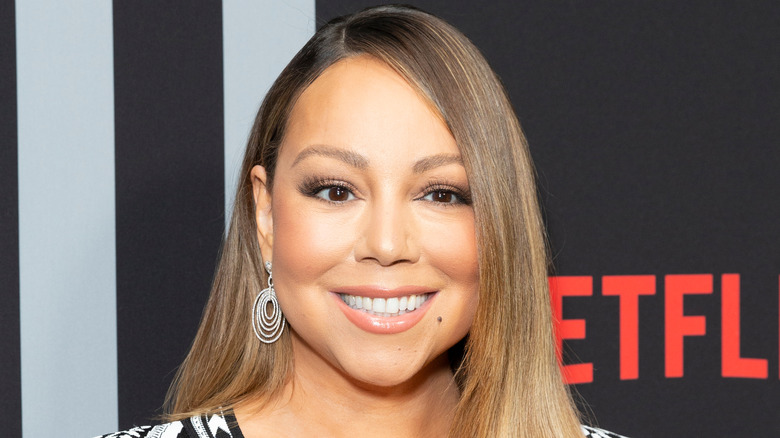 lev radin/Shutterstock
Meghan Markle was harshly criticized for making the first episode of her highly anticipated podcast, "Archetypes," all about her rather than giving esteemed guest Serena Williams the space to speak about her own life and career. 
But the roles were flipped when the second episode dropped, as Meghan found herself up against singer Mariah Carey. As PR expert Mark Borkowski told the Daily Mail, Carey immediately let Meghan know who was boss by giving her "a lesson in star power."
However, according to fellow expert Rochelle White, it was a positive development because she reckons that the Duchess of Sussex now understands better how to conduct these kinds of interviews. Carey shocked Meghan when she accused her of diva behavior, but she later clarified that she meant it as a compliment. The two women had a rousing discussion about what it means to be a diva as well as the difficulties of growing up as a mixed-race woman. 
As the former "Suits" star admitted, after speaking to Carey, "It actually made me realize, and in these episodes as I've opened the door for conversations surrounding archetypes that try to hold us back, what I hadn't considered is that for some, reclaiming the words is what they feel will propel us forward." As People notes, Meghan and the superstar singer also bonded over their shared negative experiences in the entertainment industry. 
Meghan Markle has been accused of trying to hog the spotlight before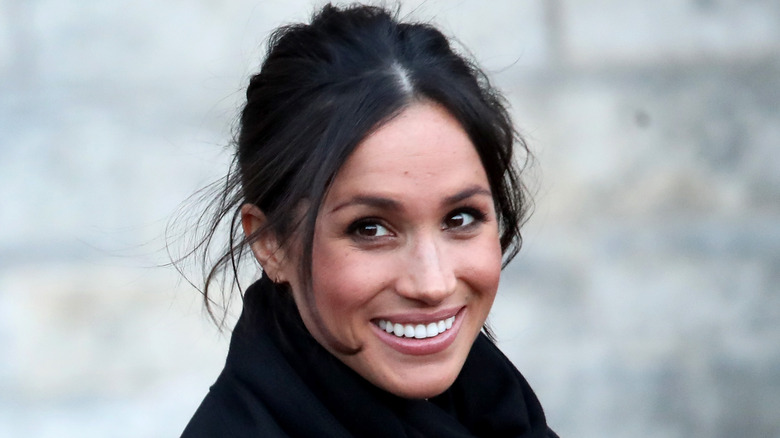 Chris Jackson/Getty Images
The Duchess of Sussex has always maintained that she and husband Prince Harry decided to leave the royal family because they could no longer cope with the influx of negative attention from the British tabloids. Worryingly, The Firm refused to assist during her darkest moments, as Harry told Oprah Winfrey in "The Me You Can't See." According to Insider, he explained how the couple "spent four years trying to make it work" but ultimately had to admit defeat.
The reality could be slightly more complicated, though. Express reports that, during an appearance on "Good Morning Britain," royal expert Tom Bower claimed that the real issue was that Meghan Markle refused to cede the spotlight to anybody else. Bower spoke to around 80 sources for his bombshell book, "Revenge: Meghan, Harry, and the War Between the Windsors," and he argued that the royal family did a huge amount "to try and accommodate" the duchess.
"She didn't understand she couldn't be number one, there's only one number in the monarchy and she didn't understand hierarchy," he said. Bower asserted that Meghan mistakenly treated it like Hollywood. He also declared that her main goal in life was to be famous, and she undoubtedly achieved it by marrying Harry. 
In a recent interview with The Cut, Meghan contended that it was actually her all-American enthusiasm that rubbed the royals the wrong way.